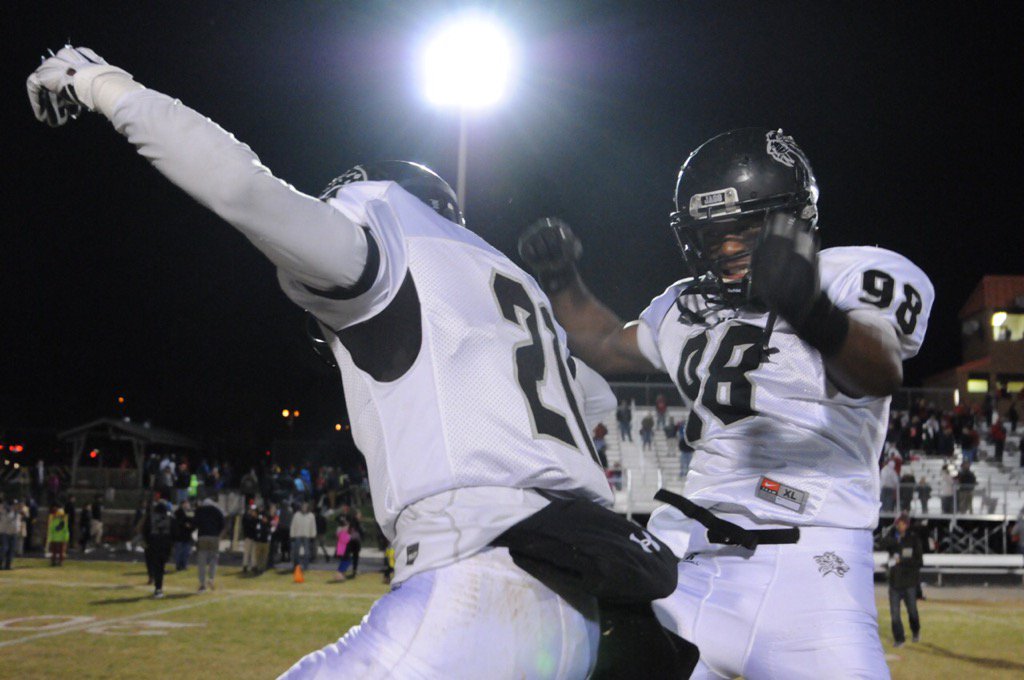 Northwest Jaguars Advance to State Semifinals (VIDEO & PHOTOS)
The Northwest Jaguars are moving onto the class 4A state semifinals after a close game against the Quince Orchard Cougars Friday night. The final score 50-40.
This is the third year in a row the Jags won at Quince Orchard and advanced in the playoffs.
The game was a nail biter till the end. The Cougars started off strong scoring the first touchdown of the game, but the Jags kept the pressure on. By halftime the game was tied 21-21.
The Cougars put up a good fight in the second half, but the Jags took the lead towards the end of the fourth quarter. An interception in the last minutes of the game sealed the Jags win.
Videographer Paul Flickinger captured game highlights from the sideline. Take a look:

State semifinals will be hosted Nov. 27-28. According to the Maryland Public Secondary Schools Athletic Association, "Semifinalists will be re-seeded by their regular-season point average. The teams with the higher seeds will host the semifinal games." 
For the 3RD consecutive year Northwest Wins at QO in the playoffs to advance!

— Northwest Football (@NWHSfootball) November 21, 2015
Congratulations to @NWJagSports & @DHS_Hornets for winning region ? championships tonight! — Jeff Sullivan (@MCPSAthletics) November 21, 2015
Champion Jaguars. @mymcmedia @allmetsports @gdpoze pic.twitter.com/x3psnDeQ8V — Phil Fabrizio (@Photoloaf) November 21, 2015
NW scores to make it 50-40. Jags are 4A West Region Champs @mymcmedia @allmetsports @gdpoze pic.twitter.com/vuMRHClBhN

— Phil Fabrizio (@Photoloaf) November 21, 2015
Interception puts ball at 1 NW in Victory formation @mymcmedia @allmetsports — Phil Fabrizio (@Photoloaf) November 21, 2015
Owens scores for NW. 43-40 with 2:05 left @mymcmedia @allmetsports @gdpoze @NWHSfootball pic.twitter.com/kesMK46g0U

— Phil Fabrizio (@Photoloaf) November 21, 2015
Bonnet scores on a 22 yd run. 40-36 QO with 5:50 left. @mymcmedia @allmetsports @gdpoze @QOAthletics pic.twitter.com/H3lzDozJj9 — Phil Fabrizio (@Photoloaf) November 21, 2015
34 yd pass Pierce to Farri NW 36 QO 33 with 2 pt conversion by Pierce @mymcmedia @allmetsports @gdpoze @NWHSfootball pic.twitter.com/xCwWEQd037 — Phil Fabrizio (@Photoloaf) November 21, 2015
Bonner 65 yd run for TD makes it QO 33-28 in the 3rd. @mymcmedia @allmetsports @gdpoze @QOAthletics @NWJagSports pic.twitter.com/Dg1IJhglsb — Phil Fabrizio (@Photoloaf) November 21, 2015
NW takes it first lead of the game on a 8 yd pass from Pierce 28-27 @mymcmedia @allmetsports @NWJagSports — Phil Fabrizio (@Photoloaf) November 21, 2015
It's all tied at the half QO 21 NW 21. @mymcmedia — Phil Fabrizio (@Photoloaf) November 21, 2015
70 yd pass from NW Pierce to Konate ties it up 21 all. @allmetsports @mymcmedia @gdpoze @NWJagSports @QOAthletics pic.twitter.com/0ZQvFJp6ZZ — Phil Fabrizio (@Photoloaf) November 21, 2015
What a crazy game NW comes right back with and makes it 21-14 on this score from the 1. @mymcmedia @allmetsports pic.twitter.com/hVRRqlMYH3 — Phil Fabrizio (@Photoloaf) November 21, 2015
Busted play and QO scores on 73 yd run. 21-7 @mymcmedia @QOAthletics pic.twitter.com/0ZDo9uRHsG — Phil Fabrizio (@Photoloaf) November 21, 2015
Busted play and QO scores on 73 yd run. 21-7 @mymcmedia @QOAthletics pic.twitter.com/0ZDo9uRHsG — Phil Fabrizio (@Photoloaf) November 21, 2015
Bazzie on the interception of Pierce. Still in the 2nd. @mymcmedia @allmetsports @gdpoze pic.twitter.com/EJe7b3Nj53 — Phil Fabrizio (@Photoloaf) November 21, 2015
End of 1st Qtr. It's 14-7 QO. @mymcmedia @gdpoze @QOAthletics @NWJagSports — Phil Fabrizio (@Photoloaf) November 21, 2015
Beander on an end around makes it QO 14 NW 7and 3:55 left in the 1st. @mymcmedia @allmetsports @gdpoze @QOAthletics pic.twitter.com/g6mSzTMsG2 — Phil Fabrizio (@Photoloaf) November 21, 2015
NW marches right back as Pierce score on a 7 yd run score 7 up @mymcmedia @gdpoze @NWJagSports @QOAthletics pic.twitter.com/5L67uVxx5w — Phil Fabrizio (@Photoloaf) November 21, 2015
QO scores first on QB sneak after a 43 yd pass completion. 7-0 QO @mymcmedia @allmetsports @QOAthletics @gdpoze pic.twitter.com/eoWY06zMsQ — Phil Fabrizio (@Photoloaf) November 21, 2015
Game Time in Gaithersburg. @mymcmedia @QOAthletics @NWJagSports pic.twitter.com/VsT5jY2IIk — Phil Fabrizio (@Photoloaf) November 20, 2015
It's Friday Night under the Lights w/NW vs QO winner moves to State Semis. @mymcmedia @QOAthletics @NWHSfootball pic.twitter.com/HiRm0DE6Rx — Phil Fabrizio (@Photoloaf) November 20, 2015