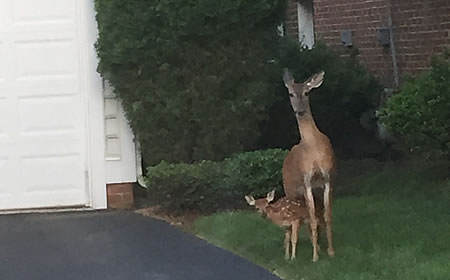 Montgomery Parks Readies Deer Management Program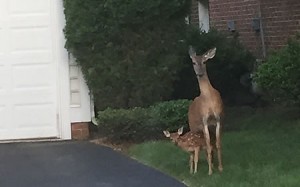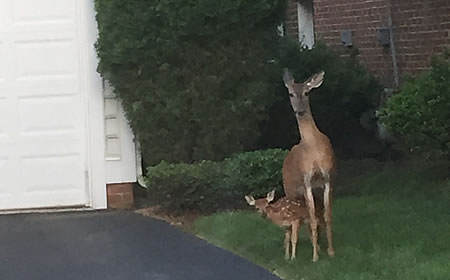 Montgomery Parks will begin its annual deer population management program in September, ending in March 2020.
Eight park units have been added this year, for 54 parks where archery- or shotgun-managed deer hunting, or Park Police-based sharpshooting operations will take place. The 54 parks comprise more than 50 percent of the parks' total land area.
Started 23 years ago, the program addresses overabundant deer populations in many areas of the county that result in deer-automobile accidents, excessive damage to the environment, private landscapes and agriculture, and concerns over disease. Once programming is implemented and established in these areas, routine maintenance is typically required to balance deer with the available habitat and human land uses.
Over 19,500 deer have been removed from select parks since the start of the program. All the deer meat — more than 315,000 pounds of meat — has been used or donated. In the case of Park Police operations, the Capital Area Food Bank receives the donations.
This year, the following parks are being added to deer population management efforts: Laytonia Recreational Park, Pope Farm Nursery and Muncaster Recreational Park, Muddy Branch Stream Valley Park Units 2 & 3, and Cabin John Stream Valley Park Units 1 to 3.
In addition to the expansions, two park locations will see an adjustment to strategy.  Muddy Branch Stream Valley Park Unit 1 will transition from sharpshooting to archery-managed hunting, and Bucklodge Conservation Park will add archery hunting to its existing shotgun-based managed hunting efforts.
Residents adjacent to the newly added park locations are notified by mail of new deer population management expansions.
Signs alerting the public of all hunts are posted in advance throughout and surrounding affected parks, at all park entrances and in select communities surrounding the affected parks.
Archery- and Shotgun-Managed Hunting
Archery- and shotgun-managed deer hunting are conducted by qualified, pre-screened hunters, under the direction and oversight of Montgomery Parks professional staff.
Archery-managed deer hunting occurs from September through January, in 14 parks, and does not require the parks to be closed.
Lottery-based and cooperative managed deer hunts (shotgun) take place in 11 parks which are closed to the public for each 24-hour period while operations are underway. Click here for a complete schedule of hunt dates and locations.
Park Police-based Sharpshooting Operations
Park Police-based sharpshooting operations are conducted at night in February and March 2020, by highly trained and certified Park Police sharpshooters, in cooperation with Parks wildlife ecologists, under stringent guidelines.
Thirty-two parks (park units) are included in these operations. These parks, including all trails, are closed in preparation for and during the operations from sunset to sunrise (when parks are typically closed, per Park Rules and Regulations).
Questions or comments regarding additions and/or changes to existing programming (or other deer management-related inquiries), may be directed to: Info@montgomeryparks.org OR 9500 Brunett Ave. Silver Spring, MD 20901, ATTN: Customer Service Office.  Please include your full name and address to allow for record keeping and response as appropriate.
Driver Safety Tips
As summer winds down, daylight hours decrease, deer food sources are shifting, and the breeding season, known as the rut is approaching.  Each of these factors influence the movement patterns of deer and increase the risk of deer vehicle collisions (DVCs).  The months of October through December constitute the majority of the rut for white-tailed deer.  During this period, deer activity/movement reaches its annual peak. Montgomery Parks urges residents and drivers to use caution as deer activity becomes more frequent and unpredictable through the autumn months, and offers the following recommendations:
Be alert for deer on or near roadways.
Be aware that deer are most active from dusk through dawn.
Look for eye-shine along road edges.
Deer may travel in groups, so if you see one deer expect others.
Pay attention to deer crossing signs; these signify areas where multiple accidents have occurred.
Never swerve to avoid colliding with a deer.
A collision with a deer can happen on any roadway in the county but be particularly cautious in areas where you observe deer often and where woodlands/natural habitat run adjacent to the roadway.
For more information on the county's deer management program see The Montgomery County Deer Management Program Annual Report and Recommendations for Fiscal Year 2020 which contains data pertaining to deer impacts and recommendations for the upcoming year. This and other information, including a copy of the County's deer management plan, and information regarding deer management operations, are available through www.ParksDeerManagement.org.