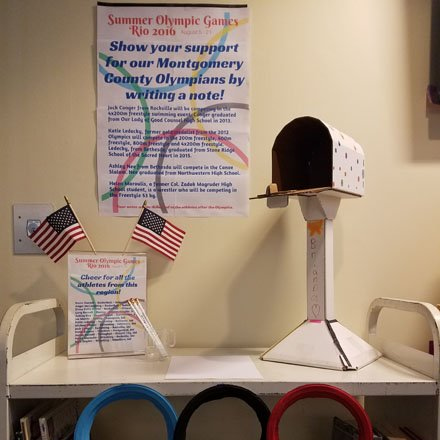 Montgomery County Public Libraries Celebrating Local Olympic Athletes (PHOTOS & VIDEO)
Montgomery County Public Libraries (MCPL) are celebrating local Olympic athletes by setting up stations for residents to send fan mail and messages.
MCPL Director Parker Hamilton explains the stations in this video:
According to a news release, four of the 11 athletes on the 2016 U.S. Olympic roster have roots in Montgomery County.
Jack Conger from Rockville will be competing in the 4x200m freestyle swimming event. Conger graduated from Our Lady of Good Counsel High School in 2013.
Katie Ledecky, former gold medalist from the 2012 Olympics will compete in the 200m freestyle, 400m freestyle, 800m freestyle and 4x200m freestyle. Ledecky, from Bethesda, graduated from Stone Ridge School of the Sacred Heart in 2015.
Ashley Nee from Bethesda will compete in the Canoe Slalom. Nee graduated from Northwest High School.
Helen Maroulis, a former Col. Zadok Magruder High School student, is a wrestler who will be competing in the Freestyle 53 kg.
"I am so proud of our County athletes – Ashley, Helen, Jack […] who are competing in Rio. Through their hard work, dedication, and personal sacrifice these young people are living their dream,"  Montgomery County Executive Ike Leggett said. "I encourage everyone to stop by one of our library branches to show how much we admire and support these extraordinary athletes," he said.
Residents can stop by any of the library branches to drop off their letters or cards. The fan mail stations will be available through August 21st during regularly scheduled library hours. The letters will be delivered to athletes after the Olympics.
"Everyone is proud of our 'hometown' Olympic athletes," MCPL Director Parker Hamilton said. "It is wonderful our Libraries are a place for everyone to show their support for the athletes. Residents will also want to take advantage of the Olympic-themed library offerings such as the expansive collection of books on the Olympics, athletes or sports or computer stations to stay current on what is happening in Rio," she said.
Maryland native Kyle Snyder also has roots in the County. He attended  and wrestled at Our Lady of Good Counsel High School. He is competing in the Freestyle 97kg. Snyder will take over Good Counsel High School's Instagram page on August 13th.
Opening ceremonies for the 2016 Rio Olympics are tonight.