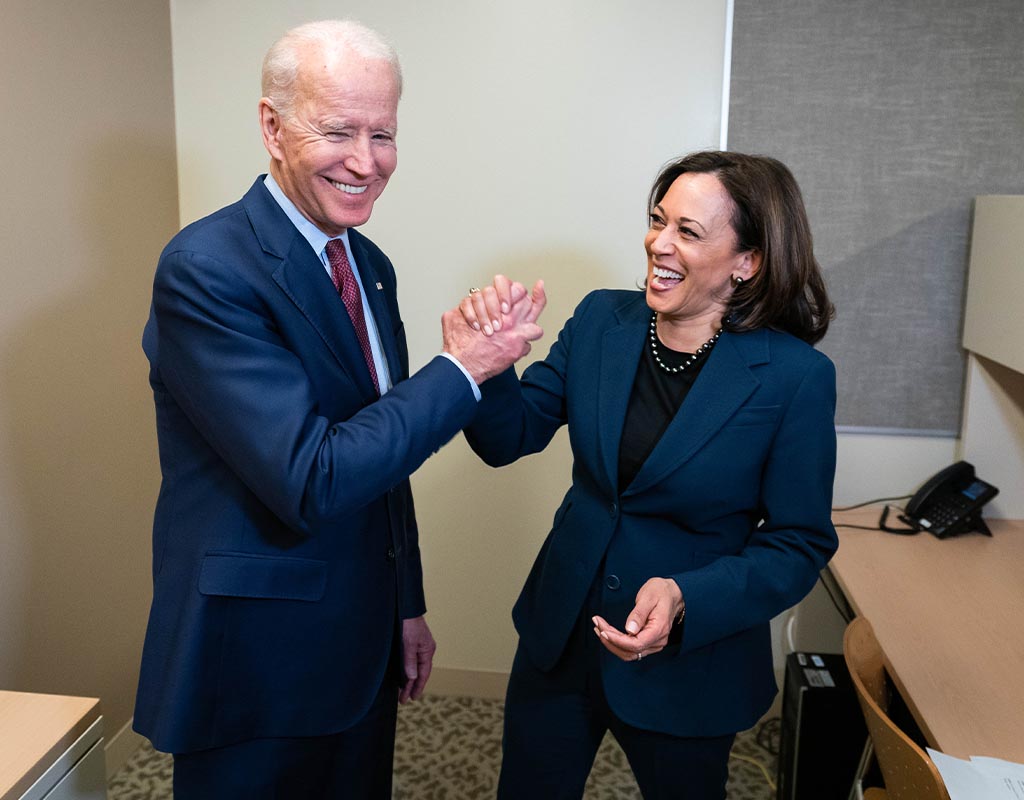 Montgomery County Leaders React to Biden's VP Pick Harris
On Tuesday, presumptive Democratic presidential nominee Joe Biden announced that he's selected California Sen. Kamala Harris as his running mate. Harris' candidacy is historic in that she's the first Black woman and the only South Asian American woman to become a vice presidential nominee.
Here's a look at how Democratic leaders in Montgomery County are reacting to the news.
Councilmembers React to News of Biden Picking Harris
When I ran for office, I earned the support & endorsement of my friend @SenKamalaHarris. Early in the 2020 presidential race, I endorsed @KamalaHarris b/c I know she has the heart & ability to lead this country forward. @JoeBiden is on the path to victory! #BidenHarris2020 🇺🇸 pic.twitter.com/ap0ND37Zcq

— Will Jawando (@willjawando) August 11, 2020
OUR Vice President!! Let's go win this thing!! #bidenharris2020 😊👏🏾🇺🇸 pic.twitter.com/iNE7qeuvdu

— Will Jawando (@willjawando) August 11, 2020
I'm with them! #BidenHarris

— Evan Glass (@EvanMGlass) August 11, 2020
YES, YES, YES!!!!! Let's go! #BidenHarris2020 https://t.co/PFRfJv6E0u

— Nancy Navarro (@nancy_navarro) August 11, 2020
Perfecta la selección de @KamalaHarris como Vice-Presidente- Adelante! 👏🏼#BidenHarris2020 #SiSePuede #TodosConBiden https://t.co/PFRfJv6E0u

— Nancy Navarro (@nancy_navarro) August 11, 2020
— Craig Rice (@RicePolitics) August 11, 2020
Excited about @KamalaHarris as our next VP.
Smart move by @JoeBiden. This looks like a winner!
Can't wait to fight hard for #BidenHarris! https://t.co/Dzpdoa5Yuq

— Tom Hucker (@tomhucker) August 11, 2020
KEEP
KAMALA

and

CARRY
ON…to November!#BidenHarris2020

— Andrew Friedson (@amfriedson) August 11, 2020
State Delegates, Senators Representing Montgomery County Constituents React to Biden's VP Announcement
KAMALA HARRIS!!!!!!! 🇺🇸🇺🇸🇺🇸

— Jheanelle Wilkins (@JheanelleW) August 11, 2020
Let's goooooooooo!!! #BidenHarris

— Jheanelle Wilkins (@JheanelleW) August 11, 2020
Ready to work. Let's do this.

— Jheanelle Wilkins (@JheanelleW) August 11, 2020
Great pick @JoeBiden. Congratulations @SenKamalaHarris.

Biden/Harris onto November. Time to get the bumper stickers and yard signs. https://t.co/5D2YVnCTbE

— Kirill Reznik (@DelegateReznik) August 11, 2020
BEYOND thrilled! #BestChoice https://t.co/1it1KutSmq

— Cheryl C. Kagan (@CherylKagan) August 11, 2020
Yes!!! Vice President Comma-la Harris! She deserves the spot and for everyone to pronounce it correctly! #BidenHarris2020 pic.twitter.com/QAWB7b3uyp

— Del. Lesley Lopez (@LesleyJLopez) August 11, 2020
VP debate is on Oct. 7. Pence better start eating his Wheaties #BidenHarris2020 pic.twitter.com/eePD8dBJfs

— Del. Lesley Lopez (@LesleyJLopez) August 11, 2020
— Marc Korman (@mkorman) August 11, 2020
A historic pick for historic times. So proud to be a Democrat. #WinInNovember https://t.co/S45SXwRwj4

— Senator Will Smith (District 20) (@Willcsmithjr) August 11, 2020
Thank you, @JoeBiden, for having the courage and wisdom to select a capable, strong woman as your running mate! @KamalaHarris will be a fantastic partner as you work to repair what has been broken in our country over the last 3 years. Onto victory in November!

— Bonnie Cullison (@Del_Cullison) August 11, 2020
Wow, big news! Congrats to @KamalaHarris – the next VP of the United States. The senator will be a great teammate to Joe Biden.

— Craig Zucker (@SenatorZucker) August 11, 2020
#BidenHarris2020 Let's go! https://t.co/g21rSB4oU1

— Lorig Charkoudian (@LCharkoudian) August 11, 2020
So excited to work towards electing this team! #BidenHarris2020

— SaraLove4MD (@SaraLove4MD) August 11, 2020