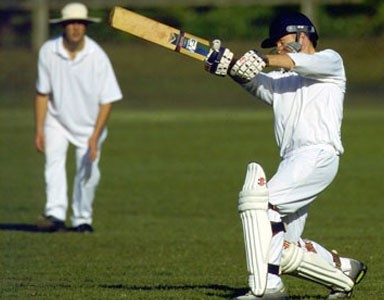 Montgomery County Gets First Cricket Field
Cricket is the second-most popular sport in the world, and on Saturday Montgomery County's first full-size cricket field opened at South Germantown Recreational Park. 
Good morning! We are at South Germantown Recreational Park to officially open our NEW cricket field. pic.twitter.com/h1drafIRCP

— Montgomery Parks (@MontgomeryParks) September 14, 2019
The field is about 400 feet long, and can support youth and adult soft ball and hard ball games. The cricket field also has a batting cage, two shade pavilions, benches, viewing mounds and portable toilets. 
The Montgomery County Planning Board approved the field site in July 2015. Montgomery Parks realized a need for cricket fields in the county to keep up with the growing popularity of the sport, it said in a statement. 
Cut the ribbon today at our 1st purpose-built cricket field in Montgomery County. Cricket is the 2nd most popular sport in the world with 2.5 billion fans, just behind Soccer. pic.twitter.com/XxQdDHM0B9

— Mike Riley (@MikeRileyParks) September 14, 2019
Joined Councilmembers @RicePolitics, @willjawando and @MNCPPC Chair @CaseyAndersonPB at this morning's ribbon cutting for Montgomery County's first purpose-built Cricket Field in Germantown located @MDSoccerPlex! pic.twitter.com/QsQz7KrYEl

— Senator Brian Feldman (@BrianJFeldman) September 14, 2019
Had a great time this morning celebrating the ribbon cutting for the first official use #cricket field at the South Germantown Recreational Park @MDSoccerPlex Happy to be joined by @willjawando @BrianJFeldman @CaseyAndersonPB @MikeRileyParks Gerald Cichy & Partap Verma pic.twitter.com/dqS1BDEIRW

— Craig Rice (@RicePolitics) September 14, 2019
One of the faster growing sports in MoCo is Cricket. Enjoyed attending the opening of the new Cricket pitch in Germantown. Even got a few turns bowling to a batsman! pic.twitter.com/J6BrJxIcUh

— Gabe Albornoz (@albornoz_gabe) September 14, 2019
Happy to join Councilmember Craig Rice, Sen. Brain Feldman and @MNCPPC chair, @CaseyAndersonPB, and board member, @PartapMoCo at this morning's ribbon cutting at the County's first purpose-built cricket field! pic.twitter.com/kcEXiWT04C

— Will Jawando (@willjawando) September 14, 2019