Montgomery County Election Workers Continue Counting Mail-In-Ballots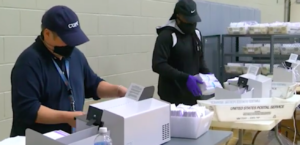 The Montgomery County Board of Elections began processing the remaining mail-in-ballots on Thursday. The canvassing process began at 1:30 p.m. and will run until 6 p.m.
The next canvass will be on Saturday, Nov. 7, at 9:30 a.m. Residents can watch the process via live stream. Canvassing will continue as needed until all ballots are opened and scanned for counting- with each day's results added to the previous day's total.
Mail-in-ballots postmarked by Election Day will still be received up to Nov. 13. Local Board of Elections officials says they hope to have every ballot counted by the end of the month.
MyMCMedia spoke with the Montgomery County Board of Elections spokesperson, Dr. Gilberto Zelaya, to get a breakdown of the percentage of votes counted so far and how many more they have left to go.
IT'S CANVASS DAY! Join us via live-stream. The canvass process will continue as needed until all ballots are opened & scanned for counting. https://t.co/r1Gb6zveuV#YourHealthYourVoiceYourVote #MoCoSecuringYourVote2020 #MakeAVotePlanMoCo pic.twitter.com/LBhY81tDG0

— MontgomeryMDVotes (@777Vote) November 5, 2020
Election day may have passed but canvass preparations continue as she removes privacy flaps to check for Voter's Oath signature. For schedule & live-stream portal: https://t.co/e2dlbdGOza#MoCoSecuringYourVote2020 #PatiencePatience2020 pic.twitter.com/Ux87rWgE54

— MontgomeryMDVotes (@777Vote) November 5, 2020
MoCo's bringing reinforcement! For canvass schedule & live-stream portal: / ¡MoCo trae refuerzo! Para el calendario de escrutinio y el portal de transmisión en vivo: https://t.co/e2dlbdGOza#MoCoSecuringYourVote2020 #LaJuntaAsegurandoSuVoto pic.twitter.com/n2ol4Rjt9S

— MontgomeryMDVotes (@777Vote) November 5, 2020