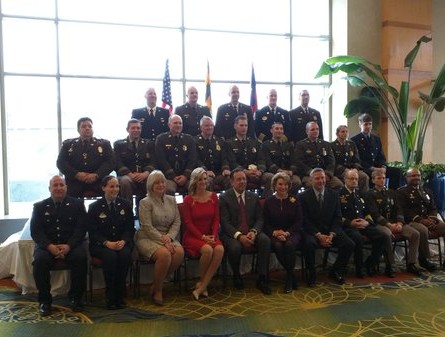 Montgomery County Chamber of Commerce Honors Public Safety Officers (PHOTOS & VIDEO)
Nearly 1,300 people turned out for the 42nd Annual Public Safety Awards on Friday in Bethesda. The event was hosted by the Montgomery County Chamber of Commerce (MCCC) and took place at the North Bethesda Marriott on 5701 Marinelli Road.
National, state and local officials as well as business leaders took time to honor public safety officers for their valiant efforts in 2015.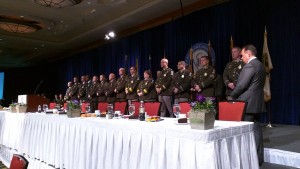 Officers and members of the crowd paid tribute to Officer Noah Leotta who died in the line of duty in December 2015. Officials including Montgomery County Executive Ike Leggett, U.S. Representative Chris Van Hollen, U.S. Representative John Delaney and Police Chief Tom Manger stressed the importance of passing stronger DUI laws to protect law enforcement officials and the public.
The highest honor was bestowed upon two Montgomery County Police officers who rescued an unconscious driver from a burning car on the beltway in September of 2015.
Typically, one recipient for the Gold Medal of Valor is chosen every year to recognize an act of bravery involving extreme personal risk that is above and beyond the call of duty. Take a look at the videos and pictures from the event below.
Nearly 1,300 people turned out for today's public safety awards. @mymcmedia pic.twitter.com/Ys47UDutCS

— Willie James Inman (@imwilljames) March 11, 2016
Standing ovation for public safety officers being honored today. @mymcmedia pic.twitter.com/qSyEFWALJ9

— Willie James Inman (@imwilljames) March 11, 2016
.@ChrisVanHollen says MD General Assembly should take up and pass #NoahsLaw as is to protect public safety officers. pic.twitter.com/ADw6nNxkct

— Willie James Inman (@imwilljames) March 11, 2016
Richard and Marcia Leotta are advocating for the original version of #NoahsLaw. @mymcmedia pic.twitter.com/eKicFJrJgo

— Willie James Inman (@imwilljames) March 11, 2016
.@mcpnews Officers Brian Nesbitt & Cody Fields receive medal of valor at the 42nd Annual Public Safety Awards. pic.twitter.com/d5qAPEm7kQ

— Willie James Inman (@imwilljames) March 11, 2016
Related: