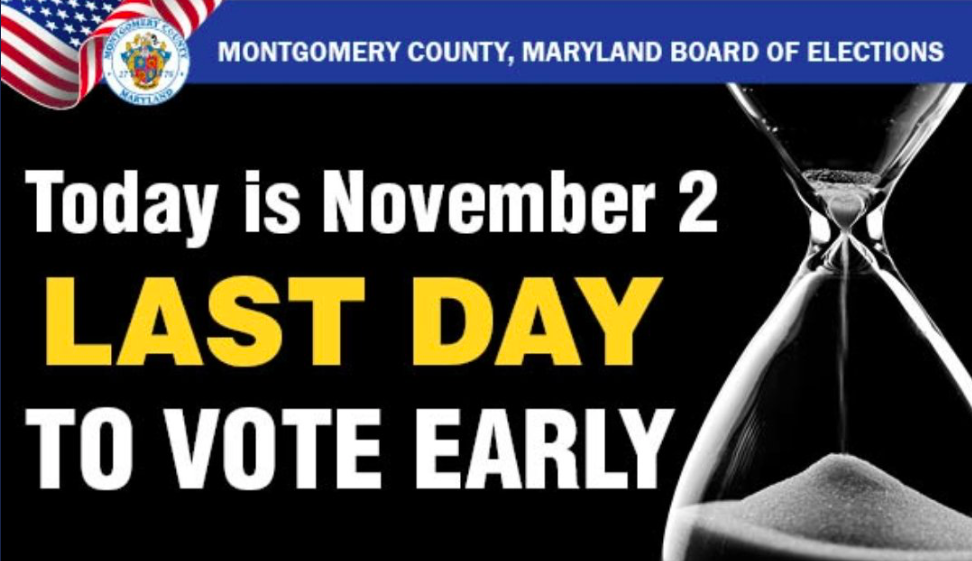 Monday Marks Last Day for Early Voting in Montgomery County
With Election Day less than 24 hours away, Monday marks the last day of early voting in Montgomery County.
The local Board of Elections urges voters to take advantage of the short line wait times during early voting, as they are expecting a surge on Tuesday. According to officials, out of the more than 673,000 Montgomery County registered voters, there's been a 64% turnout so far.
MyMCMedia spoke with Dr. Gilberto Zelaya from the Montgomery County Board of Elections.
In case you're curious…
307,155: Mail-in ballots received
111,886: Voted Early
11,058: Voted Provisionally
430,099: Turnout so far (Mail-in + Early + Provisionally)
673,198: MoCo registered voters
64%: Turnout so far#MoCoSecuringYourVote2020 #MakeAVotePlanMoCo pic.twitter.com/5E0s4aFJgO

— MontgomeryMDVotes (@777Vote) November 2, 2020
Early Voting open for business! Last day! Avoid Election Day lines. VOTE TODAY!

* For the closest center & wait times, text EV plus Zip code to 77788 (Example: EV 20879) "OR" download the MoCo Voter App.

Google Play: https://t.co/iFJCIEcPr8
App Store: https://t.co/QKUw92Apng pic.twitter.com/kPj83rgAJf

— MontgomeryMDVotes (@777Vote) November 2, 2020
Unofficial Early Voting Turnout/Participación no oficial en la votación anticipada
DAY/DÍA 1 (10/26) 24,359 🥰
DAY/DÍA 2 (10/27) 22,604
DAY/DÍA 3 (10/28) 22,792
DAY/DÍA 4 (10/29) 17,698
DAY/DÍA 5 (10/30) 18,567
DAY/DÍA 6 (10/31) 8,256
DAY/DÍA 7 (11/1) 7,969 😭
Total: 122,245 pic.twitter.com/eb8wfCRVxG

— MontgomeryMDVotes (@777Vote) November 2, 2020