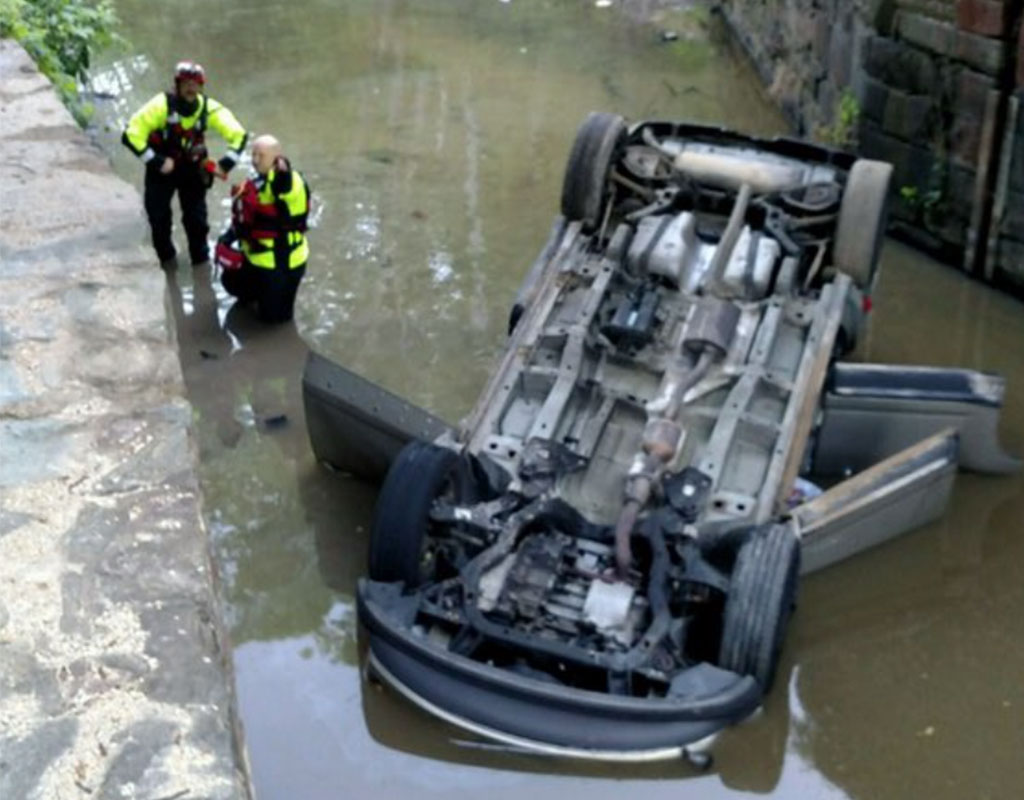 UPDATE: Men Hospitalized After Car Flips Into C&O Canal
Update, 3:47 p.m.: Medics took the two for treatment for fears of hypothermia, said Sgt. Eduardo Delgado, of the U.S. Park Police.
Delgado said the driver of the car had minor injuries. The passenger was in critical and now stable condition, he said.
No charges have been filed yet, and if they are, the men will appear in U.S. District Court for adjudication, Delgado said; the federal government has jurisdiction over the towpath, which is a national park.
---
Original Post: Two men were taken to the hospital after their car flipped into the Chesapeake and Ohio Canal in the Potomac area on Wednesday morning.
According to Pete Piringer, the spokesperson for Montgomery County Fire & Rescue Services, the vehicle fell near the stop gap area, between Old Anglers Inn and Great Falls.
Both MCFRS's EMS team and the U.S. Park Police responded to the incident, at around 7 a.m. When the responders arrived, the two men were outside of the car, and responders helped to extract them from the water.
Piringer told MyMCMedia that it seemed like the vehicle had been in the water for a couple of hours before responders even arrived.
The two men are both being treated for exposure and hypothermia, Piringer said, and one of the men is being treated for trauma because he suffered from more serious injuries.
It's unclear how and when the vehicle flipped into the canal; police are continuing to investigate the situation.
Update – Great Falls Park @COcanalNPS Vehicle overturned in Canal, @mcfrs EMS transported 2 adults pic.twitter.com/CGEG2QA1lp

— Pete Piringer (@mcfrsPIO) May 15, 2019
ICYMI ~7a @mcfrs Swift Water Rescue & others responded @COcanalNPS near Great Falls Tavern for vehicle overturned in canal/water, 2 patients extricated, 1 of whom was Pri2 trauma, both transported by @MCFRS_EMIHS @usparkpolicepio investigating https://t.co/cTdyFDWQHX

— Pete Piringer (@mcfrsPIO) May 15, 2019
Update C & O Canal, civilian vehicle in canal/water, near Stop Gap Area, btwn Old anglers and great Falls, 2 people out of vehicle, EMS evaluating & extracting patients, vehicle still in water https://t.co/iSWG4ijG2s

— Pete Piringer (@mcfrsPIO) May 15, 2019