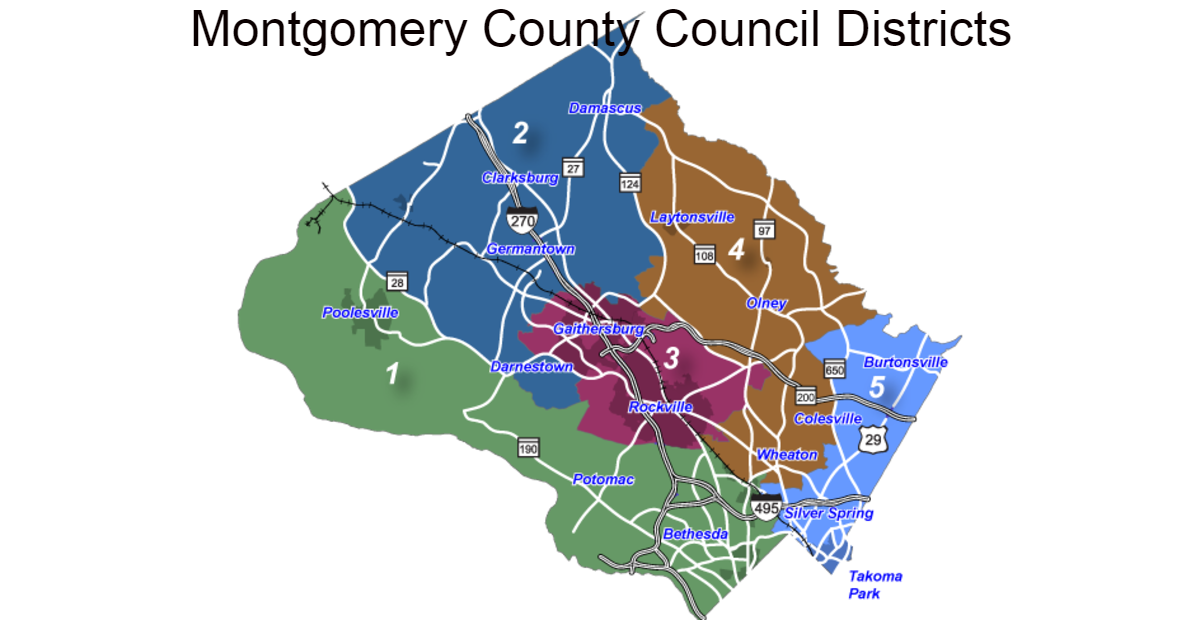 Members of New Commission Will Study County Redistricting
Montgomery County Council announced the appointment of 11 residents to its new Commission on Redistricting.
In the 2020 general election, voters opted to amend the county charter so that there will be seven districts, each with one representative, and four at-large members. Currently, there are five councilmembers representing a specific district and four at-large members. Therefore, the number of councilmembers will rise from the current nine to 11 and the number of council districts will expand from five to seven.
The new members are Imad Aldean Ahmad, Laura Ard, Mariana Cordier, Keshia Desir, Arthur Edmunds, Valerie Ervin, Bruce Goldensohn, Jason Makstein, Nilmini Rubin, Samuel Statland and David Stein.
The Council chose Edmunds to serve as interim chair and Cordier as interim vice chair of the commission until the group votes to select a permanent chair and vice chair.
Two of the members live in Bethesda, two in Silver Spring, two in Potomac and one each from Gaithersburg, Wheaton, Laytonsville, Chevy Chase and Kensington.
They are expected to have their work completed by Nov. 15.
To read about each member, click here.
Excited to see a lot of great friends & allies selected for the MoCo Redistricting Commission, I look forward to hearing from them as the process moves on. Congrats!

Disappointed though that only 2 of the 11 are from the UpCounty. This is why folks feel underrepresented up here.

— Andrew Saundry 🦀 (@andrewsaundry) January 26, 2021
Today, the Council approved appointments for 11 members of the County's Commission on Redistricting.

Learn more: https://t.co/YgEafSA6jh. pic.twitter.com/8PZ1ecu4OU

— Montgomery Council (@MoCoCouncilMD) January 27, 2021
REDISTRICTING: We just finished interviewing 32 applicants for the Montgomery County Redistricting Commission. Once my colleagues and I select the 11 commissioners, they'll get to work redrawing our current five district map into a seven district map for the 2022 election. pic.twitter.com/Ci5tPDEZ4R

— Evan Glass (@EvanMGlass) December 9, 2020
Related Post