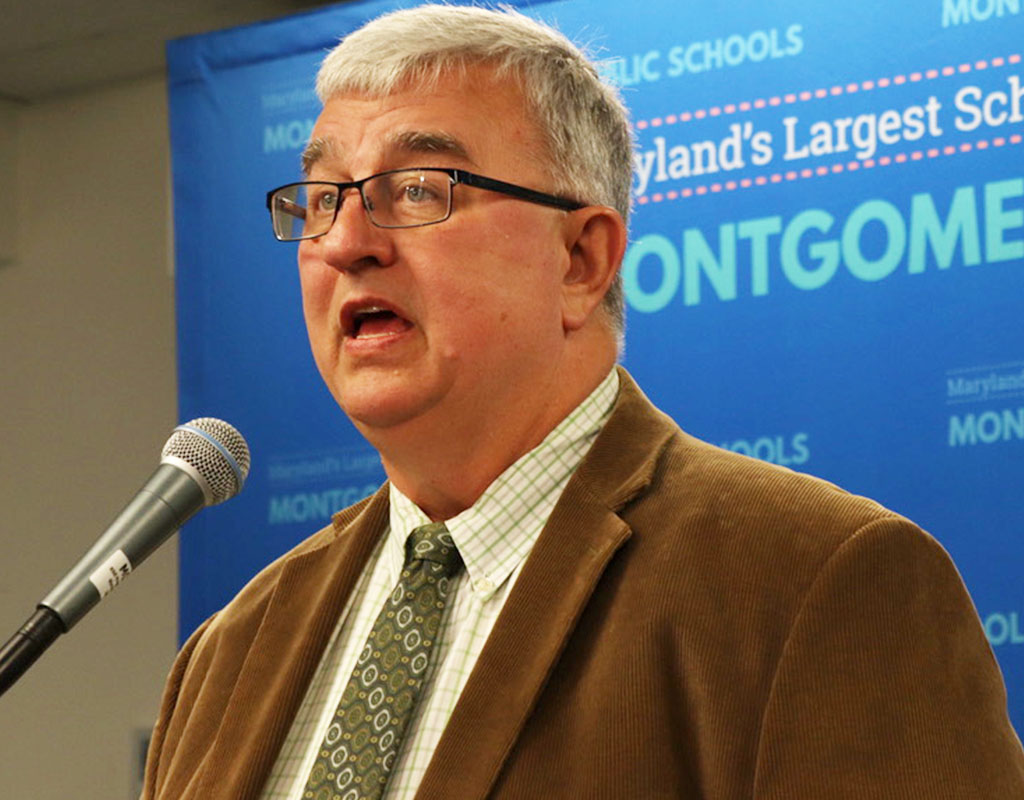 MCPS Superintendent Jack Smith to Retire June 1
Montgomery County Public Schools announced Thursday that Superintendent Jack Smith will retire effective June 1.
Smith has served as superintendent for MCPS since July 2016 and is currently one year into his second term. Before joining the MCPS community he had worked as a lifelong educator as a teacher, principal, and former interim state superintendent for Maryland Schools.
Smith explained in a letter to MCPS staff members that he's leaving for family reasons. His toddler-aged grandson had open-heart surgery in May 2019 and since then his wife relocated to Maine to support their daughter and son-in-law. Smith said he "can no longer tolerate living most of the time separately," and he plans to join his wife in Maine.
Smith has high praise for the MCPS staff members in the letter, adding that he has "no desire to leave" the MCPS community.
"The work we have done together around the equity accountability framework, the allocation of resources, student well-being, upgrades to current technology, our expansion of pre-K and language programs are among a host of system improvements that I am so happy to have been involved with," Smith says.
Smith praises the 17 Board of Education members he worked with, saying, "they consistently have made decisions with the best interest of students in mind, as well as a very real desire to maintain the excellence of the system, while increasing the access and opportunity to provide a truly equitable experience for every child we serve."
MCPS said in a statement that through June 1, Smith will remain engaged in guiding the school system as it looks at health metrics, vaccine distribution information, to reopen schools.
In a letter to the community, @MCPS highlights Jack Smith's accomplishments as superintendent.@mymcmedia pic.twitter.com/lkAChZS5fn

— Deirdre Byrne (@DeirdreByrneMCM) January 14, 2021
Smith says he's confident that MCPS will continue doing great work for its 160,000 students.
"I am also confident that working together, we can and will implement a comprehensive recovery of education plan that will get students back in school buildings and address the significant learning loss as a result of the COVID-19 pandemic," Smith says.
MCPS says the Board of Education will soon name an interim superintendent of MCPS schools. In the meantime, the board will "determine the next steps for conducting a nationwide search to identify the next superintendent of Montgomery County Public Schools."
Board of Education Statement on Smith's Retirement
Montgomery County Board of Education reacted to the news of Smith's retirement with the following statement:
Over the past four years, Dr. Smith has provided the school district and the MCPS community with steadfast leadership and a laser-focused vision to provide every student with the access, opportunity and resources they need to succeed. His commitment to ensuring that All Means All in Montgomery County has taken the district's work on equity and student achievement to the next level. He has built on our district's legacy of excellence and helped us ensure that we have a school system where every child has the opportunity to reach their highest potential. His steady leadership has guided us through these tremendously challenging times as we navigate the complexities of the COVID-19 pandemic and work to get students and staff back in buildings as quickly and safely as possible. Dr. Smith is an exceptionally skilled leader and we are grateful for the time we have had with him. Although we are saddened by his departure, we understand his need to be with his family as they navigate a variety of challenging health circumstances.  The Board of Education will name an interim superintendent of schools soon. The Board will then determine the next steps for conducting a nationwide search to identify the next superintendent of Montgomery County Public Schools.

Our focus remains on providing a robust learning experience for students and ensuring a safe return to in-person learning. We thank Dr. Smith for his service. We know that his efforts have helped to change the lives of thousands of MCPS students."
Superintendent Jack Smith has announced he will retire from MCPS effective June 1, 2021. Please read this statement that the Board of Education has issued on his retirement announcement: https://t.co/LAXQ7AlEoe

— Moco BOE (@mocoboe) January 14, 2021
Elrich's Statement on Smith's Retirement
County Executive Marc Elrich released the following statement about the news of Smith's retirement:
I want to thank Dr. Smith for the leadership, vision and commitment he has provided to the Montgomery County Public Schools. Since beginning his tenure as superintendent in 2016, Dr. Smith put the education and welfare of ALL students first. His experience as a classroom teacher, principal and curriculum director have enabled him to take on the challenges of leading Maryland's largest, and very diverse, public school system. As a former Montgomery County public school teacher, I appreciate what Dr. Smith has accomplished and the wealth of knowledge he brought to the job. He has guided our school system during one of the most challenging periods in education history—helping our students continue their learning despite having the COVID-19 health crisis demand a virtual system over the past year. Thanks to his efforts, we have made progress and addressed some of the other critical issues facing our school system. Now that he is moving on, we must continue to build on his work and ensure that every child receives the quality education they deserve, regardless of their race, ethnicity, socioeconomic status or learning needs.

I want to thank Dr. Smith for all he has done to improve the quality of life in Montgomery County and wish him well as he enters the next chapter of his life."