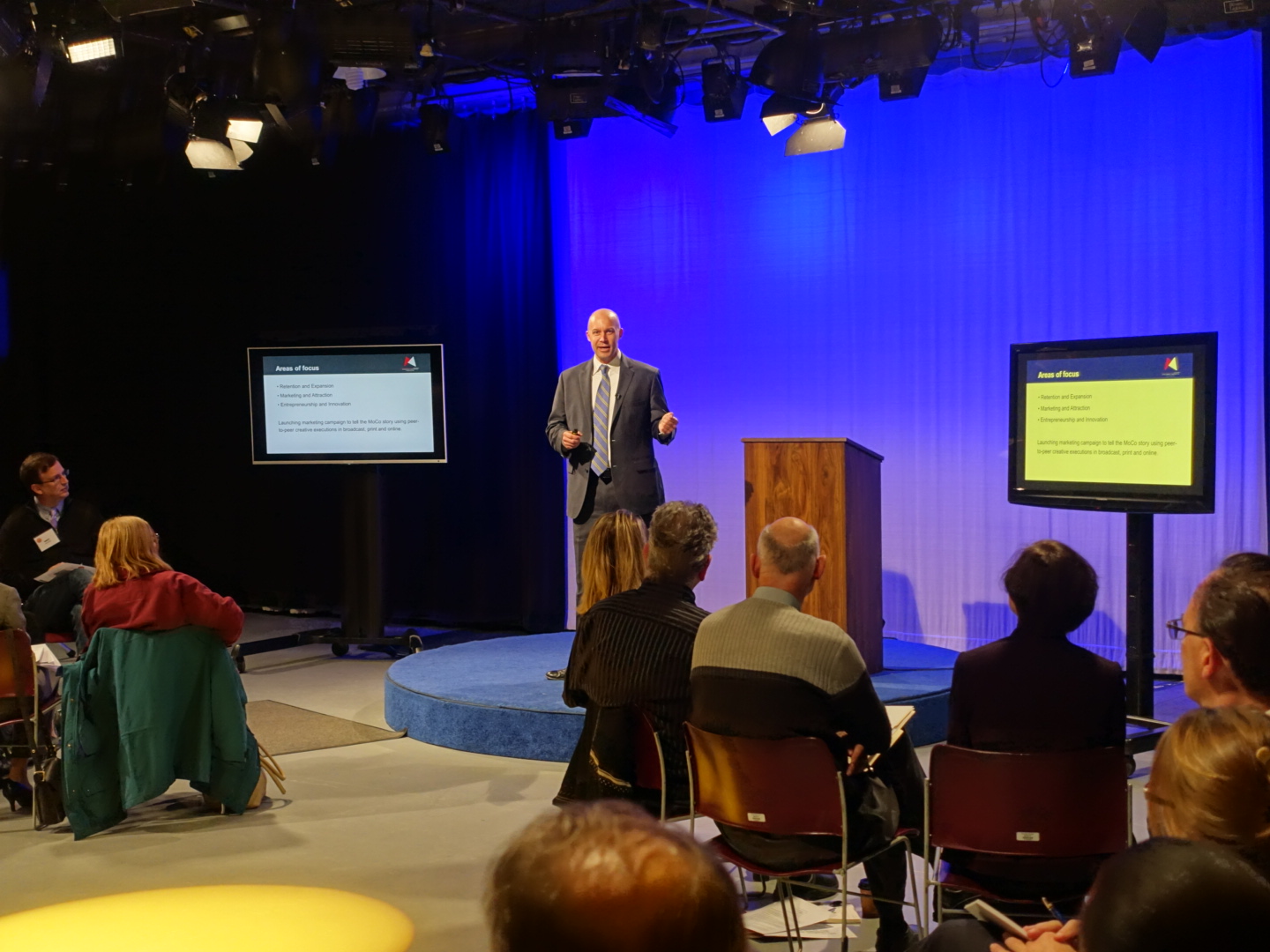 MCEDC CEO David Petr Wants New Organization to be the Best in Economic Development (VIDEO)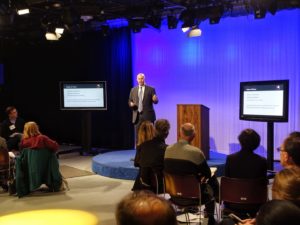 David Petr, the CEO and president of the Montgomery County Economic Development Corp. (MCEDC), was the keynote speaker at the Small Business Network's monthly event on Jan. 19 at the studios of Montgomery Community Media.
Petr, who has been on the job for four months, told dozens of business leaders that the newly created MCEDC wants to help them grow their businesses in Montgomery County. He said his goal is to inspire them to be successful and to make sure they have the tools to do just that. He also said that he hoped the business leaders in the audience would become brand ambassadors for Montgomery County. He shared his background in marketing, and said that he believes economic development is story telling.
"We obviously want to bring new business to Montgomery County but we also want to grow what is currently here," said Petr in an interview after the event.
According to Petr, the best way for residents to learn about the MCEDC is to visit its website online.
"There they'll find contact information about how to reach out to our business development team or myself," said Petr. "We would be happy to set an appointment and talk to them."
As for the year ahead, he said there will be some changes to the organization's domain name and its logo.
"We are going thru a brand new marketing refresh and campaign," said Petr. "The new website is to be determined but we will be able to launch that very soon."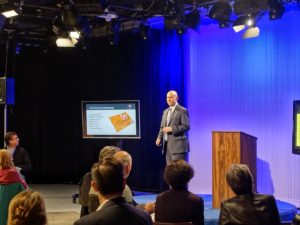 By the summer, he said, the organization's focus will be on branding the county as a business destination.
"The new brand is going to use peer to peer marketing," Petr said. "We are going to highlight the CEOs, and students and professionals that make Montgomery County a great place to live, work, and play."
According to Petr, this approach is important because he said there is a great story to tell and because he believes that story of all that Montgomery County has to offer has not been told before. He said the campaign would first focus on the region so residents in the area know the organization exists for their success. After that, he said, the organization would focus on marketing nationally and internationally.
"Those will be different kinds of campaigns. We are very excited about telling the story in a new and bold and fresh way, where it hasn't been done before," Petr said.
When asked about his agenda for the year ahead, Petr said it's similar to any startup company. The work, he said, includes building the team, which has 11 members right now, creating a work plan and budget and building out the office space where the MCEDC is located on Rockville Pike. He said he wants MCEDC to be the best when it comes to economic development.
As for the country's new presidential administration, he said, it is too early to know what kind of impact Donald Trump may have on Montgomery County.
"The verdict is still out on what the new presidency will bring," said Petr. "I think there will be some areas that will show improvement for Montgomery County and there may be some challenges for Montgomery County."
According to Petr, the most important thing he wants the community to know is that the MCEDC exists.
If there is a company that needs help, he wants to know about it.
"Reach out to us," Petr said.
If you missed the Small Business Network event with Petr, you can watch his presentation on video, below:
For more information about the MCEDC, visit its website, here.