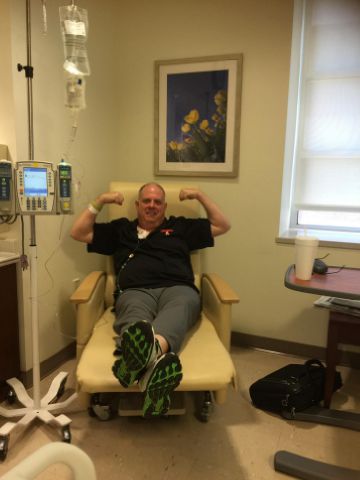 Maryland Governor Larry Hogan Finishes Chemotherapy (PHOTO & VIDEO)
Maryland Governor Larry Hogan is smiling after his final chemotherapy treatment. He's also thanking his staff and supporters.
"After nearly a year and a half battle, I can't tell you how it feels to be getting my last chemo treatment today," said Hogan in a post on social media. "I could never have made it to this point without the amazing support of my family, friends and staff, along with an incredible team of doctors and nurses. I am humbled by the thousands of prayers and well wishes that I received from all around the world. And I am deeply grateful to be one hundred percent cancer free and in complete remission. My heart, my thoughts and my prayers go out to all the other victims of cancer and their families. I plan to make the most of every single day I am given, and I won't stop fighting until a cure is discovered for this terrible disease."
The governor posted a photo of his last chemotherapy treatment on his social media channels. He is smiling in that photo and his arms are raised to show off his strength.
When he arrived back from the hospital, he was greeted by staff and supporters. On Twitter, he posted a video of that surprise homecoming reception (see below).
In June of 2015, Hogan announced that he had been diagnosed with aggressive, non-Hodgkin lymphoma.
Surprised by my staff when I got back from the hospital after my final chemo today! Was thrilled to cut off the #HoganStrong wristbands! pic.twitter.com/BM6jUNQ0Ak

— Larry Hogan (@LarryHogan) October 3, 2016
After nearly a year and a half battle, I can't tell you how it feels to be getting my last chemo treatment today! https://t.co/RnMvIRQvsB pic.twitter.com/sfKEsl6jtN

— Larry Hogan (@LarryHogan) October 3, 2016