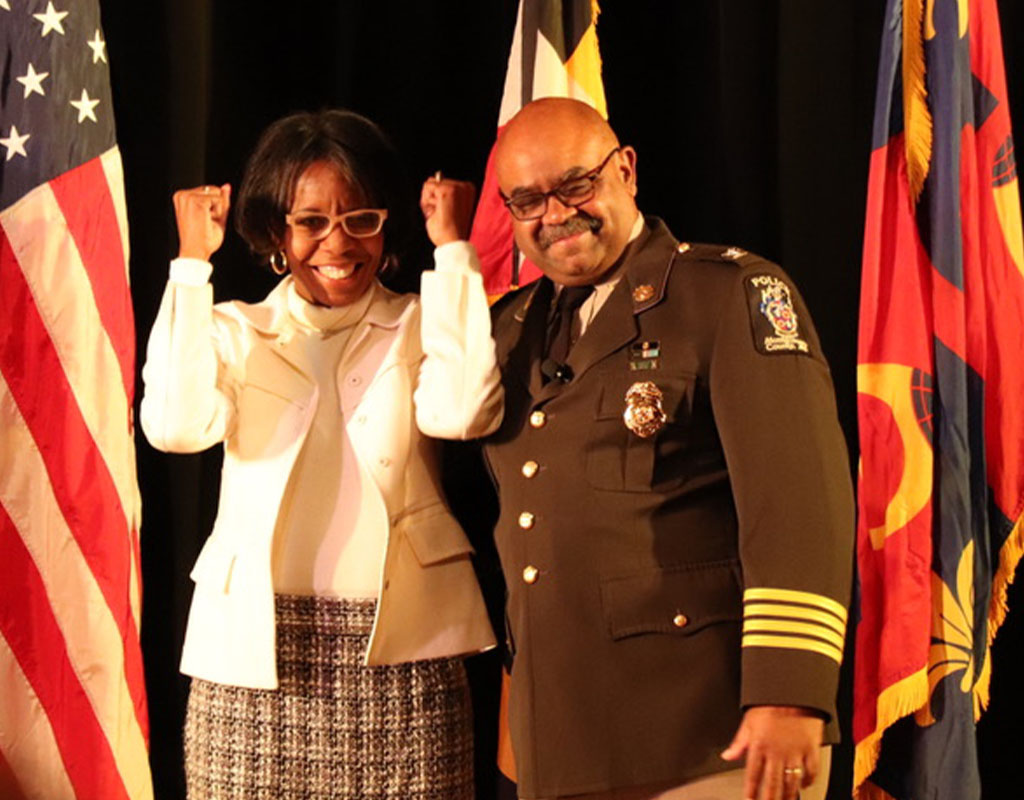 Marcus Jones Sworn in as Montgomery County Police Chief
Marcus Jones has officially taken the oath as Montgomery County's new police chief.
At his swearing in ceremony on Friday evening, Jones was joined by family, friends, and the police community at Gaithersburg High School to celebrate his accomplishment. Jones said taking the oath at Gaithersburg High was particularly special, because his three children all graduated from the school.
Also attending the ceremony was County Executive Marc Elrich, former Montgomery County Police Chief Tom Manger, several county council members, and other community leaders.
Jones has been a veteran of Montgomery County Police Department for more than 30 years, and worked closely with Manger. Manger—who, in May, endorsed Jones as the next police chief—said he was thrilled to see Jones sworn in.
"I know that he's the right person for the job and he's going to make everybody proud of the work that he does," Manger said.
Tweet Recap of Chief Jones's Swearing In Ceremony
Here are some tweet highlights from Chief Jones's swearing in ceremony.
THREAD: I'm at the Chief of Police swearing in ceremony for Marcus Jones. pic.twitter.com/21hLuMncXd

— Deirdre Byrne (@DeirdreByrneMCM) November 8, 2019
Sidney Katz (@MC_Council_Katz) who chairs @MoCoCouncilMD's public safety committee, calls MCPD "the finest police department in the country."

"Chief Jones is the right person to continue to guide it and lead it forward to where improvements must be made." pic.twitter.com/EoEwWdyE8W

— Deirdre Byrne (@DeirdreByrneMCM) November 8, 2019
Chief Marcus Jones has officially taken the oath! pic.twitter.com/q5yzWqzoAN

— Deirdre Byrne (@DeirdreByrneMCM) November 8, 2019
"I didn't see the finish line," Chief Jones said, on why he's kept working.

Jones says love is what helps guide him to serve the community. pic.twitter.com/1OxUwKaUkC

— Deirdre Byrne (@DeirdreByrneMCM) November 8, 2019
The swearing in ceremony is at Gaithersburg High School, which is special to Chief Jones because his three kids graduated from the school. pic.twitter.com/59PRMGvLaY

— Deirdre Byrne (@DeirdreByrneMCM) November 8, 2019