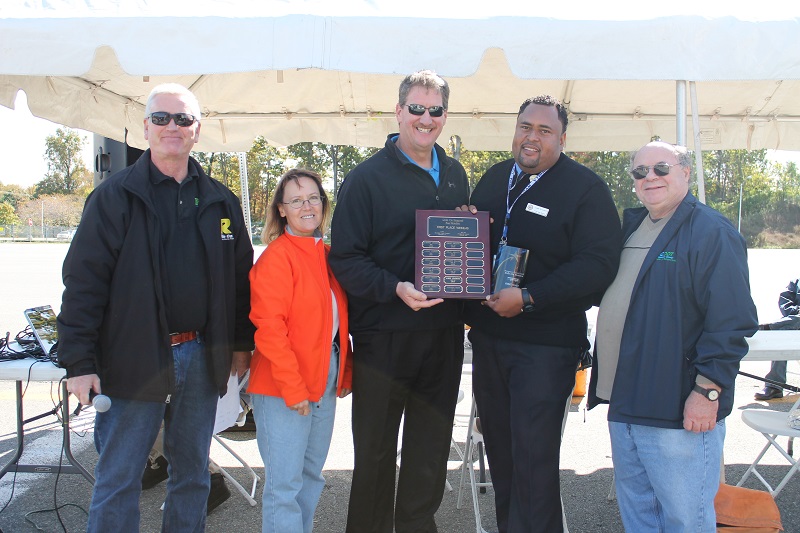 Leslie St. Lewis Wins Ride On Bus "Roadeo" (PHOTOS)
The Montgomery County Department of Transportation held its annual bus "Roadeo" at the driver facility on Great Seneca Highway this past Saturday, October 10. A total of 11 bus operators competed in team and individual events.
This year's participants, who competed as individuals, were Leslie St. Lewis, Lawrence Marshall, George Agyekum, Patrick Simen, Julio Fernandez, Murid Omid, Eze Iheme and Carlos Nichoai. Team competitors were Tomeka Brown, Ana Fernandez and Warren Jackson, this portion of the event was just done for fun.
A total of 40 onlookers gathered to watch each competitor navigate through 11 obstacles within seven minutes, including; serpentine, offset street, rear duals clearance, first customer stop, left hand reverse, left hand turn, second customer stop, right hand reverse, diminishing clearance, and judgement stop. Each bus operator was judged on ability to maneuver each challenge, personal appearance, smoothness of operations, knowledge of Americans with Disabilities Act guideline, safety habits, and their pre-trip bus inspection.
Ultimately, Leslie St. Lewis from the Gaithersburg Depot took home the title. He will be heading to Fort Worth, TX for the International Bus Roadeo next May. Last year, Montgomery County placed seventh in the 35-foot bus category.
Great day Saturday for Ride On bus rodeo with amazing driving. pic.twitter.com/mUAtlbH577

— MCDOT (@MCDOTNow) October 12, 2015