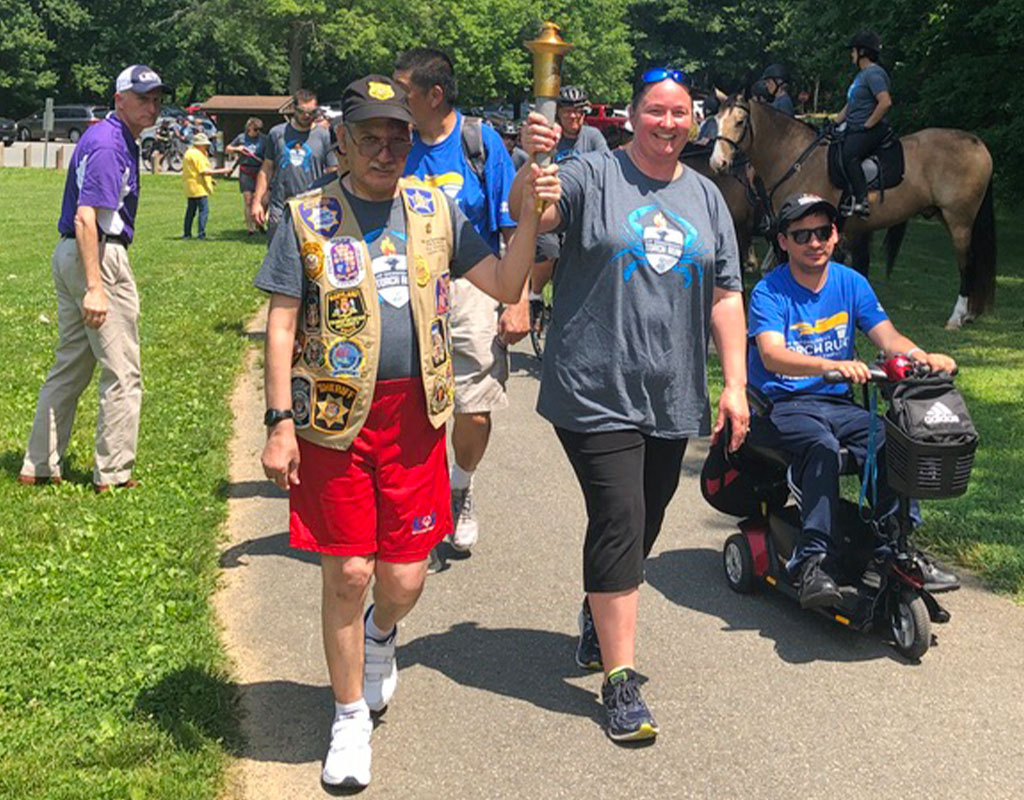 Law Enforcement Torch Run Pays Tribute to Late MCPD Officer
Officers, Special Olympics Athletes Talk About Lieutenant Jacock's Legacy
This year's Montgomery County Law Enforcement Torch Run for Special Olympics Maryland (SOMD) at Rock Creek Park in Derwood was more emotional than previous years.
It was the first race since the death of the late Montgomery County Police Lt. Thomas Jacocks, who brought the Torch Run program to Montgomery County in 1986. Jacocks, who passed away in December at the age of 84, served the Montgomery County Police Department for more than 61 years, making him the longest-serving member of a police agency in the state of Maryland.
His involvement with the event meant so much to many of the Maryland Special Olympics athletes who attend the event each year. Even after he retired from the force in 2016, Jacocks continued volunteering at the Torch Run.
When Officer Barbara Natoli, MCPD's liaison for SOMD events, was planning the Torch Run, she said that many of the athletes reached out to her requesting that there be a moment of silence before the start of the race.
Tony Gorczyca, a SOMD athlete, has attended almost all of Montgomery County's Torch Runs since 1988. He said Jacocks's involvement is missed, but he appreciates all of the officers who stay involved with the event throughout the years.
Law Enforcement Torch Run Raises Money for the Maryland Special Olympics
Law Enforcement Torch Runs are held all over the world to raise awareness and funds for the Special Olympics movement. Natoli said that by raising these funds, athletes can attend the Maryland Special Olympics at no personal cost.
The Torch Runs are currently underway throughout the state of Maryland.
"We have our final leg run, which will occur in Towson University, which will go to the opening ceremonies for the Special Olympics summer games next Friday," Natoli said.
David Gadoy, a SOMD athlete, explained why he finds the run so meaningful.
"[W]e are teaching to be kind to one another and spreading the word of teamwork and helping out one another," said Gadoy.
Before the start of every Torch Run, law enforcement officers and Special Olympics athletes light the "Flame of Hope" torch. The torch is eventually carried into the Opening Ceremonies of local Special Olympics competitions.
At the Montgomery County Torch Run on Wednesday, lighting the Flame of Hope was especially powerful.
"We know [Lt. Jacocks] was here helping us light that flame today," Natoli said.
The horses are all set for the big event! pic.twitter.com/JOQTHo8XOa

— Deirdre Byrne (@DeirdreByrneMCM) May 29, 2019
The torch is lit! pic.twitter.com/us6UUF039X

— Deirdre Byrne (@DeirdreByrneMCM) May 29, 2019
Here's a look at the @SpecialOlympics' athlete oath! pic.twitter.com/alqcdT1oXX

— Deirdre Byrne (@DeirdreByrneMCM) May 29, 2019
Correction: The first Law Enforcement Torch Run for Special Olympics started in Montgomery County in 1986. The video incorrectly states that the Torch Run started in Montgomery County in 1985.