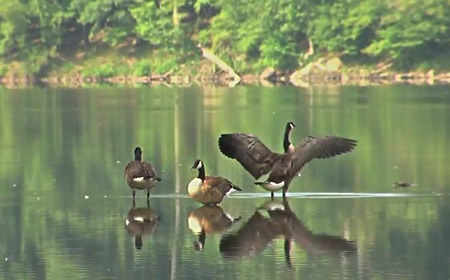 Lake Needwood and Little Seneca Lake Are Still Not Ready to Open for Boating and Fishing
Montgomery Parks officials are delaying the opening of Little Seneca Lake in Black Hill Regional Park and Lake Needwood in Rock Creek Regional Park for the second time this season, until March 28th at the soonest.
Both lakes typically open on March 1st for recreational boating, fishing and other uses because the lakes remain frozen.
Once the lakes open for the season, boaters with a daily or seasonal boating permit are allowed to use their private boats on the lakes from 6 a.m. until official sunset. Seasonal permits may be purchased at the Black Hill Visitor Center or the Needwood Mansion. Daily permit fees can be deposited in the fee boxes at the boat ramps or other launching locations around each lake. Seasonal mooring stakes for private boats are sold at both locations on a first-come, first-served basis.  Boat rentals at both lakes will not be available until May 3.
All boats must comply with Maryland State, U.S. Coast Guard and M-NCPPC regulations and standards. Use of gasoline motors is strictly prohibited, only electric motors are permitted. All boats must be off the lake by official sunset. For a complete list of regulations, visit BlackHillBoats.com or Lake NeedwoodBoats.com.
Fishing from private boats at both lakes is permitted once the lakes open for the season. (Year-round fishing is permitted at both lakes from the shoreline.) All Maryland State Fishing Regulations for inland waters apply, and people ages 16 and older must have a Maryland Fishing License. Trophy Bass Fishing Regulations are in effect at Little Seneca Lake. Largemouth bass, catfish, bluegill, and crappie, are some of the fish species found in both lakes. View the Regulations for Private Boats for complete information.
For information about fishing licenses, contact the Maryland Department of Natural Resources at 1.855.855.3906 (seven days a week, 7am – 7pm), or visit www.dnr.maryland.gov and use their new "COMPASS" Online Licensing and Registration System.