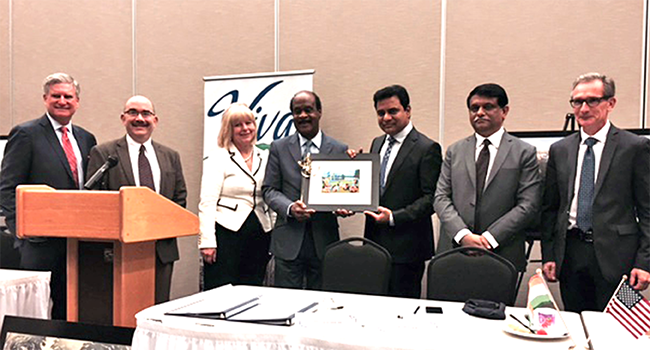 IV2 Alliance, Inc. and Government State of Telangana Sign Agreement to Advance Global Health (PHOTO)
Representatives from the State of Telangana, India and from IV2 Alliance, Inc, a Maryland non-profit corporation, recently signed a Memorandum of Understanding (MOU) to establish a framework for both entities to explore and collaborate on opportunities in an effort to advance regulatory science and drive biomedical innovation. IV2's MOU is in conjunction with the U.S. Food and Drug Administration (FDA).
"The recent, historic signing ceremony occurring near the U.S. FDA headquarters in Montgomery County, Maryland, establishes the pathway to further build upon the International Sister Cities agreement signed by Montgomery County, Md. and the City of Hyderabad, Telangana in September of 2014 to create cooperation between the jurisdictions," Jonathan Genn, President of The IV2 Alliance, Inc. and Executive Vice President and General Counsel, Global LifeSci Development Corporation, said.
According to a news release, the MOU ensures that parties involved will engage in joint promotion of economic development, science and technology, as well as financial activities in Montgomery County and Hyderabad, Telangana, India. The emphasis will be on the planned VIVA White Oak mixed-use biomedical cluster and the planned Hyderabad Pharma City in Hyderabad, Telangana, India.
"With the consolidation of the U.S. FDA Headquarters, the expansion of Washington Adventist Hospital, and the planned 300-acre VIVA White Oak™ mixed-use community with a biomedical and biotechnological emphasis, White Oak has a unique opportunity to create one of the world's most significant biomedical clusters," Montgomery County Executive Isiah Leggett said.