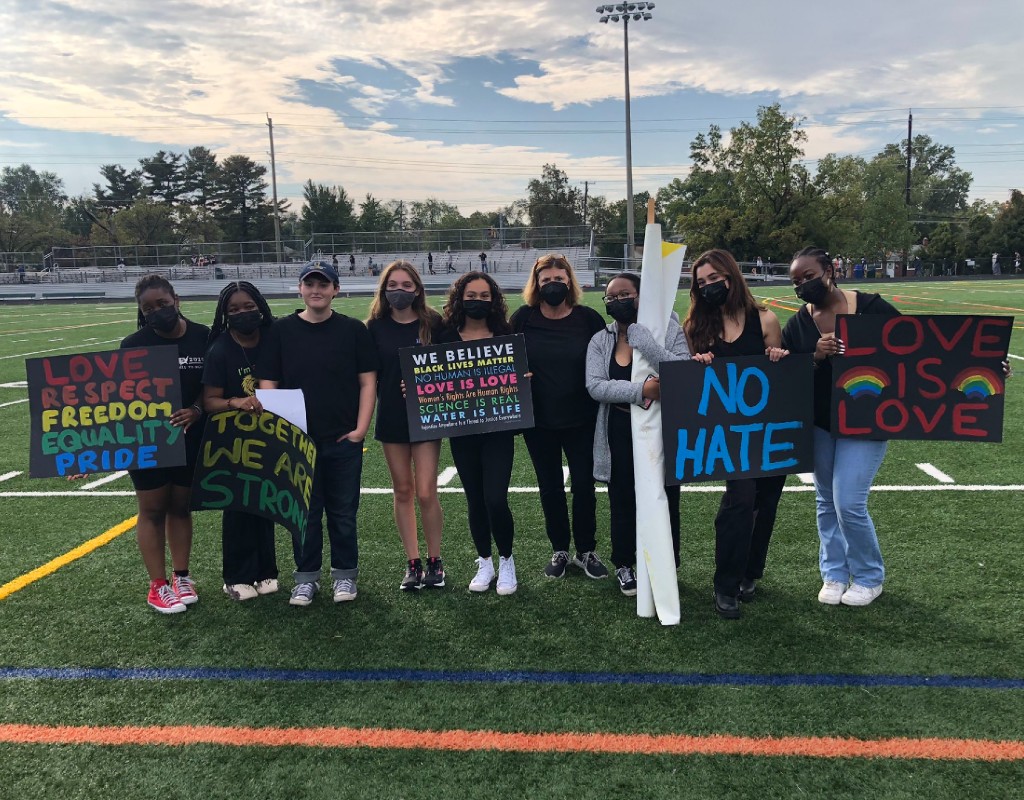 'It's Really Disheartening': Walter Johnson Students Stage Walk-Out In Response to Racist, Homophobic Graffiti
Students at Walter Johnson High School staged a walk-out Friday morning to protest graffiti with white supremacist symbols and hate speech that was found on school property early last week.
The demonstration started as an outdoor assembly organized by the school.
Students who attended the event said they disagreed with the graffiti at their school and wanted to show their support for people who were harmed by the messaging.
"The hate comments about the Black community and the LGBTQ community weren't cool. They're pretty messed up," one student told MyMCM. "As an African American myself, I don't appreciate that kind of graffiti. We had a walkout today. We confronted it. It was meaningful, peaceful." said another student.
Students at the Bethesda school also said they felt encouraged by the demonstration. "I feel like this really showed that we really came together as a community," one student said.
Something special happening @WJPrincipal right now at Walter Johnson HS! Student-led "No Place For Hate" walk-out to denounce hate in their school. #EnoughIsEnough @MCPS #NoHate pic.twitter.com/jxcisDWdpw

— Greg Edmundson (@GSEdmundson) October 15, 2021
The graffiti was found the morning of Oct. 3 and was quickly removed by school staff, according to a letter Walter Johnson Principal Jennifer Baker sent to the school community that same day. Montgomery County Police also have opened an investigation into the graffiti, calling it a "biased incident."
According to an Oct. 7 editorial in The Pitch, Walter Johnson's student-run newspaper, the school administration talked about the incident with students two days after it occurred over the PA system while students were being dismissed from class.
"The WJ administration needs to react, even if it is one of those cringey assembly meetings that they do," wrote Online Managing Editor Nour Faragallah. "The students need to feel heard. They need to show the student body that they are at least trying to solve this problem; that they can do more than send out an email filled with spelling mistakes."
Baker and Montgomery County Public School (MCPS) Director Greg Edmundson were among those in attendance at Friday's assembly.
MyMCM is awaiting a response for comment from the MCPS office of communications.
A senior at Walter Johnson summed up the graffiti incident this way: "It's really disheartening and I totally stand with anyone that feels threatened and unwelcome by it."
(Photo courtesy Greg Edmundson)
Related post:
Police Investigate Graffiti in Several Locations Including Walter Johnson High School