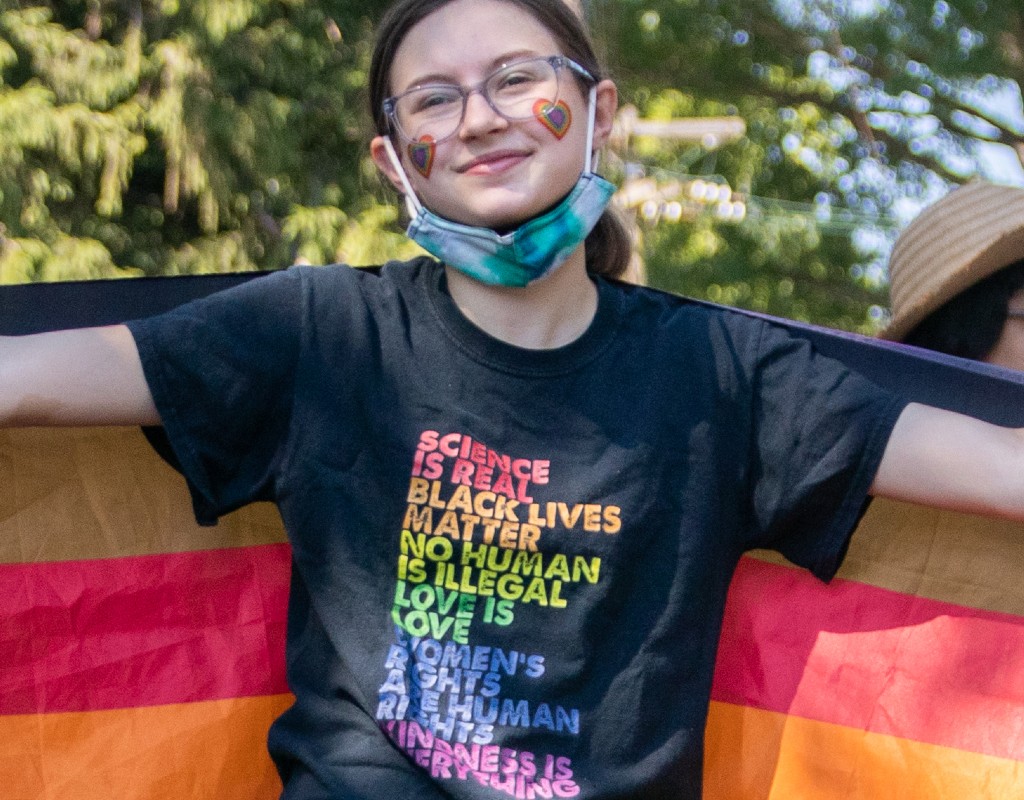 Hundreds Show Support at Woodmoor's First Ever Pride Parade
Several hundred people, many clad in bright pride colors and waving flags, paraded through a northern section of  Silver Spring Sunday morning during the inaugural Woodmoor Pride Parade.
On June 1, the area had raised a pride flag just below its American flag pole at the Woodmoor circle only to find it missing several days later. However, explained Laton Pfeifer-Hicks, on June 5 a young person "just came up and returned it and then drove off." Pfeifer-Hicks, 12, was one of several speakers at the morning event. He thanked everyone for attending, adding, "There is still a lot of change that needs to happen."
There was a festive feel to the event, with bright colors everywhere and young people blowing bubbles, distributing flags, non-permanent tattoos and beads. Many people took time to catch up on events with their neighbors.
"I'm so excited that our neighborhood for the first time is together to celebrate diversity," said Naz Salahuddin. "We want to make sure everyone feels safe in our neighborhood."
"This world is just a mean place these days. You want to be out there," said Alison Dalgliesh.
Master of Ceremonies Drennan Lindsay said the event all came together in nine days. "This parade is by Woodmoor, for Woodmore," she said, adding, "This is not a moment. This is a movement."
Councilmembers President Tom Hucker, Hans Riemer and Evan Glass all spoke during the event.
"My heart is really full," Hucker said. "I am super proud of Silver Spring, and I am super proud of Woodmoor," It is small community events like this that have the power "to change hearts and minds."
Riemer addressed the young people, stating, "You can be whatever you want to be, wear whatever you want to wear." Riemer added, "It's the young people who are leading this country to a whole better place."
Glass, who identifies as gay, said he was proud to  participate. He recalled the county's first pride flag raising event in Rockville three years ago. Right after that, he received so much hate email, calls and tweets. "The hate was so vicious, we stopped answering phones in my office for three days."
U.S. Rep. Jamie Raskin declared, "I'm proud of Woodmoor. You know how much we have changed by virtue of how much has changed right here in the neighborhood today." Young people are changing this country, he said
Marie Connor and Barbara Glenfeld, who have been married for 11 years, reminded their neighbors that their three adopted children have walked dogs, babysat, shoveled snow and sold mulch to many of the people at the parade. Their family is truly a part of the community, Connor said as Glenfeld urged people to "include us all."
Judy Harrahan watched as participants, including a girl scout troop, gathered to begin the short parade route, shaking her head in amazement. "I've lived  here all my life, and this is amazing," said the grandmother.
Inclusive Woodmoor, which promotes inclusivity and acceptance, hosted the event.