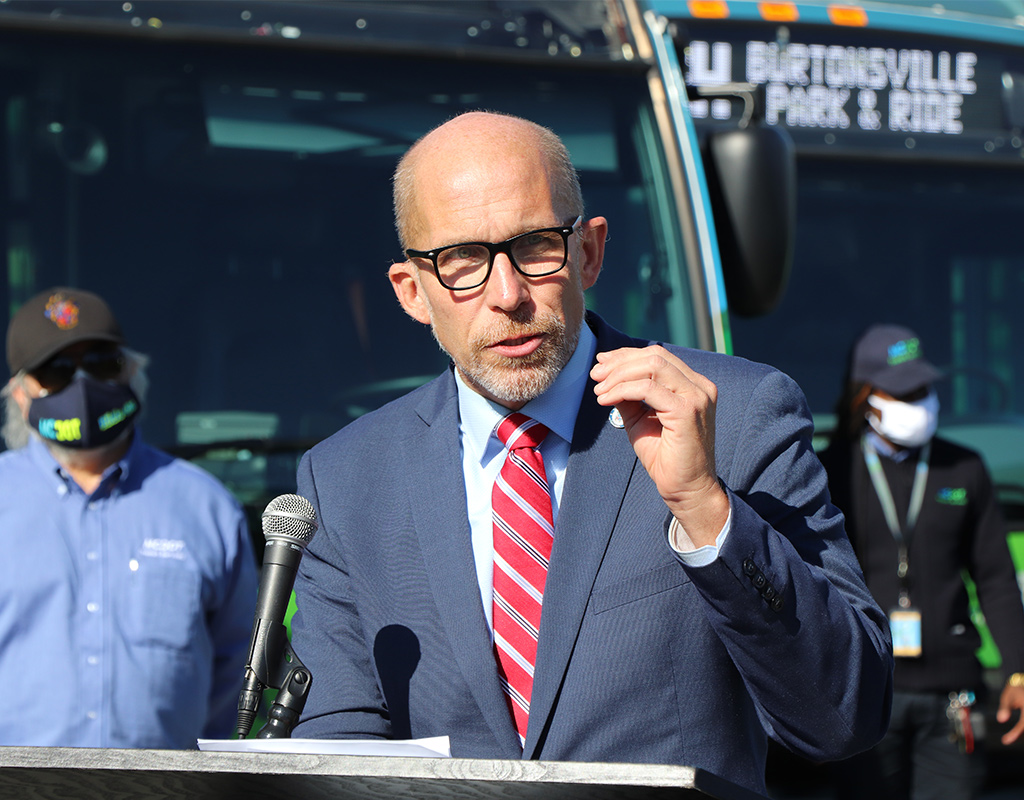 Hucker Forms Exploratory Committee Before Expected Entry into County Executive Race
Council President Tom Hucker announced Thursday night that he has formed an exploratory committee and plans to speak with residents and business owners to see if he should run for county executive.
His speech before a friendly crowd at Kaldi's Social Hall in Silver Spring made it seem like he had already decided to run. If he does enter the race, he will join fellow Councilmember Hans Riemer and businessperson David Blair in their efforts to unseat Marc Elrich.
Several fellow progressives attended the speech, including Councilmember Nancy Navarro, Montgomery County Public Schools Board of Education Member Shebra Evans, Delegate Kumar Barve and Senator Will Smith as well as a representative from O'Connell and Lawrence, an engineering and consulting firm in Olney.
As the county moves forward from the pandemic, "I have seen what it takes to deal with a crisis," Navarro told the cheering crowd, adding, "For that you need somebody who understands deeply Montgomery County, all of Montgomery County." She believes Hucker is the right person for the job, and declared, "I said to him, I think he should just announce he is going to run."
A survivor from the 2016 Flower Branch Apartment's gas explosion and fire in Silver Spring also spoke in support of Hucker. She praised the Maryland politician for continually supporting the residents of the apartment since the tragedy happened.
After numerous endorsements, Hucker went to the podium to stress the importance of Montgomery County moving forward in terms of job growth, racial equity and health care for all and also to clean up the environment. "Equity. It has to be our intentional practice everyday," he said, noting, "All these issues are connected."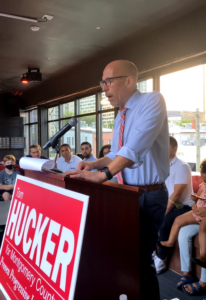 "This virus has taught all of us hard lessons, but it also has taught us what we can do when we come together," said Hucker, who was a state delegate from District 20 from 2006 to 2014 before becoming a councilmember for District 5. He is a Silver Spring resident.
During the pandemic, the county adapted to tackle issues that normally would have taken years, he said. Without mentioning Elrich by name, he criticized the county executive's office for lacking urgency and for missing deadlines and opportunities.
The county is experiencing the same problems for years and has the lowest job growth rate in the area, Hucker said. "We have to build a better foundation," he said, adding, "I am convinced we need new leadership."
"Montgomery County has a tendency to just bail out the water when the storms hit. We have to build a better foundation for all of us and tend to our house now," he said.
Hucker aspires to be like former County Executive Ike Leggett, who he said brought people together.
"Change is coming to Montgomery County and we have to embrace it," he said, adding, "I am convinced we need new leadership." Hucker said if elected to become the county executive, the county council would have a friend in the executive office.
"In Montgomery County, every minute is a chance to change the world."
Related Post
Riemer Joins List of Challengers to Elrich's Re-Election Bid