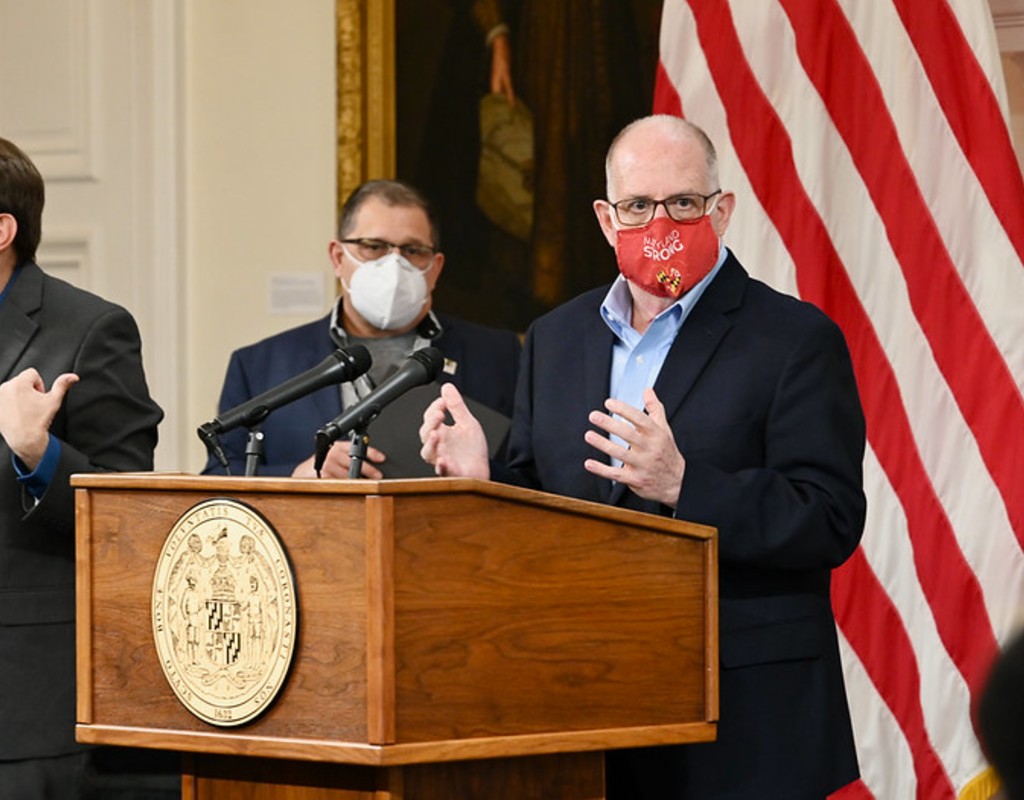 Hogan Urges More Vaccine Production as Biden Announces Short-Term Increase in Doses
President Joe Biden announced Tuesday that overall COVID-19 vaccine allocations to states will increase from about 8.6 million doses to about 10 million beginning next week.
The weekly increase will last for three weeks, said the White House. The Washington Post reported that according to senior Biden administration officials, the increase will primarily come from releasing more of Moderna's doses.
"This is going to allow millions of more Americans to get vaccinated sooner than previously anticipated. We've got a long way to go, though," Biden said during a press conference.
At a press conference ahead of Biden's, Gov. Larry Hogan anticipated the announcement and said the 16% would not change much.
"Today, I think there's some report about, maybe, a 16% increase. So, instead of 10,000 a day, we get another 1,000 a day. We're doing 18,000 a day so that's not going to make much of a difference to us at all," Hogan said. Later Tuesday, Hogan confirmed a short-term increase and said he joined a call with the nation's governors and senior administration officials that afternoon to discuss it.
"We appreciate the administration stating that it will provide states with slightly higher allocations for the next few weeks, but we are going to need much more supply," Hogan said in a statement.
"We are prepared to distribute and administer any possible supply the federal government can offer, and I urge President Biden to take every imaginable step within his power to ramp up production without delay."
This afternoon, I joined a call with the nation's governors and senior Biden administration officials to discuss COVID-19 vaccinations. I urge President @JoeBiden to take every imaginable step within his power to ramp up production without delay.

My full statement: pic.twitter.com/M6oC8EQcka

— Governor Larry Hogan (@GovLarryHogan) January 26, 2021
Looking further ahead, Biden also said he believes his administration can soon confirm the purchase of an additional 200 million doses, to be delivered this summer. Pfizer would provide 100 million doses, and Moderna the other 100 million, Biden said. He expects the vaccines to begin arriving in early summer. The president said the jump would increase the country's vaccine supply by 50%: from 400 million doses ordered to 600 million. With every patient requiring two doses, 300 million people can be vaccinated by the end of summer or beginning of fall, Biden said.
"It'll be enough to fully vaccinate 300 [million] Americans to beat this pandemic — 300 million Americans," Biden said. "And this is an aggregate plan that doesn't leave anything on the table or anything to chance, as we've seen happen in the past year."
The president also announced that states will now be provided a "three-week forecast" on vaccine supply so leaders can plan more effectively. Thus far, states have been learning of allotments on a weekly basis, as have counties.
"But until now, we've had to guess how much vaccine to expect for the next week and that's what the governors had to do — 'How much am I getting next week?' This is unacceptable," Biden said.
During a Montgomery County Council meeting Tuesday morning, Emergency Management and Homeland Security Director Dr. Earl Stoddard said the county executive's office asked the state for greater forecasting as well. Stoddard said learning minimum weekly allocations, and receiving updates as more doses become available, would be more productive than finding out the total weekly allotment at a later date.
"That will allow us to do much more [unclear] clinic planning. We're really not keen on creating clinic opportunities and then having to cancel them," he said.