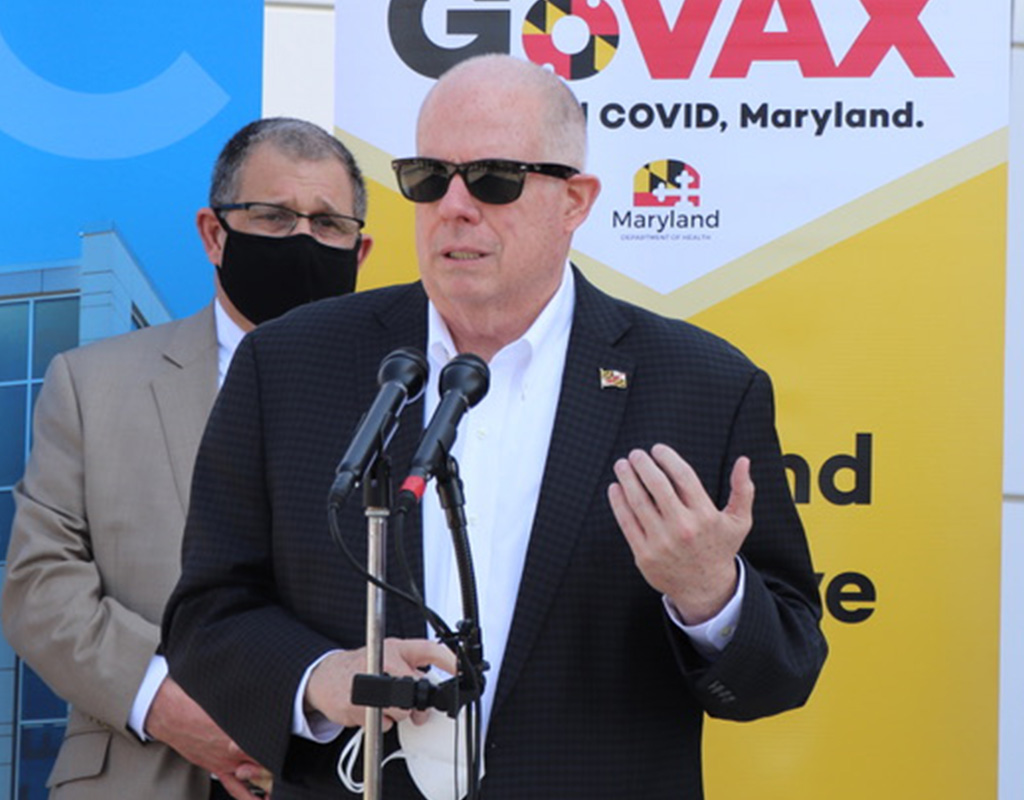 Hogan to Lift Maryland's State of Emergency for COVID-19 on July 1
Gov. Larry Hogan announced plans to lift Maryland's state of emergency on July 1. The action would put an end to all the state's mandates and restrictions related to COVID-19.
Hogan declared the state of emergency on March 5, 2020—the same day he announced that three Montgomery County residents tested positive for coronavirus. Over the last 15 months since the first official cases, Hogan spoke about having to build infrastructure for hospitals to care for those infected with the virus as well as infrastructure for testing and vaccinations.
Now, Maryland's cases are at their lowest since March 2020. The state has distributed a total of 6,528,935 COVID-19 vaccinations and 72% of all adult Marylanders have received at least one dose. For seven consecutive days, the state's seven day positivity rate has been lower than 1% with a current average of 0.82%. There are 67 new confirmed cases in the state—down 93% since mid-April—and 194 COVID-19 related hospitalizations—down 84% since mid-April.
Once the emergency order is lifted, masks will no longer be required in any setting, which includes schools, camps, and childcare facilities. Businesses can still enforce their own rules, but the government isn't ordering businesses to do so.
Maryland's #COVID19 recovery continues:

✅ 6.5 million vaccinations
✅ Record-low 7-day positivity rate
✅ Positivity rate under 1% for seven straight days

Details: https://t.co/qTEcO5CDta

— Governor Larry Hogan (@GovLarryHogan) June 15, 2021
Starting July 1, there will be a 45-day grace period through Aug. 15, to relax restrictions and regulations as Maryland transitions out of the pandemic. This grace period allows anyone with an expired license to have an additional 45 days to renew their license. The grace period also extends the moratorium on evictions related to the COVID-19 pandemic. Additionally, health officials can use the 45 day period to transition from emergency operations.
Hogan urged anyone who still has not gotten vaccinated to get the vaccine. "While the end of the state of emergency is an important final step in our recovery from COVID-19, it does not mean that this virus and its variants no longer pose any threat," he said.
Hogan asked Marylanders to remember the 9,472 lives that were lost in the state. He added that we should give thanks to healthcare workers and citizen soldiers.
"Each and every one of you—your actions—have made this day possible. I am so proud of our state and I'm grateful to have had this honor to serve as your governor. Thank you all for being Maryland Strong," Hogan said.