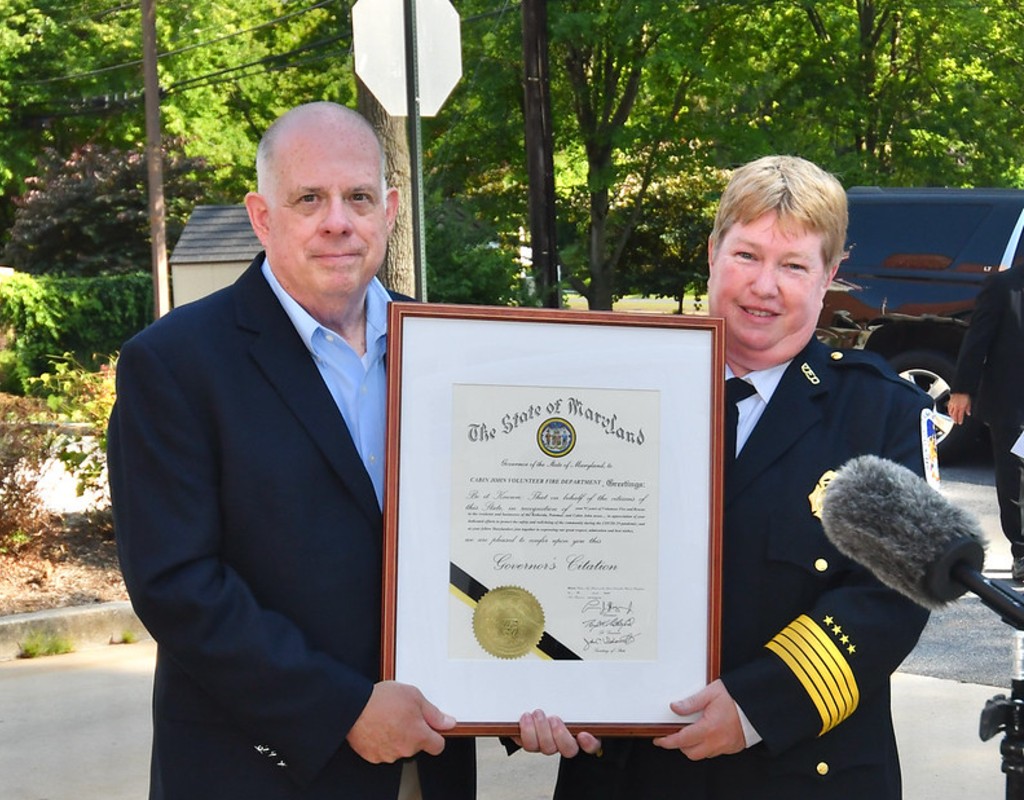 Hogan Awards Governor's Citation to Cabin John Park Volunteer Fire Department
Maryland Gov. Larry Hogan awarded a governor's citation to the Cabin John Park Volunteer Fire Department.
"I'm proud of every single one of you," Hogan told fire and rescue members at their Bethesda station Wednesday. The Cabin John department also has a station in Potomac.
"I know it takes a heck of a lot of dedication for you to come out here and do all the things that you do to keep people safe." He presented the citation to Chief Corinne Piccardi, who is Montgomery County's first female volunteer fire chief, according to the Governor's Office. She has been an active fire chief at the station since December 2016 and a volunteer member for more than 20 years.
The citation recognizes the department's 91 years of volunteer service and its efforts to protect the community during the COVID-19 pandemic.
"We've got an incredible volunteer fire department," Hogan said. "It's amazing that you were able to keep every shift running, and without people getting sidetracked with COVID[-19] as so many other people did."
Hogan toured the fire department and rode its new "state-of-the-art" fire engine, which was purchased through Maryland 508 and community funding. The department received $9,000 through the Recovery for the Economy, Livelihoods, Industries, Entrepreneurs and Families (RELIEF) Act, which Hogan introduced in January and signed into law in February.
I am so grateful to Maryland's brave first responders who put their lives on the line every single day. Today I visited the Cabin John Volunteer Fire Department and thanked Chief Corinne Piccardi for her team's critical work to protect Marylanders. pic.twitter.com/ZcS6ZAbDwb

— Governor Larry Hogan (@GovLarryHogan) August 4, 2021
MD Governor @GovLarryHogan presents Governor's Citation to @CJPVFD Volunteer Chief Corine Piccardi @mcvfra @mcfrs on 8/3 at @MontgomeryCoMD FS710 pic.twitter.com/bw3EluHRUP

— Pete Piringer (@mcfrsPIO) August 4, 2021