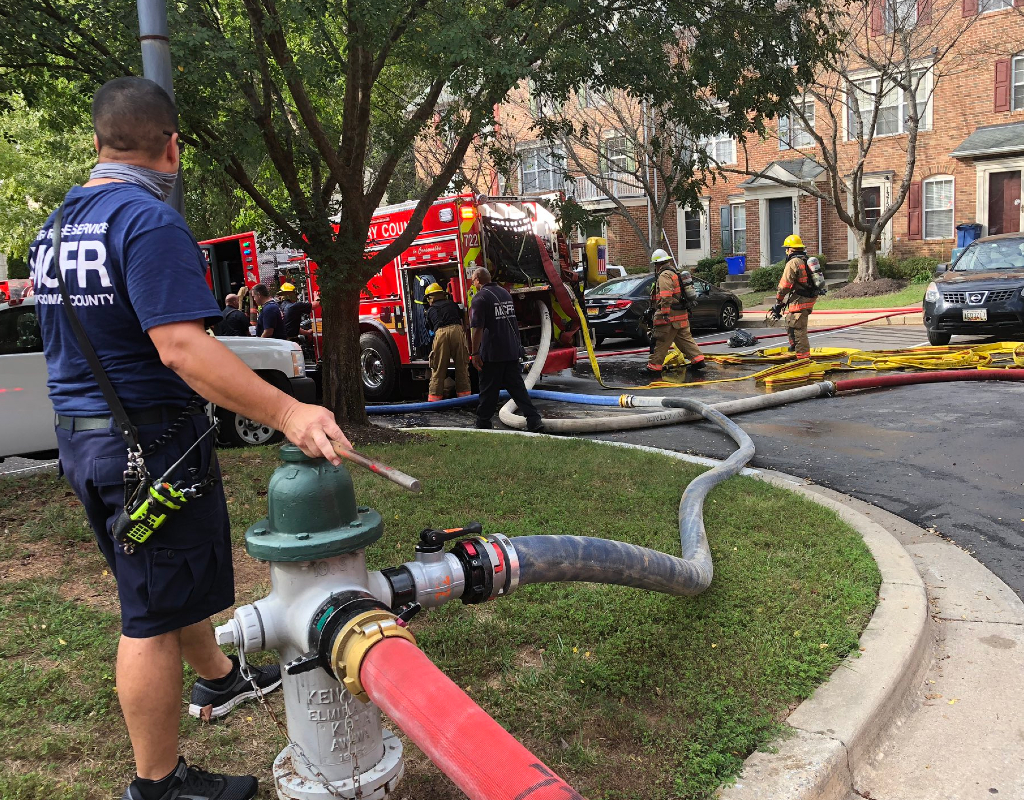 Germantown Townhouse Fire Leaves Two Families Displaced
Two families are now displaced after a Germantown townhouse on Palmetto Circle near Dawson Farm Road caught fire Monday afternoon.
Pete Piringer, Chief Spokesperson for the Montgomery County Fire and Rescue Service (MCFRS), says firefighters were called to the scene around 4 p.m. after reports of a fire in a third floor bedroom.
Piringer says preliminary reports show that the sprinkler in the room where the fire started did not function properly, and may have been intentionally disabled. However, sprinklers in the hallway were able to keep the flames from spreading. Firefighters also attributed the containment of the fire to doors being closed within the townhome.
Six residents, including the neighbors, were able to make it out safely, with one being transported to the hospital for evaluation due to smoke exposure. Others were evaluated at the scene for smoke inhalation, with no major injuries being reported.
Piringer, in a Periscope live video, said MCFRS "probably had about 55 or 65 firefighters" respond to the townhome.
Germantown TH Fire (~345p 9/28) 13700blk Palmetto Cir; smoke alarm alerted occupants; sprinkler in room of origin had been intentionally disabled & did not function; Area of Origin, floor next to bed; Cause, likely 1 of several electronic devices or vape pen; Damage, ~$7K; 2 inj https://t.co/tNEG5cK2h5 pic.twitter.com/GnigcLcMMg

— Pete Piringer (@mcfrsPIO) September 29, 2020
More… Palmetto Cir, smoke alarms alerted residents; hallway sprinkler kept fire in check; otherwise closed doors elsewhere made a big difference; several occupants were exposed to smoke; 2 families (6 people) displaced (fire, smoke, water damage); Damage ~$7K; Cause, accidental https://t.co/fyVKpy1BDj pic.twitter.com/JYX9BqATvw

— Pete Piringer (@mcfrsPIO) September 29, 2020
In a tweet posted late Monday night, Piringer said the cause of the fire was deemed accidental, likely a result of a vape pen or multiple electronic devices. Due to the fire, smoke, and water damage, estimated losses total around $7,000.
Piringer also spoke to MCFRS Battalion Chief Jay Blake, who said firefighters were on the scene within minutes. "We have the Kingsview Station just down the street, and they were here within minutes, extinguished the fire and it did not leave that bedroom area."
Blake attributed the swift exit of residents to smoke detectors, saying "it could have been much worse if they didn't have a working smoke detector."