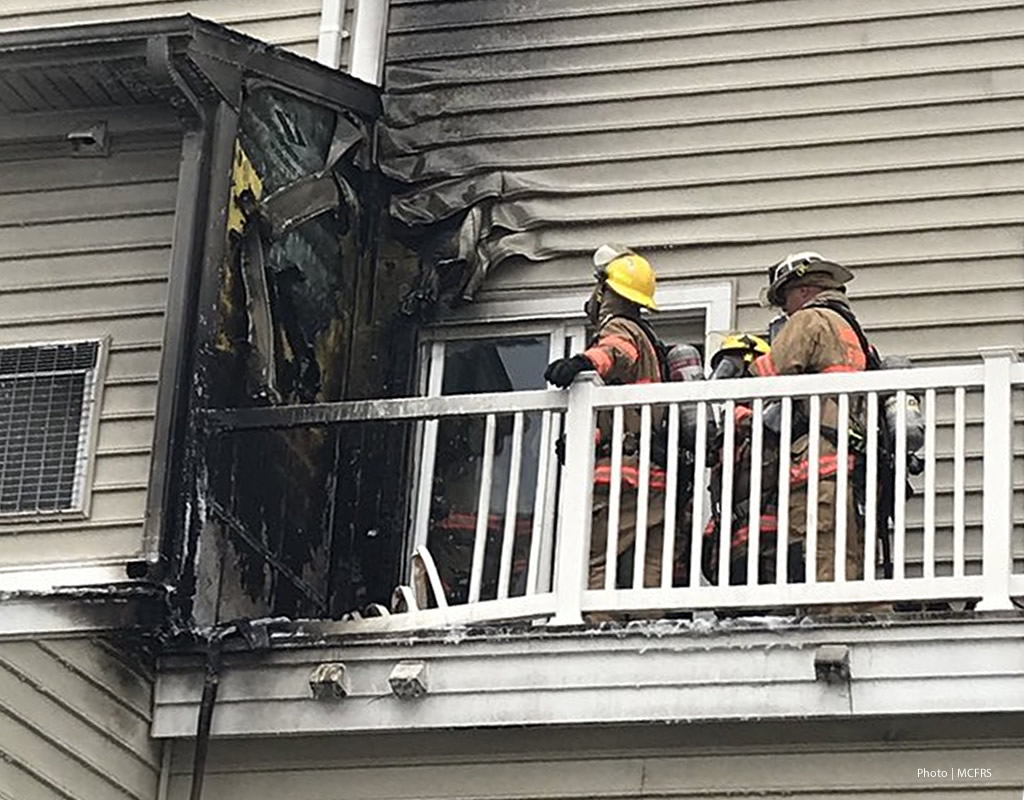 Germantown Family Displaced After Townhouse Fire
Firefighters responded to a home located on the 13500 block of Station Street in Germantown around 5:30 p.m. on Sunday to find the second floor engulfed in heavy smoke and fire. Chief spokesperson for Montgomery County Fire and Rescue Services, Pete Piringer says about 65 firefighters worked to get the blaze under control.
Officials say damage to the home exceeds $20,000. A family of four — two adults and two children — has been displaced from their home, according to Piringer.
The fire originated on the second floor balcony of the family's four-level townhouse, according to Piringer.
Update (530p 6/9) 13500blk Station St, Germantown; MOR TH; Cause, improperly discarded smoking materials (wind likely blew hot embers from impromptu flower pot ash tray igniting chair, jacket, & siding); Area of Origin, 2nd fl balcony; Damage, >$20K; 1 family displaced; pic.twitter.com/dcVi5uRozh

— Pete Piringer (@mcfrsPIO) June 10, 2019
Update (~530p) 13500blk Station St, Germantown, @mcfrs arrived on scene w/ some smoke visible in the front & heavy smoke & fire in rear alley (pictured here), most fire was on 2nd floor & extending & was wuivkly contained, all occupants got out ok, 2 adults/2children displaced pic.twitter.com/1HkBgfl9EE

— Pete Piringer (@mcfrsPIO) June 9, 2019
Update – Station St, Germantown, fire under control, FFs checking for extension, no injuries, at least 1 family displaced, ~65 @mcfrs FFs on scene pic.twitter.com/I6zMF9Ll0c

— Pete Piringer (@mcfrsPIO) June 9, 2019
Update – Station Street, Germantown, MOR TH, fire under control, FFs checking for extension, all occupants are out, pic.twitter.com/YcSX1vsCFK

— Pete Piringer (@mcfrsPIO) June 9, 2019
13500 blk Station St, MOR TH, fire on 2nd floor, all occupants out https://t.co/Fg24N8MWjp

— Pete Piringer (@mcfrsPIO) June 9, 2019