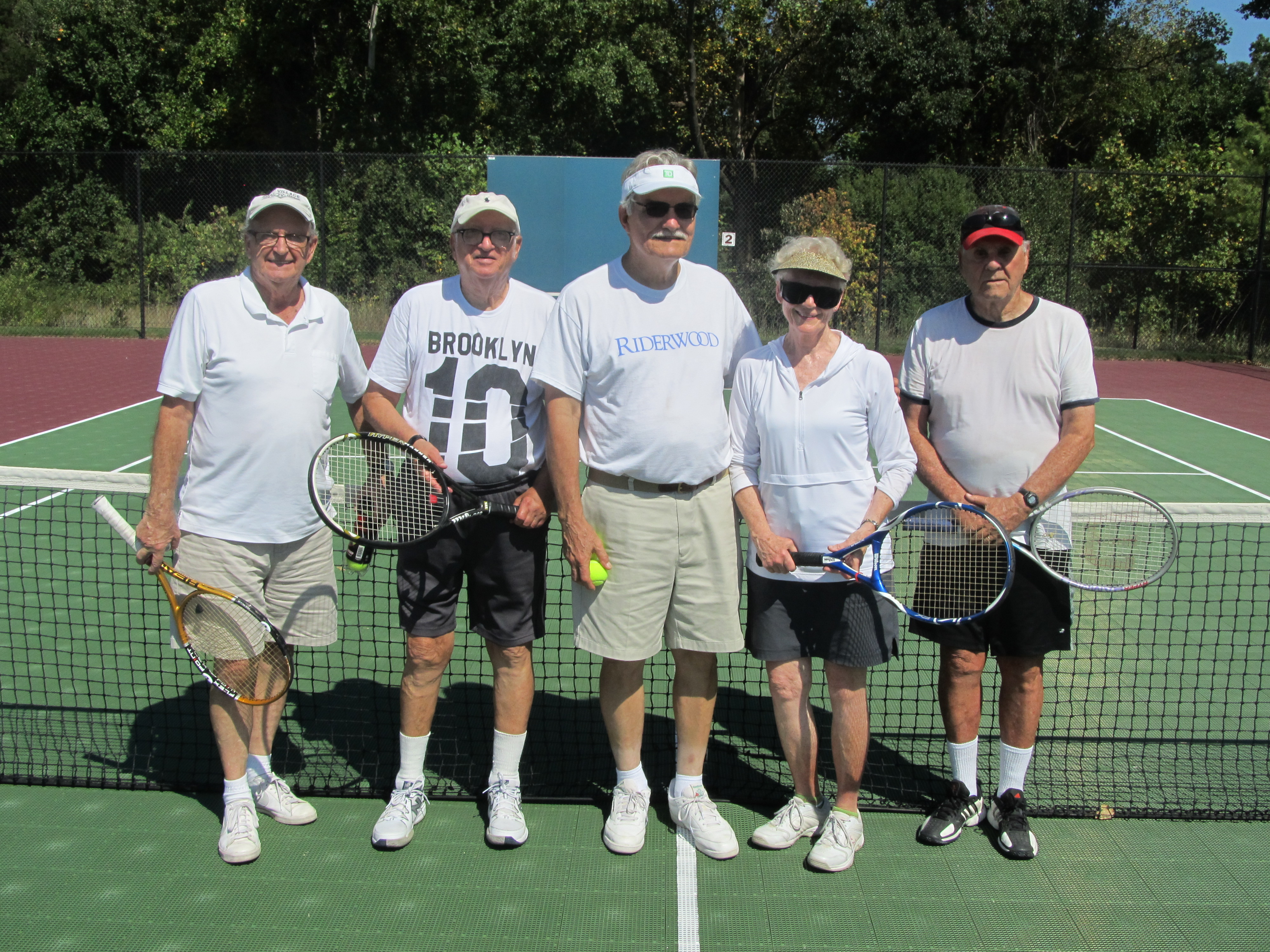 Game, Set, Match! Riderwood Residents Compete in Annual Tennis Tourney
While the eyes of the tennis world were focused on the U.S. Open in Flushing Meadows, New York, six residents of Riderwood displayed their competitive spirit closer to home.
They played in the Erickson Living Annual Tennis Tournament on September 9 versus residents from sister communities Ashby Ponds (Ashburn, VA) and Charlestown (Baltimore, MD). The event featured men's & women's singles, men's & women's doubles and mixed doubles divisions.
Despite the unseasonably hot and humid conditions, the players took to the courts of Riderwood, showcasing their shot-making abilities to dozens of vocal fans.
Joel Sarnoff and Ed Milligan won the men's doubles title. Norma Slaugh competed in both the women's doubles with Susan Rogers and mixed doubles with Paul Johnson. Jim Morgan won his first round match in the men's singles bracket.
For Mr. Sarnoff, a lifelong tennis enthusiast from New York City, the tourney provided the opportunity to do what he loves best: compete. "Hats off to the team from Ashby Ponds. They have great games," said Mr. Sarnoff. "Mental toughness got Ed and I through the match, and I'm glad we were able to pull it out."
Lindsey Drabczyk, MS, CPT, is the Lead Wellness Coordinator at Riderwood. Her team planned the tournament in partnership with resident team captain, Charles Slaugh.
"The best part of the day is that residents are engaged in an activity they love," described Ms. Drabczyk. "Even in the summer heat, you could see that each shot was hit with determination. We're proud that they participated in this tournament for everyone to enjoy."
Mr. Slaugh noted the influence of a fellow resident of Riderwood, Robert Davis, on his team. Mr. Davis is a United States Professional Tennis Association (USPTA) Master Pro who has shared his expertise with tennis players at Riderwood.
"Bob has given many of us lessons that have helped our technique and understanding of the game," said Mr. Slaugh. "He's been a tremendous inspiration for Team Riderwood."