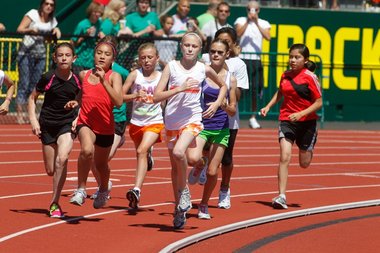 Gaithersburg Hosts State Championship Track & Field Meet
The city of Gaithersburg will host the Hershey Track and Field 2014 Maryland State Championship Meet on Saturday, June 28, from noon to 4 p.m. Due to construction schedules at local high schools, the meet will take place at Albert Einstein High School, 11135 Newport Mill Road, Kensington.
The city of Gaithersburg conducted a local qualifying meet on June 6 and seventy participants qualified for the State Championships. Youth ages 9 through 14 from across the state of Maryland will compete in the state championship cosponsored by The Hershey Corporation, National Recreation and Parks Association, USA Track and Field, and Athletics Canada. A cooperative project with the Firebirds Track Club and part of the North American Hershey Track and Field program, this marks the fourth year the city will be hosting this event.
The first place finishers' times from the state meet will be submitted to the regional office. The regional top finishers will then be invited to compete in the Hershey Track and Field North American Finals taking place in Hershey, PA this August.