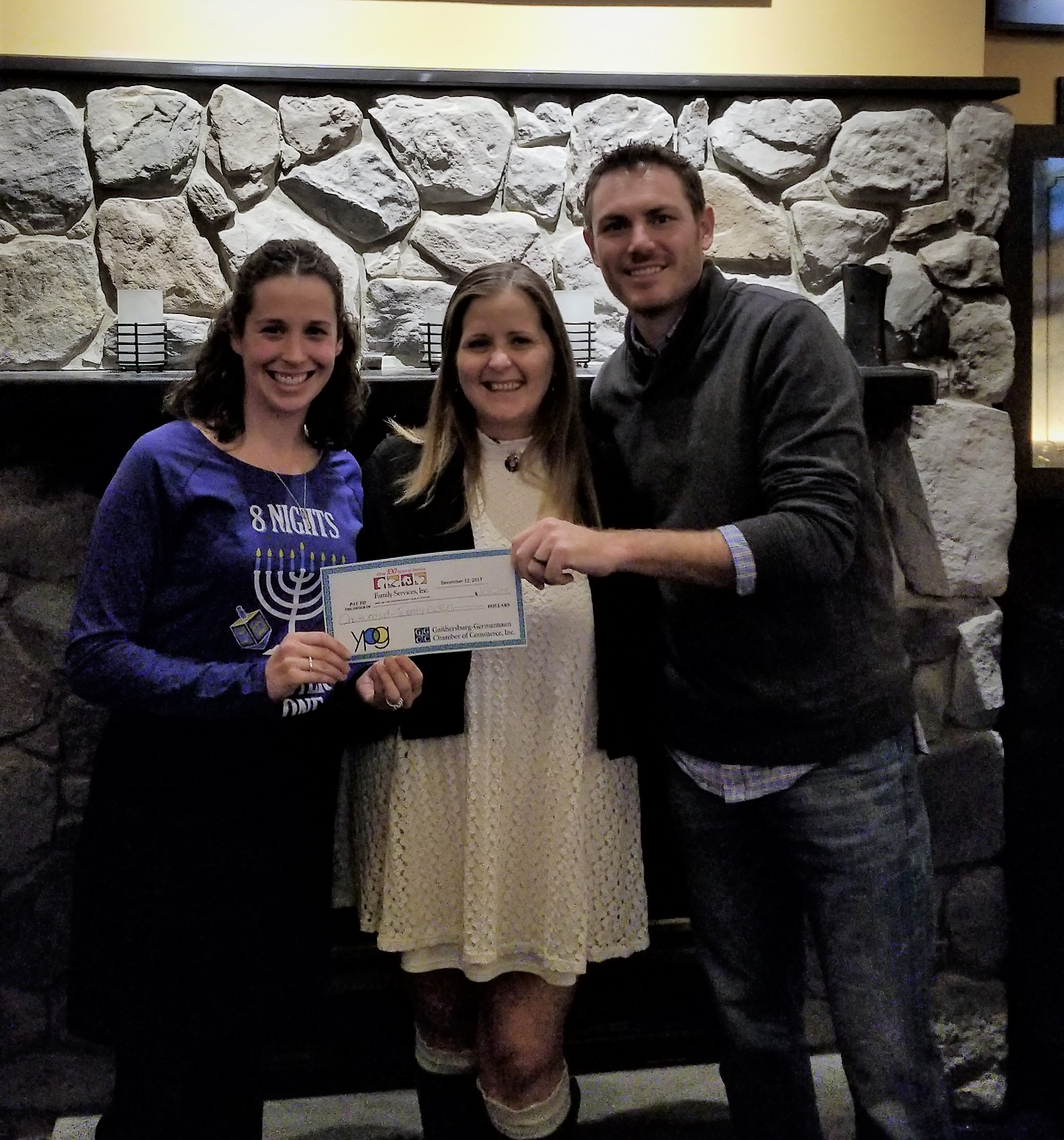 Gaithersburg-Germantown Chamber Young Professionals Support Family Services, Inc.
When they're not working, networking, or socializing, the Gaithersburg-Germantown Chamber of Commerce (GGCC) young professionals are raising money & engaging with many community non-profits in a number of ways. The GGCC Young Professionals Group raised $130 at its Holiday Happy Hour on December 12 for Family Services, Inc..
"It's incredibly rewarding to be able to raise money for such a worthy cause. Family Services helps so many people in the local area, and our young professionals group saw this as an opportunity to give something back," said PJ Horan, Founder & President, JCH Financial. "We're delighted to have raised over $100, and would like to thank everyone who came to support the event."
Family Services provides programs, education and assistance in behavioral health, and social services for children, families, individuals, seniors, and severely mentally ill people. The YPG's decided to support the Family Services Mental Health and Substance Abuse Services division in leu of the upcoming holidays. The division provides support and treatment to optimize a person's emotional, psychological and somatic well-being. Family Services is a leading resource for comprehensive treatment for individuals, youth and families, including those living with serious mental illness, substance abuse and co-occurring mental illness and substance abuse disorders. They provide a full range of community-based mental health services that are flexible and individualized to support your needs as well as outpatient substance abuse services. Their highly trained and experienced staff are dedicated to providing responsive, culturally competent services in the most supportive, safe and nurturing environment. Learn more about them at: www.fs-inc.org.
This Young Professionals Group Happy Hour was sponsored by Tommy Joe's Kentlands. Tommy Joe's is a Maryland tradition. From crab cakes to their famous POHO wings, there is something for everyone on their menu. Relax with your favorite people while their chef creates a meal that will entice your palate. Learn more about them at: www.tommyjoes.com.
The 2017 GGCC Young Professionals Group Title Sponsor is M&T Bank, a financial services company providing banking experiences while developing enduring relationships with their customers. Learn more about them at: www.mandtbank.com.
The GGCC's Young Professionals Group is packed with lots of enthusiasm and high aspirations. Come and discover how this group can further your career and strengthen your professional image. Learn more at: www.ggchamber.org/get-involved/young-professionals.
The GGCC is active in providing business-to-business networking opportunities throughout the year: a collective voice in local, regional, and state legislative affairs, professional development opportunities and other services that enhance the business environment.
The GGCC is located at 910 Clopper Road, Suite 205N, Gaithersburg, MD. To learn more about the GGCC visit us at www.ggchamber.org.
Find us on Facebook at: http://www.facebook.com/pages/Gaithersburg-Germantown-Chamber-of-Commerce/64339954570. Or on Twitter at: @GGCCNEWS.