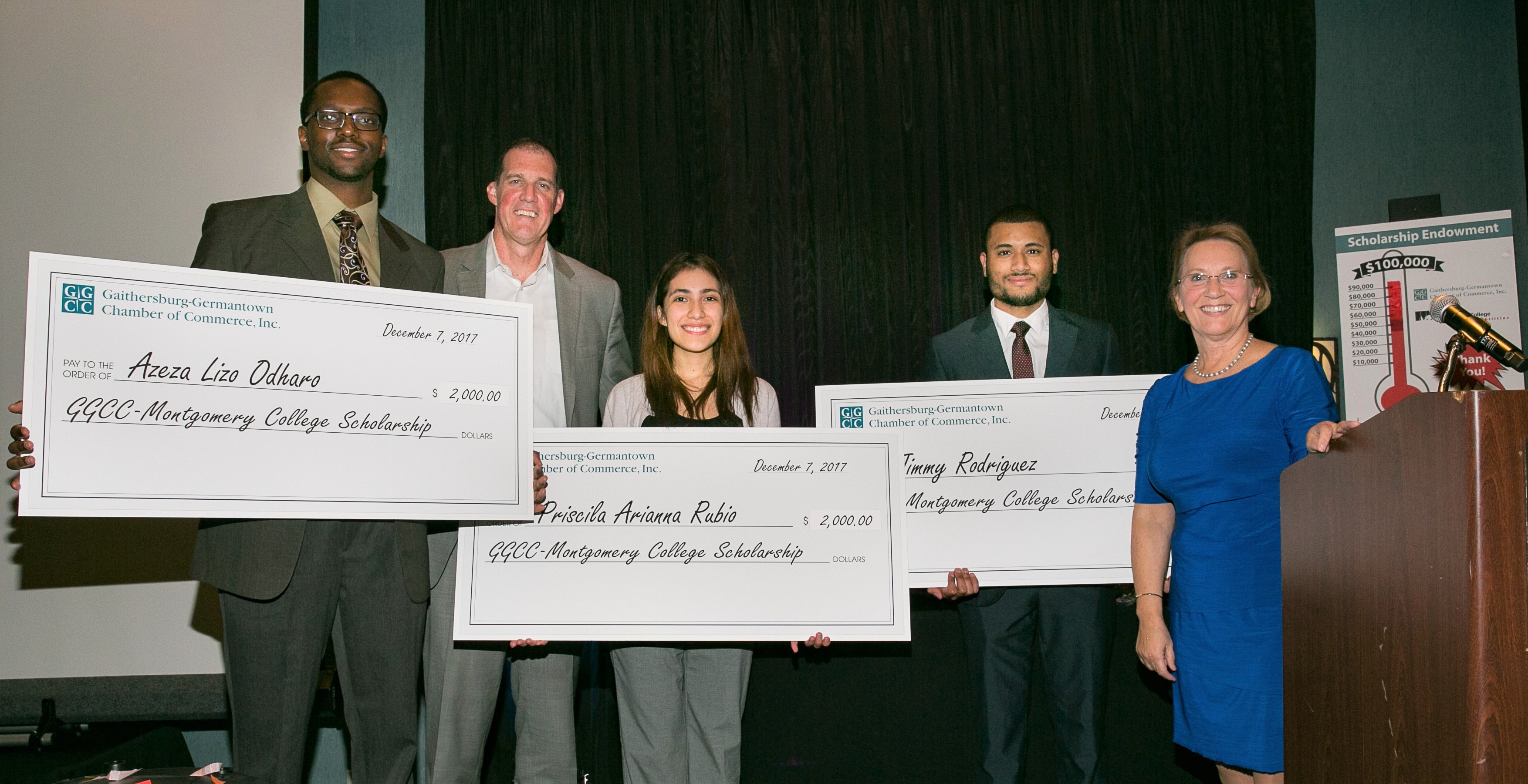 Gaithersburg-Germantown Chamber Awards $6,000 in Scholarships and Raises Another $27,250
The Gaithersburg-Germantown Chamber of Commerce (GGCC) is proud of its Montgomery College Scholarship Program. Our local economy relies on an educated workforce.
The Chamber Scholarship provides financial assistance to Montgomery College students pursuing higher education. Each year, with the help of its donors, the Chamber awards students Montgomery College Scholarships at its Annual Celebration Dinner & Awards Ceremony.
On the evening of December 7, not only did the GGCC award three students a scholarship, it marked a major milestone in the Chamber's history.
Heading into the evening, the Chamber had raised $148,000 for current use scholarships since 2001 & awarded 90 scholarships. In addition to funding current scholarships, the Chamber had established an endowment for future giving. The endowment will ensure that the Chamber continues to support Montgomery College in perpetuity. At the beginning of the evening, we had $93,000 endowed since 2012; and were determined to meet – and hopefully exceed – our goal of $100,000.
While the Chamber is very proud of our accomplishments, we could not have done it without the leadership of Jim Muir, Vice President at Hughes Network Systems. Muir, along with Randy Scritchfield of Randy Scritchfield, CFP®, took the stage to garner individual and business donations to reach the $100,000 endowment scholarship goal.
Muir & Scritchfield were successful. The Chamber raised $27,250 in a matter on fifteen minutes!
"I am so proud of our Chamber I could burst. The significance of the GGCC endowment is that long after you and I have gone, the Chamber scholarship will continue providing financial resources to students in need. It's a great gift that our chamber members have given to the future students of Montgomery College," said Marilyn Balcombe, President / CEO, Gaithersburg-Germantown Chamber.
The Chamber endowment now sits at $120,250 ensuring future giving. With the high cost of a college education today many young people are graduating with significant debt or giving up the dream of going to college altogether. The Chamber – and its donors- are thrilled to support the dreams of the future of tomorrow.
"Three years ago the Chamber established an endowment with a goal of reaching $100,000 which would allow the Chamber to provide scholarships well into the future. This year, we eclipsed that goal," said Muir. "This is a great accomplishment for the Gaithersburg-Germantown Chamber, the many generous contributors and the membership.  We are pleased that we exceeded our goal so quickly and that the money raised will benefit Montgomery College, the student recipients and eventually the business community of Montgomery County who will employee these students in the future. These scholarship are an investment into our future and we are glad that we can play a role in that."
Additionally, the Chamber awarded $6,000 in scholarships to three Montgomery College students, with different majors– aerospace engineering, bioengineering & computer science.
 "When I look at these students, I feel hope for the future. They are excellent students and we are honored to help them with their studies," said Balcombe.
Azeza Odharo, Jimmy Rodriguez,and Priscila Rubio were each awarded a $2,000 scholarship to continue their studies at Montgomery College. Rubio addressed the crowd at the event, explaining how thankul she was for the scholarship and how it will help offset her college expenses. Rodriguez is in computer science. His plan is to earn his associate's degree at Montgomery College and then transfer to the University of Maryland to earn his bachelor's degree.
Muir commended the parents of the recipients, encouraged the audience to consider being a mentor stating – "I am sure most of us got to where we are today because someone took an interest, students and young professionals need mentors", and suggested to the students to put themselves out there and to look for a mentor – "you have a room full of smart business folks who would love to meet you and hear your story".
—-
The GGCC scholarship committee is chaired by GGCC Board Member & Hughes Network Systems Vice President Jim Muir. Muir manages donations yearly from Chamber Members and GGCC Past Chairs who step up every year and make individual and in some cases personal donations.
The GGCC is active in providing business-to-business networking opportunities throughout the year: a collective voice in local, regional, and state legislative affairs, professional development opportunities and other services that enhance the business environment.
The GGCC is located at 910 Clopper Road, Suite 205N, Gaithersburg, MD. To learn more about the GGCC visit us at www.ggchamber.org. Find us on Facebook at: http://www.facebook.com/pages/Gaithersburg-Germantown-Chamber-of-Commerce/64339954570. And on Twitter at @GGCCNEWS.