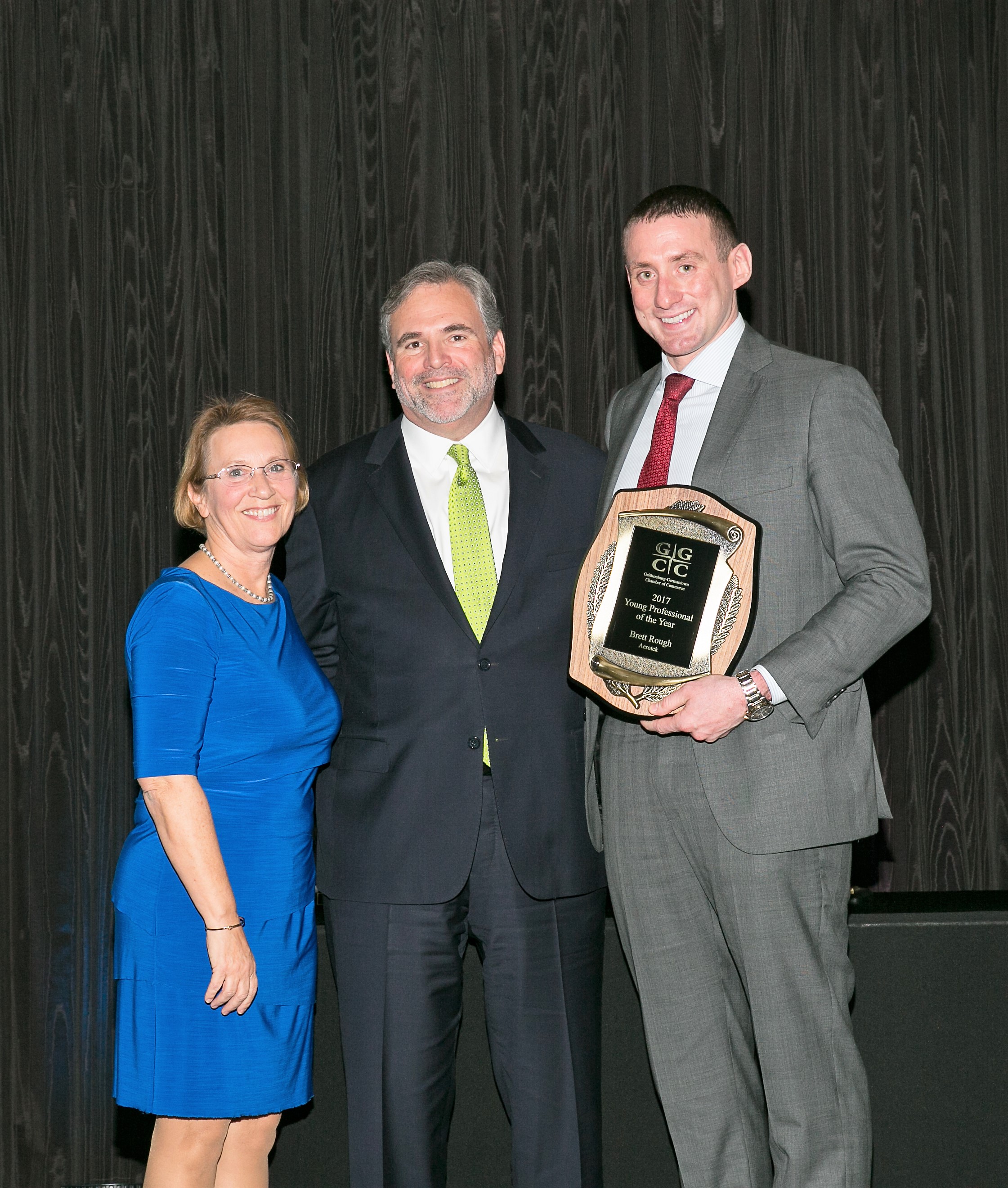 Gaithersburg-Germantown Chamber Awards the 5th Annual Young Professional of the Year Award
The Gaithersburg-Germantown Chamber (GGCC) awarded Brett Rough, Senior Account Executive at Aerotek, as the recipient of the 5th Annual Young Professional of the Year Award (YPG) at their Annual Celebration Dinner & Awards Ceremony. The award was presented by Ed Cooper, Total Wine & More's Vice President of Public Affairs & Community Relations. Total Wine & More was the sponsor of this year's Young Professional of the Year award.
"It's great to see the next generation of business professionals become leaders in their own right. Not only is Brett great at what he does, he is a community leader and believes in giving back. He is a role model for young and old alike," said Marilyn Balcombe, GGCC President / CEO.
The Young Professional of the Year Award recognizes and celebrates the accomplishments of a highly motivated, emerging leader of the Chamber's Young Professional's group.
Rough has been employed with Aerotek for ten and half years and continually pushes himself every day. He has a strong commitment to his profession and believes building relationships a fundamental aspect of the job.
Most importantly he is a leader. He exudes leadership at work, with the Chamber and in his personal life too. Brett has a team of recruiters who look up to him; they are observe everything he does. Rough said that "it's possible they are learning something from me at any part of the day so I try to stay vigilant". He also feels leadership involves a level of vulnerability that he is not afraid to show, admitting when he has made a mistake or something has gone wrong.
"I want my team to stay hungry and aggressive and to know it's OK to make a mistake," said Rough. He feels people can't reach their full potential if they're worried about making a mistake or what repercussions would come if they do. Sometimes those conversations are difficult, but Rough believes it's for the betterment of the individual and the team overall. He also facilitates trainings at the Aerotek corporate headquarters to help people from all over the country/company learn and get better at their jobs.
He is making a positive impact on the community too and in order to do so it takes a great mindset and needs to be done consistently. He works hard to provide for his family and partakes in a lot of fundraisers to raise money for different causes.  And if he can't make the time for whatever it might be, he always donates, ensuring he is still making an impact. He has coached youth football; an active golf committee member for the Aerotek annual tournament that raises money for Warrior 360; he participates in "adopting a family" every year; the "Polar Bear Plunge" where he has single handedly raised $6,000 over the last few years; and participates in "Relay for Life".
Along with several company promotions, he was named Rookie of the Year in 2009; received the Director's Award in 2011; was selected as part of the Mentor team, continuously, for Aerotek since 2012; named Subject Matter Expert for Scientific division 2013; was inducted in the Million Dollar Club in 2014; the Diversity Champion in 2015; and was named the Chamber Exceptional Volunteer of the Year for his work with the Young Professionals Group in 2016.
Rough is an active member of the Chamber's Young Professional Group, serving on the planning committee and is consistently lending a hand at events. He is also active on the Chamber's Golf Committee.
The GGCC's Young Professionals program is a networking group of dedicated young professionals ranging in age from 21-40. Through the GGCC, young professionals can engage with other like-minded business professionals to further their career, strengthen their professional image or just meet new friends. The mission of the group is to make the Gaithersburg-Germantown communities and surrounding areas a great place to live and work by harnessing the strength of our communities to make positive change. Learn more about the program at: www.ggchamber.org/get-involved/young-professionals.
The GGCC is active in providing business-to-business networking opportunities throughout the year: a collective voice in local, regional, and state legislative affairs, professional development opportunities and other services that enhance the business environment.
The GGCC is located at 910 Clopper Road, Suite 205N, Gaithersburg, MD. To learn more about the GGCC visit us at www.ggchamber.org. Find us on Facebook at: http://www.facebook.com/pages/Gaithersburg-Germantown-Chamber-of-Commerce/64339954570. And on Twitter at @GGCCNEWS.