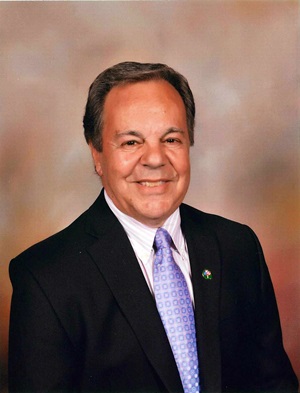 Memorial Service for Gaithersburg Councilmember Henry Marraffa Set for Nov. 6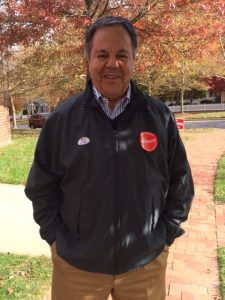 UPDATED The city of Gaithersburg is mourning the loss of City Councilmember Henry Marraffa, Jr., who passed away on Oct. 18, after a battle with cancer.
The city flag has been lowered to half staff in memory of Marraffa, and his seat at the Council dais has been draped with bunting and covered with flowers.
A memorial service is scheduled for Nov. 6, from 2 – 4 p.m., at the Activity Center at Bohrer Park. A celebration of Marraffa's life will follow, from 4- 6 p.m., at the city facility.
In lieu of flowers, the family has asked that memorial contributions be made to the Leukemia and Lymphoma Society, 100 Painters Road, Suite 800, Owings Mills, Maryland, 21117.
You can sign the guestbook, here.
Gaithersburg Mayor Jud Ashman is remembering Marraffa as a colleague and a friend.
Ashman released the following statement on the city's website:
"It is with great sadness that I announce the passing of Henry Marraffa, a dear friend and colleague who served the residents of the City of Gaithersburg with great distinction for more than 20 years. Henry lost his battle with cancer early this morning.
"My fellow Council Members and I extend our sincerest condolences to Henry's wife, Donna, and to his beloved family. Henry was, first and foremost, a family man who treasured his time with those he loved. Despite an often hectic schedule of public events and meetings, Henry always made time for his family, often bringing them to events and activities, an admirable blending of his public and private life.
"This is a tremendous loss for Gaithersburg. Henry served our community on the Board of Appeals, the Planning Commission, and for more than two decades as a member of the City Council, to which he was first elected in 1995. He worked to build Gaithersburg's reputation and prominence on a national level, representing our city on the Board of Directors of the National League of Cities, and at the state level with the Maryland Municipal League.
"Henry's great passion was economic development. In his decades of public service he was a consistent advocate for the concerns of businesses. A business owner himself, he championed issues that created a welcoming environment for companies both large and small. Gaithersburg's success as an international hub for the biotechnology industry can be partly attributed to Henry's advocacy for development and permitting policies that made our City such an attractive location.
"He was also passionate about innovative development, serving at a time when the concept of mixed use zoning was in its infancy. Dynamic communities such as Kentlands, Lakelands, Parklands, and Crown, with their mix of residential and commercial uses, blossomed in Gaithersburg with Henry playing an important role on a forward-looking City Council.
"Just as importantly, Henry was a collaborator. In Gaithersburg we pride ourselves on conducting our deliberations with mutual respect. Even at times when Henry was in the minority on an issue, his approach was civil and collegial – and it helped build a tradition that has kept our public discourse constructive and our city government productive.
"Henry's type of passion and commitment is rare, and he will truly be missed, but he is leaving behind a powerful legacy. As his all-time favorite author, Louis L'Amour, wrote, 'There will come a time when you believe everything is finished. Yet that will be the beginning.'
"On behalf of the Council, the staff, and the residents of Gaithersburg: may our Henry rest in peace, and may his memory be for a blessing."
A memorial service for Council Member Henry Marraffa @hmarraffa will take place at 2p on Sun., Nov. 6 at the Activity Center at Bohrer Park.

— City of Gaithersburg (@GburgMD) October 25, 2016
City flag at half staff in memory of @GburgMD Councilmember Henry Marraffa. pic.twitter.com/2IxWXj45D1

— Sonya Burke (@SonyaNBurke) October 22, 2016
We are deeply saddened to share the news of the passing of Council Member Henry Marraffa. Mayor @judashman statement https://t.co/U5Ii1bfbbh

— City of Gaithersburg (@GburgMD) October 18, 2016
Huge loss for our city. We will miss our dear friend and colleague Henry. https://t.co/ekPXBmFU2y

— Jud Ashman (@judashman) October 18, 2016