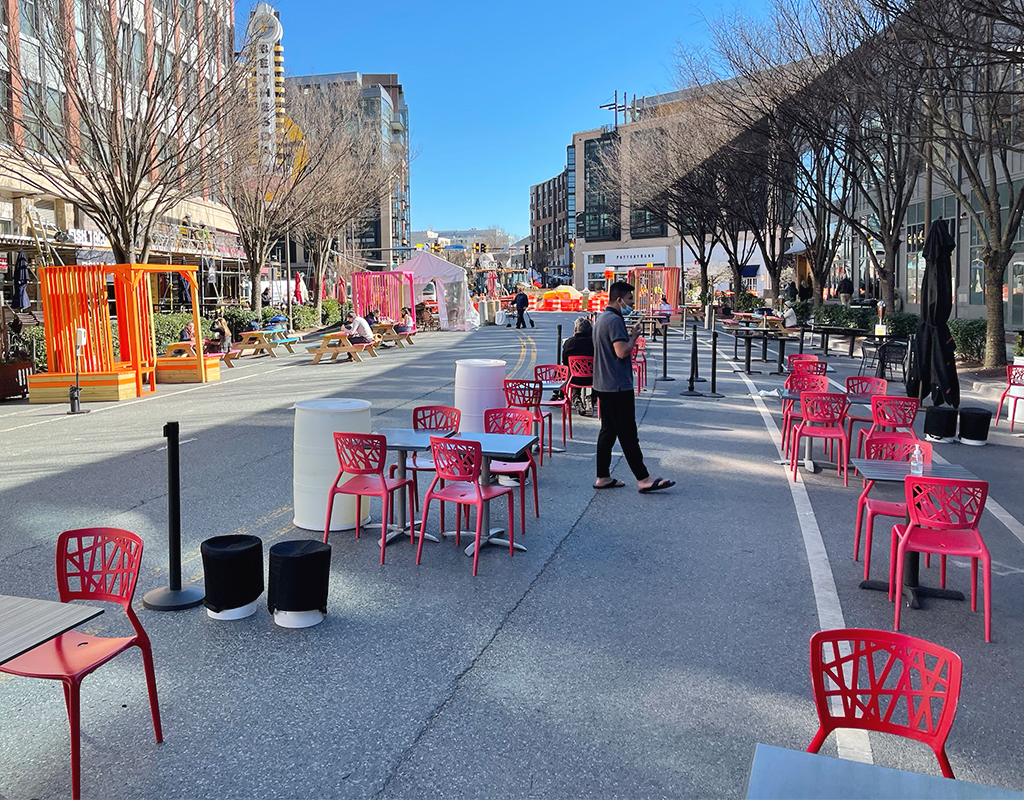 From 'If' to 'Worst Case Scenario': One Year After COVID-19 Impacted Montgomery County
This week, the country marked one year since life as we knew it changed with COVID-19 sweeping across the world and started to affect Montgomery County. To date, there have been more than 64,000 confirmed cases in the county alone.
The first three cases of COVID-19 in Maryland were confirmed in Montgomery County on March 5, 2020. All three of those individuals contracted the disease during international travel.
In one of the first coronavirus press conferences that would become all too familiar, local leaders — including Montgomery County Executive Marc Elrich, and County Health Officer Dr. Travis Gayles —  addressed the potential impact on residents. "All of these cases are doing well clinically. And so suggests the severity of the illness, that even if it's here, remains in a mild to moderate category," Gayles said on March 6, 2020. At that time, the county conducted contract tracing for the three infected individuals and watched for signs the disease was spreading.
Before the virus reached Montgomery County, it had already been spreading rapidly worldwide. Just days prior, on March 3, 2020, Gayles briefed the Montgomery County Council on Coronavirus preventative and preparation measures. "In a worst case scenario, if we have to escalate our response, and folks may have to self-quarantine and spend time at home, or if schools and businesses are closed for an extended period of time, making sure they have some essential products at home," he said. It was an "if" scenario Montgomery County would soon find a reality.
Montgomery County Council is receiving a briefing about the Coronavirus (COVID-19) to get updated information and discuss efforts to ensure the health and safety of all residents. More details about the county's prevention and preparation efforts coming soon… @MoCoCouncilMD pic.twitter.com/2E2islK49S

— Jordan Lindsay (@TVJordanLindsay) March 3, 2020
Fast forward to Dec. of 2020, when MyMCM interviewed Dr. Gayles on behalf of all of Montgomery County's first responders for their hard work during the pandemic. "Even though we had practices through different exercises, this is the event of a career for pretty much everybody, because nobody had lived through this type of experience before," he said. After that first significant surge in cases, Gayles said the county was aggressive in its response.
MyMCM @mymcmedia recognizes the county's first responders' heroic work throughout the COVID-19 pandemic, and that's why they have collectively been selected for the inaugural MyMCM Honors award. I interviewed Dr. Gayles on their behalf. https://t.co/pRabVNyIjs pic.twitter.com/ML0BuAM0tc

— Jordan Lindsay (@TVJordanLindsay) January 1, 2021
With a possible light at the end of the tunnel, and as various vaccines have made their way to the public, county officials, including Gayles, have been vocal about their frustrations when it comes to allocating state resources to Montgomery County residents. The county just announced Tuesday that a mass vaccination site would be coming to Montgomery College Germantown, which councilmembers saw as a positive step. Plans to reopen county businesses, schools and other resources have been underway for weeks. March 15 saw another phase of reopening Montgomery County Public Schools with many students returning to in-person learning.
Ever since the virus swept the world, most things have been done virtually — including Elrich's weekly COVID-19 press conference — where updates have been provided. On Friday, county officials made the difficult decision to sit as the board of health and slow Gov. Larry Hogan's bold reopening effort. "We are not out of the woods yet, and we have work to do," Elrich said.
As the number of positive cases and hospitalizations have decreased over recent months, Montgomery County still leads the State of Maryland in the number of coronavirus deaths.