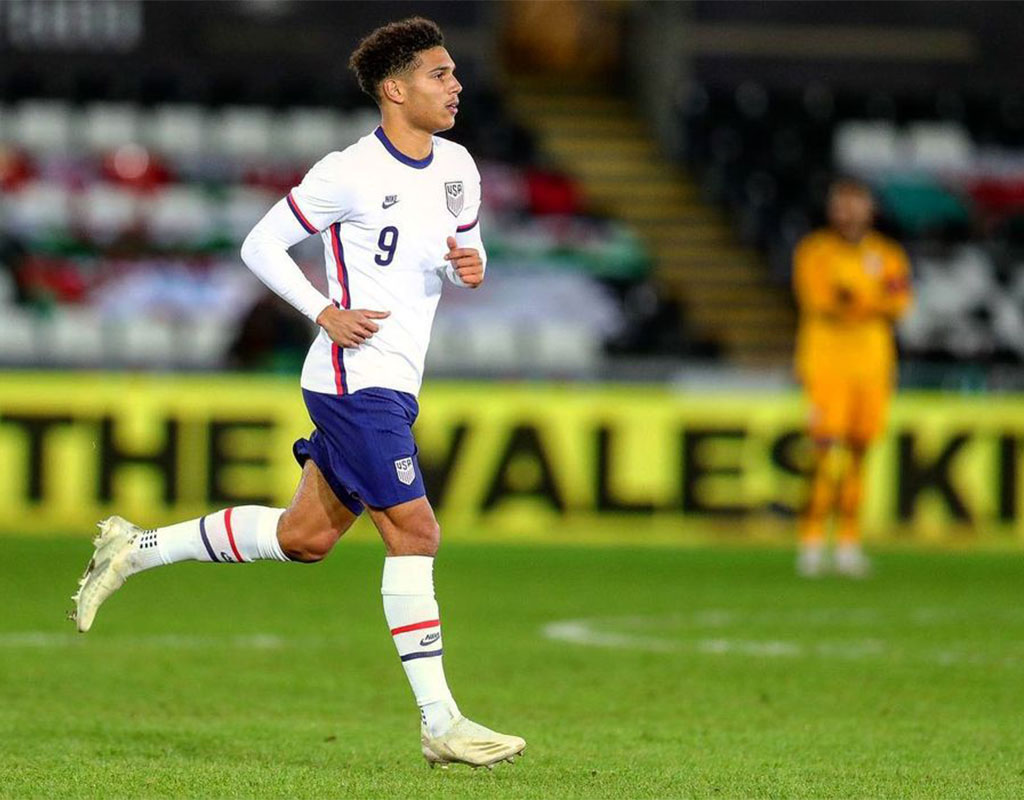 Former Bethesda Soccer Star Shines for U.S. National Team
"I had a week that I will never, ever, ever forget."
From the soccer fields of Montgomery County to representing his country at the highest level, Nicholas Gioacchini (pronounced joe-uh-KEENY) is making an impact for the U.S. national team.
Gioacchini was born in Kansas City, but his family moved around a lot due to his father's job. At eight years old, they moved to his father's native Italy. Four years later, they returned to the United States and moved to Bethesda, Md.
Then 12 years old, Gioacchini attended Westland Middle School and eventually Bethesda-Chevy Chase High School. He played much of his youth soccer in the area for Bethesda Soccer Academy, ESSA Soccer Academy, and the D.C. United Academy.
Fast forward a few years and Gioacchini is a professional soccer player competing in Europe. Playing for SM Caen in the French second division, the 20 year-old is one of many young Americans making a name for themselves in some of the most challenging leagues in the world.
"It's never easy..At first, I was quite shy," Gioacchini said in an interview in April. "But at the end of the day, you still have to break out and show your confidence and show what you can do. Whether you're from the country or not, sometimes that puts a challenge in front of you, but otherwise, that's what I love to do."
Gioacchini joined SM Caen, located in Normandy, in 2018. Throughout the 2020 season so far, he has played in eight games and has scored three goals. His impressive performances caught the eye of the U.S. national team.
For the past two weeks, Gioacchini has been part of a training camp for some of the brightest talents in American soccer – and he is one of them.
On Nov. 12, the United States faced off against Wales, when Gioacchini made his first appearance for the national team as a substitute in the 79th minute.
On Monday, Gioacchini was in the starting lineup for the United States against Panama. He marked his first international start by scoring two impressive goals within four minutes of each other.
"Scoring goals for my country is something that not everyone gets the chance to do, even play," Gioacchini said after the U.S.'s 6-2 win, "so I'm grateful for that. It's almost like a blessing."
Gioacchini's performance against Panama led to him being voted Man of the Match by fans.
"[Gioacchini] is a fantastic kid." U.S. head coach Gregg Berhalter said after the game. "I've had a lot of conversations with him leading up to this."
"You could tell he was a little bit apprehensive," Berhalter continued, "and my job was just to give him confidence and tell him that he's good enough, and he showed it tonight."
American soccer fans have been clamoring for a striker that can consistently put the ball in the back of the net. If Monday's game is any indication, they might have found their man.
First start. First goal.
Congrats on this one, @Nicholas_gioacc!

(also stay tuned for another highlight…!) pic.twitter.com/aDZcfaeLru

— U.S. Soccer MNT (@USMNT) November 16, 2020
Two caps. One start Two goals! 🙌@Nicholas_gioacc
with the brace to make it 3-1 for the 🇺🇸!#USAvPAN pic.twitter.com/LKRFjO5znr

— U.S. Soccer MNT (@USMNT) November 16, 2020