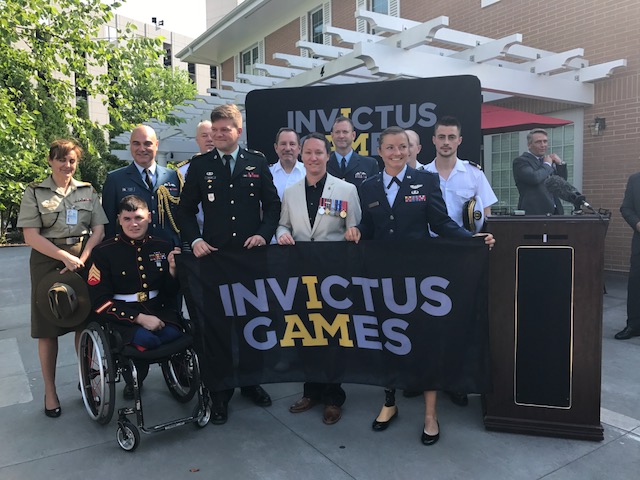 Flag Passing Ceremony in Bethesda Honors Wounded Warriors (VIDEO)
"As an amputee every day is hard," Captain Christy Wise,co-captain for Invictus Games Team USA 2017, said. "I trip all the time. I always have extra hardware. I have to carry legs with me everywhere I go."
A tragic boating accident in 2015 is why Wise, a pilot in the United States Air Force, had her right leg amputated above the knee.
"I have a lot of prosthetic legs," she said. "Luckily I have about 5 and they all have names […] this is Xenia Warrior Princess"
A name she chose to encourage her to get back in the Air Force.
"The first thing that happens when you lose a leg is you think that everything is going to change," she said. "Being a part of the [Wounded] Warriors Games and Invictus Games  showed me that things are going to be different but it doesn't have to change. I'm still an athlete. I'm still capable of anything I put my mind to."
The Invictus Games is an international competition that uses the power of adaptive sports to help wounded warriors from around the world on their journey to recovery.
Dozens of military personnel from around the world gathered at the Fisher House Foundation in Bethesda early Wednesday for a special flag passing ceremony.
Since the games were held in Orlando in 2016, Team USA passed the flag along with the responsibility of shedding the light on the unconquerable spirit of wounded warriors to Team Canada, who will host the 2017 games in Toronto.
Team USA has officially passed the flag to Team Canada for the 2017 Invictus Games @mymcmedia pic.twitter.com/QiWFVyek84

— Mitti Hicks (@MittiMegan) July 12, 2017
"My desire was to use adaptive sports to serve again," Major Simon Mailloux, co-captain, Invictus Games Team Canada 2017. "I got injured in 2007. I used sports to redeploy to Afghanistan two years later so early on, I found that it was a key to my rehabilitation."
There will be more than 500 injured soldiers from 17 countries competing in this year's game.
As for Wise, she hopes her story inspires those who feel there is no more hope.
"There was an Army amputee, double below the knee, and very early on in my rehab he told me 'don't for one second long for what you were but recklessly pursue what you can become.'"
Here at the Walter Reed National Military Medical Center for the passing of the flags ceremony for the Invictus Games. @mymcmedia pic.twitter.com/7NFAqQXvR5

— Mitti Hicks (@MittiMegan) July 12, 2017
The Invictus Games is an Int'l sporting event for wounded, injured and sick service members who come together to compete.@mymcmedia pic.twitter.com/dhh514DCak

— Mitti Hicks (@MittiMegan) July 12, 2017