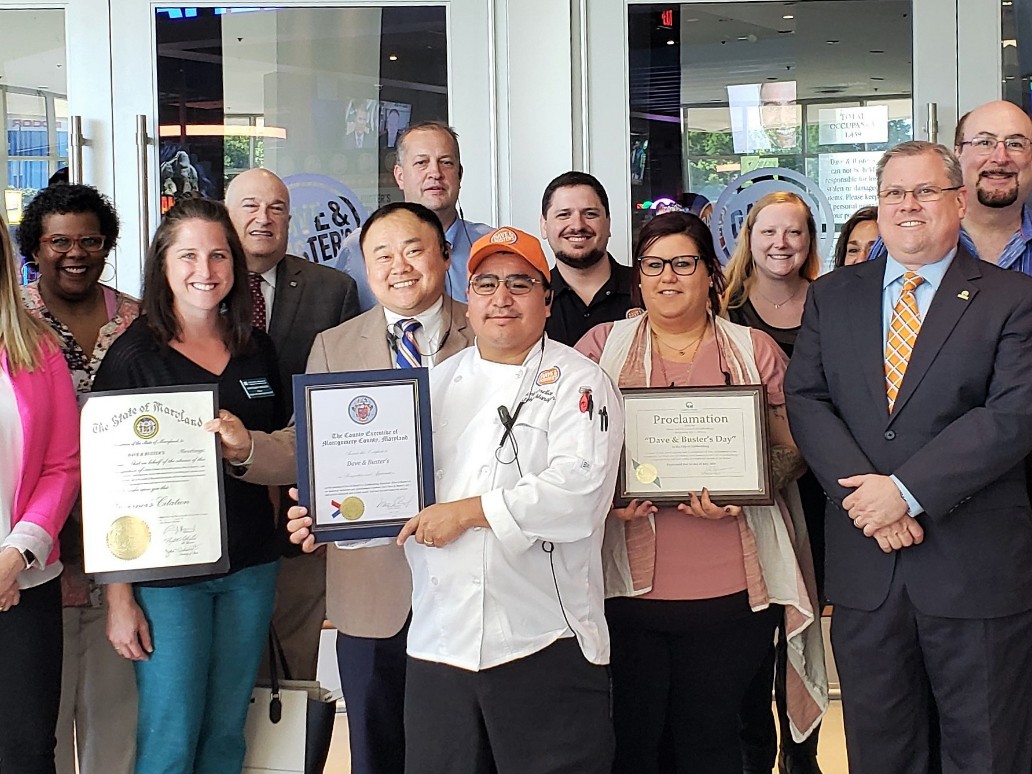 Dave and Buster's Opens at RIO
You can enjoy the latest and greatest games, ultimate sports-viewing, extraordinary food and remarkable drinks at Dave & Buster's at the RIO.
The Gaithersburg-Germantown Chamber of Commerce (GGCC) supported Dave & Buster's at the grand opening on July 1, 2019. They recently renovated the space -formerly known as Sport & Health- at 9811 Washingtonian Boulevard, Suite H, Gaithersburg.
"We are thrilled to have Dave & Buster's in Gaithersburg," said Marilyn Balcombe, GGCC president. "It will be a great and fun addition to the community."
(l:r) Brett Rough, Aerotek; Doug Ryder, Holy Cross Germantown Hospital; David McCormick-Goodhart, Savant Capital Management; Heather Madison, Peterson Companies; Colette Releford, RealPage, Inc.; Brittany Hilton, Hughes Network Systems, LLC; Bruce Kanner, Cartridge on Wheels; Andy Smith, Dave & Buster's; Leonard Hellebuyck, Dave & Buster's; Ronis Orellana, Dave & Buster's; Michael Krzysztofik, Dave & Buster's; Maggie Telewiak, Dave & Buster's; Nikki Haddad, Dave & Buster's; Jud Ashman, Mayor, City of Gaithersburg; Neil Harris, Councilmember, City of Gaithersburg; Ryan Spiegel, Councilmember, City of Gaithersburg; Jeff Samuels, Office of Congressman John K. Delaney; and Tom Lonergan, City of Gaithersburg at the Gaithersburg-Germantown Chamber of Commerce ribbon cutting celebration for the brand new Dave & Buster's in Gaithersburg, Maryland
Dave & Buster's occupies a 35,000-square-foot at the RIO Washingtonian Center in Gaithersburg. Each Dave & Buster's has a full-service restaurant and a video arcade. As of July 2019, the company has 130 locations in the United States and Canada. This is the chain's fifth location in Maryland. Andy Smith, General Manager, Dave & Buster's RIO, spoke at the cutting noting that he is from Maryland and excited to share the Dave & Buster's culture & excitement with the community. He also mentioned that this newest location is expected to bring 200 new jobs to the area.
State Senator – District 17 – Cheryl Kagan attended the ceremony and said she was "delighted to welcome Dave & Buster's to the Rio section of Gaithersburg. It's an exciting new place for families, friends, or colleagues to have a fun night out and their party rooms are worth considering for your next celebration."
Did you know Dave & Buster are real guys? Back in the late 1970s, Buster opened a restaurant known for its tasty food and friendly service. A few doors down, Dave opened an outrageous place for entertainment and games where adults were irresistibly drawn for fun. The two young entrepreneurs noticed people rotating between their establishments, and an idea started to form, put them under one roof.
Take advantage of the early hours with half price games from 10 a.m. – noon every day. Happy Hour is Monday thru Friday from 4-6 p.m. with half-off cocktails and $5 bar bites. Summer hours are: Sun – Thu 10 a.m. – Midnight and Fri – Sat 10 a.m. – 2 a.m. Learn more about them at: www.daveandbusters.com/locations/gaithersburg.
The GGCC is active in providing business-to-business networking opportunities throughout the year: a collective voice in local, regional, and state legislative affairs, professional development opportunities and other services that enhance the business environment.