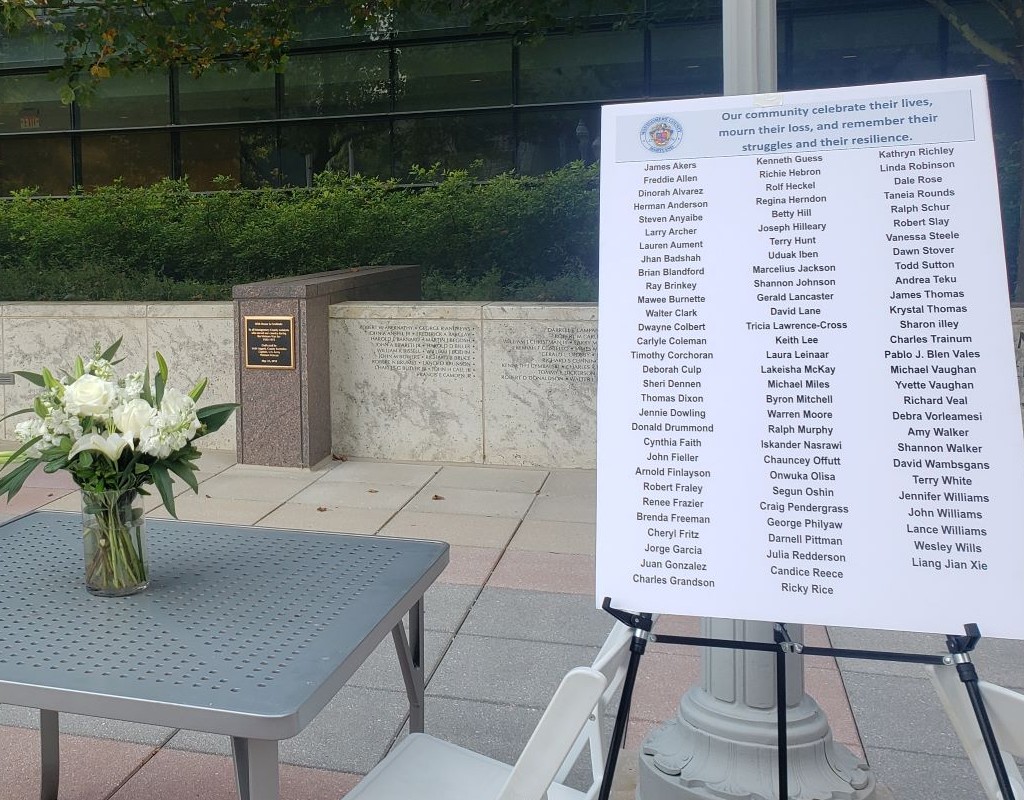 County Pauses to Remember Homeless Who Died During 2020-2021
The 88 homeless, formerly-homeless or those living in temporary housing who died in 2020 and 2021 were military veterans, dedicated mothers, a professional soccer player, a professor and a gifted woodworker.
"They were moms and dads. They were someone's brothers and sisters. All of them were someone's child," said Montgomery County Councilmember Gabe Albornoz during Wednesday morning's outdoor Community Memorial Service at Veterans Memorial Plaza in Rockville.
Of those 88, 25 were actually homeless when they died. Others were living in county shelters, hotels or temporary housing, said Susie Sinclair Smith, chief executive officer of the Montgomery County Coalition for the Homeless. On any given night, about 400 single people spend the night in a county shelter, she said.
Six died from COVID-19, she said, noting that the infection rate in the shelters was only 1.5%. According to Amanda Harris, the county administered 14,000 COVID-19 tests and had a positivity rate of less than 3%.
Drug overdoses were a bigger culprit.
Montgomery County has a policy of housing first, opting to place a person in permanent housing regardless of their history and problems. The goal is to make homelessness rare, brief and non-recurring.
Carole Thornhill is a grateful recipient of the county's efforts to end homelessness. In a 72-hour period, she lost her home, the father of one of her daughters and her job. "I did everything I could to keep our family together," she told an admiring audience. They lived in a hotel and on friends' couches.
The county placed her and her two daughters in Stepping Stones Shelter in Rockville, where she received "new bedding, new toiletries, new clothes. What a treat," she said. About a year ago, they moved to The Dwelling Place in Rockville, a non-profit that works with the county to end homelessness.
The family is getting its life back together, she said, noting that she soon will begin work at Aldi grocery store. "My kids are coming out of the grief and starting to laugh again."
Esther Martinez also is grateful for the help she was given to get her life back together. Out of school for 10 years, she recently was accepted at Montgomery College. "I am going to university now," she said through a Spanish interpreter. "I am very proud I have solved the problems that I had."
County Executive Marc Elrich called the July 21 event important. "Let people die with dignity, not alone, not on the streets," he said.
"We need fewer memorials and more celebrations," he said, adding, "This is something we can solve."
Our annual memorial service for those experiencing homelessness who died during 2020 and 2021. We honor and remember 88 of our neighbors. pic.twitter.com/6aSTgIZLV1

— Montgomery County DHHS (@MoCoDHHS) July 21, 2021