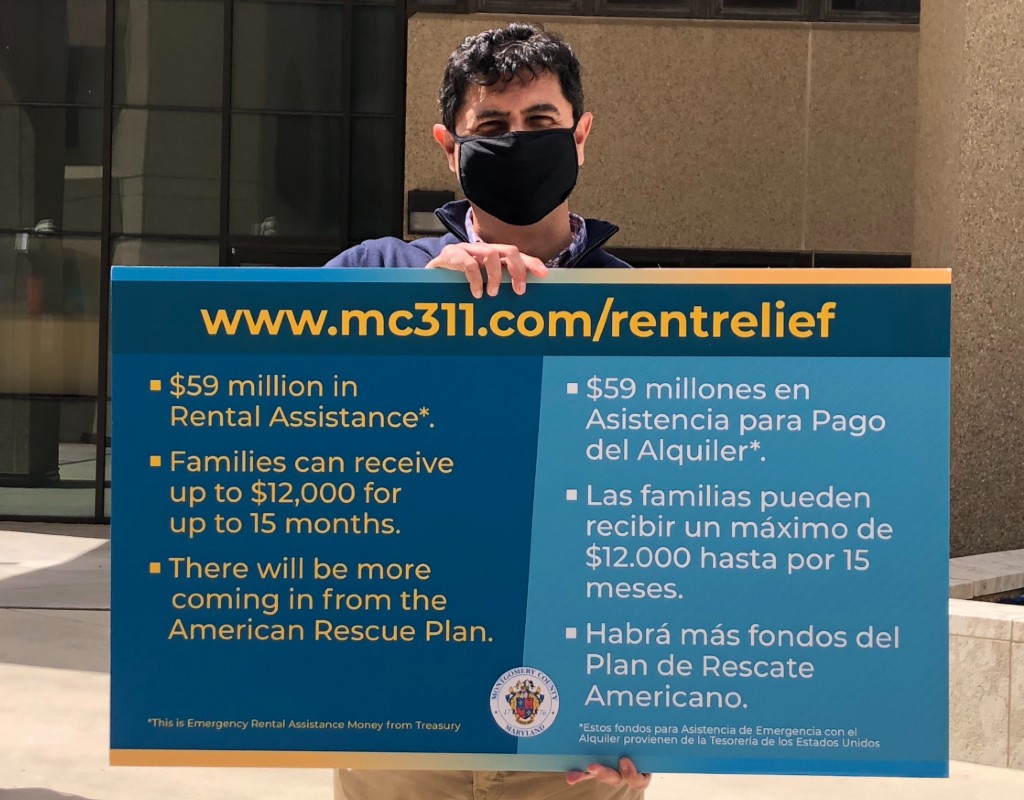 County Has Spent About Half of Latest Rent Relief Funding
As of Tuesday, Montgomery County has distributed $28.6 million of its $59 million in COVID-19 rent relief funding from the U.S. Treasury Department.The County Health and Human Services (DHHS) staff shared this information during a virtual County Council meeting.
50% of rental assistance applications have been completely closed out and 30% are actively with a case worker, said Amanda Harris, DHHS Chief of Services to End and Prevent Homelessness. See eligibility and application information for Montgomery County's rent relief program here.
Montgomery County received $31 million in direct funding from the Department of Treasury and $28 million from the state's allocation. The jurisdiction launched its third round of COVID-19 rental assistance in April and County DHHS manages the program. So far this round, 8,605 unique applications have been received and 2,334 households have been approved. In the past two rounds, the county allocated $17.9 million and served 4,496 households.
6,803 households have received rental assistance throughout all phases of the program. More than 90% of recipients are people of color, Harris said. Most applicants make under 30% of the area median income (AMI).
Federal guidelines call for spending 65% of funding  – $38.35 million – by Sept. 30 or risk losing money, according to the county. So far, Montgomery has spent 48%.
Harris said the county has already handed out more than 65% of its direct funding, but has dispensed about 29% – or $8 million – of the money allocated from the state. She said DHHS wanted to use direct funding first because it poses a greater risk of being lost in a second round. Montgomery County has spent the most of its state allocation compared to other jurisdictions, Harris said. As of July 31, Montgomery spent $6 million. The jurisdiction closest to that figure was Wicomico County and also the state's Assisted Housing Relief Program with $2.3 million spent. Harris said although there is still risk of losing state funding, she is less concerned about that due to the county's significant contribution.
A broader update about rental assistance and evictions is planned for Oct. 5. Councilmember Nancy Navarro asked about staffing and enhancing the online application process.
"As we are trying to address these issues… equally important is the issue of how are we making sure that the funds are being distributed as soon as possible and that we also evaluate whether we need to step in and even put more assistance out there," Navarro said.
Harris said DHHS plans to hire six new staff members. The department has also authorized overtime for existing staff.
"There is absolutely no reason why we shouldn't have the best technology, the best systems in place to be able to reach the most amount of people," Councilmember Andrew Friedson said.
Councilmember Will Jawando suggested online tracking for application progress. He said the county should look into improving any technology interface that residents use to interact with county services.
"Particularly when they're applying for life-giving assistance," Jawando said.
Previous Post:
5,800+ Households Have Received County COVID-19 Rental Assistance