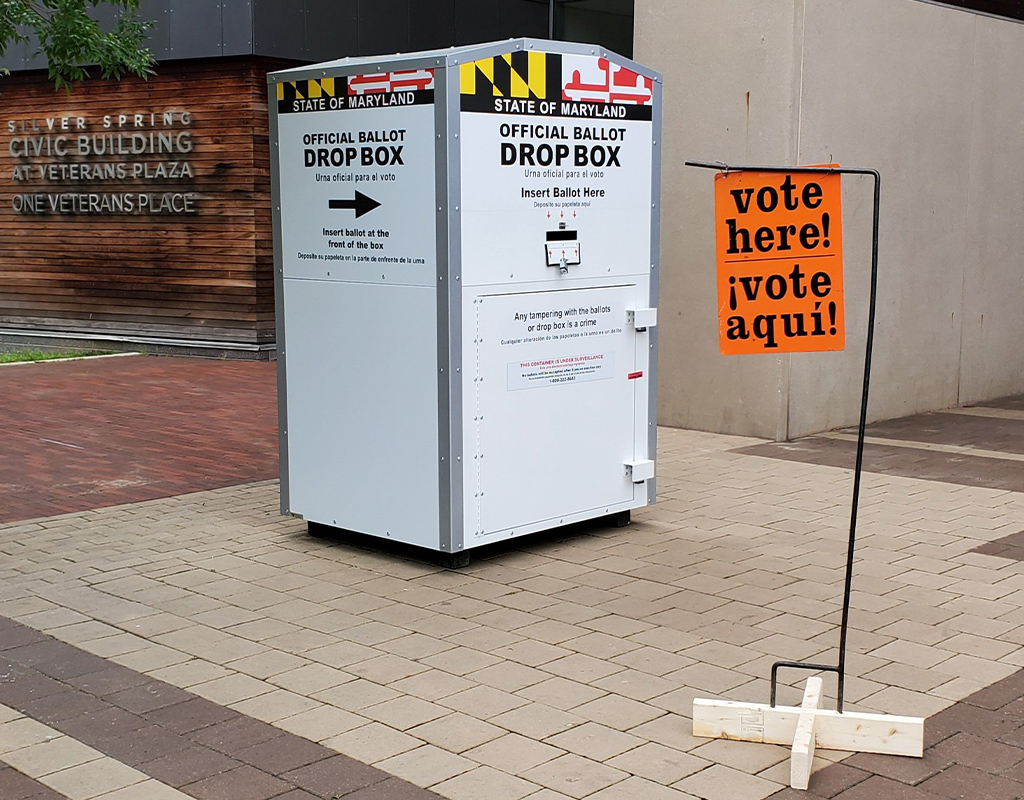 Councilmember Glass Calls for More Ballot Drop Boxes
During an Aug. 21 press conference in Gaithersburg on protecting the United States Postal Service, Montgomery County Councilmember Evan Glass said he reached out to the Maryland State Board of Elections advocating for more ballot drop boxes throughout Montgomery County. Glass made the request out of concern that the "postal service isn't running as optimally as it needs to," which may impact voting in the upcoming election because of the coronavirus.
His comments come as some residents have expressed concerns about mail delays. As of Aug. 17, 90,000 Montgomery County residents have requested a mail-in-ballot.
"We have to make sure that every vote is counted," Glass said in an interview with MyMCMedia.
Dr. Gilberto Zelaya, the outreach and public information officer of Montgomery County Board of Elections (BOE), said in an email to MyMCMedia that BOE requested 40 ballot drop boxes from the Maryland Board of Elections to use for the 2020 Presidential Election.
"Our goal is to have [ballot drop boxes] at our 11 [Early Voting] Centers & Vote Centers (25 high schools, White Oak Rec, Nancy [Dacek] Rec & Marriott Conference Center). We also plan to have a drop box at Rockville City Hall, and currently have one at BOE," Zelaya said in an email.
The Maryland Board of Elections will review the county's submission proposing 39 early voting sites on Friday. He added, "We are also looking at additional boxes separate from [Maryland State Board of Elections] request.
The County Council is currently breaking for recess. Once they are back in session, Glass says the council will work to protect the right to vote.
"When the council resumes our public hearings in September, I absolutely expect us to have a public update on the election to hear from the Board of Election so everyone will have confidence that their vote will count," Glass said.
Related Posts:
Trone, Officials Urge Postal Service to Safeguard Voting, Medicine Deliveries in Montgomery County