Council Approves Bill to Pave Way for New Economic Development Corp.
The Montgomery County Council today approved a bill that will reorganize the county's Department of Economic Development (DED) into a new nonprofit organization.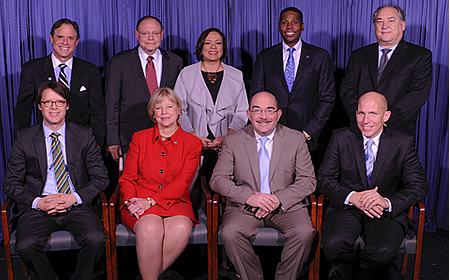 The reorganization of the county's economic development efforts was proposed by County Executive Ike Leggett. The bill will transfer certain duties of the current Department of Economic Development to a new Montgomery County Economic Development Corporation.
Bill 25-15 was approved as amended by a 7-0 vote with Councilmember Sidney Katz absent on other business and Councilmember Marc Elrich temporarily absent, according to a news release from the county.
The bill also will end the tenure of the Montgomery Business Development Corporation (MBDC) and would create a new County Office of Agriculture. Many aspects of economic agricultural concerns have been directed by a division of the current Department of Economic Development.
"Through this reorganization we are elevating the status of economic development in Montgomery County," said Councilmember Nancy Floreen, who serves as chair of the Planning, Housing and Economic Development Committee and was the lead sponsor of Bill 28-10, which created MBDC in 2010. "We've always been committed to ensuring our county is a major player in the region, and now we are doubling down on that commitment. Today's decision builds on the important work the Council started five years ago with the creation of MBDC. We're grateful for all the progress MBDC has made over the years, and I believe this is the natural next step."
The bill proposes creation of an 11-member board of directors of the new corporation. The members would be appointed by the County Executive and confirmed by the Council, but the corporation would not be an agency of the County government. Certain duties, now performed by the Department of Economic Development, would be transferred to the Department of Finance and the new Office of Agriculture, according to the news release.
"Attracting jobs and investment will increase our tax base and minimize the need to increase tax rates," said Council President George Leventhal, who also serves on the Council's Planning, Housing and Economic Development Committee. "The new economic development corporation will be able to respond more effectively and quickly to the challenges of the 21st century."
Montgomery County's Department of Economic Development currently performs several functions, including the following:
• Business retention and expansion
• Marketing and attraction
• Financing
• Agricultural services and preservation
• Small business and minority business development
• Technology-led development and entrepreneurship
• Workforce investment/development
According to a Council staff report, the diversity of functions performed by DED has led to confusion within the business community regarding DED's core mission, and perhaps has made it difficult for DED to respond to both fluctuations in the resources available to fund economic development, and the community's evolving economic development needs. The full report is found at: http://montgomerycountymd.granicus.com/MetaViewer.php?view_id=6&event_id=1729&meta_id=86056.