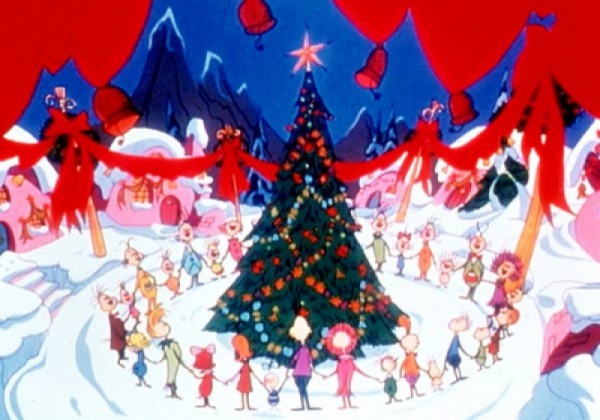 Circle Up for Kids!
The horrific tragedy that took place recently at Sandy Hook Elementary School in Newtown, Connecticut, left so many people simply feeling shocked, saddened, and essentially helpless, in the face of such an unimaginable event that claimed the lives of so many innocent children and adults.
My good friend, Kristin O'Keefe, decided instead to do something about it. It's a rather simple, but powerful gesture, and one that will allow people to come together to say enough is enough. On Christmas Eve at Noon, she's invited a few hundred — nay, thousands, hopefully — of her closest friends and total strangers to circle the Washington Monument, hand in hand, to "Circle Up for Kids."
If that classic image of all the "Whos" in "Whoville" joined in a circle to make sure "The Grinch Who Stole Christmas" could not deter their spirits comes to mind… then you're getting the picture! That is the image that inspired Kristin to create this very special event at the ultimate location for public gathering and sending a message to the whole nation: on the Washington Monument grounds, at the National Mall.
Read below for more details… and PLEASE spread the word. Tell all your friends. Make plans to come down at noon on Christmas Eve and bring the family. Take a little time out of your Christmas Eve day and show your support for children everywhere.
*   *   *
Moms, Dads, Sisters, Brothers, Friends, Strangers to Come Together For 'Circle Up for Kids' Event at Washington Monument
(Washington, D.C.) – In support of children everywhere and in an effort to ensure that something positive comes out of the recent school tragedy in Newtown, Connecticut, area moms, dads, sisters, brothers, friends and total strangers will come together for a special, noontime event on Christmas Eve, on the National Mall, entitled: "Circle Up for Kids." Hundreds – and quite possibly thousands – of individuals will come together and join hands to form a large "community circle" surrounding the Washington Monument.
Participants will join together in song, in a gathering that organizers say will be reminiscent of the classic scene from the Dr. Seuss children's tale, "The Grinch Who Stole Christmas," when the residents of the imaginary little town of "Whoville" demonstrated that – even in the face of adversity – their spirits would prevail and their voices would be heard loud and clear.
In this case, those participating in the "Circle Up for Kids" effort on Christmas Eve will lift their voices for meaningful reform, to prevent such unspeakable tragedies from happening again in the future.
Event coordinator Kristin O'Keefe, a Maryland mom who was inspired to organize the Christmas Eve event on the National Mall, notes: "We Americans are at our best when we come together – when we work as a community for a common good, in the name of protecting our kids. We know we are stronger when we stand together for our kids and, when necessary, for change."
#   #   #