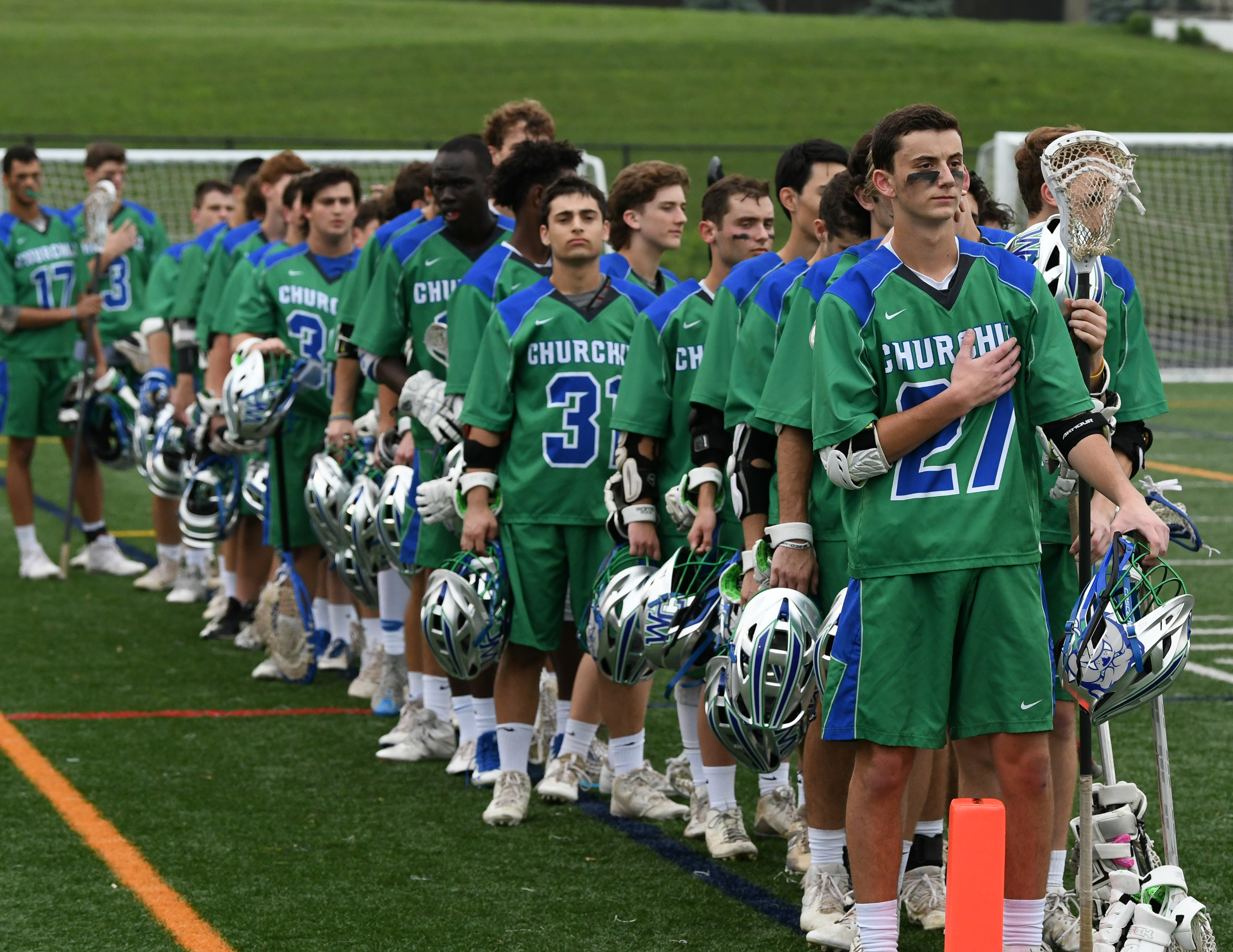 Churchill Dominates Howard in 4A MPSSAA LAX Semifinal and Heads to Finals
Gaithersburg High School May 19, 2018
Churchill boys lacrosse team took control of the 4A semifinal game early and never looked back as they defeated Howard High School of Howard county 14-4.  The bulldogs head to Stevenson University to face last years state champion Severna Park of Anne Arundel county.  Churchill is no stranger to their upcoming opponent and is focused on the 4A state championship that they will play on Wednesday.  What has yet to happen for Montgomery County lacrosse is for a team to win a state championship.  This may be the year if the Churchill Bulldogs play with the intensity they showed last Saturday.
The semifinal game unfolded quickly with Churchill taking the lead 3-0 at the end of the first quarter behind strong play from their goal keeper who allowed only one goal during the entire first half.  The first half ended with the score 8-1.  When Howard came out in the second half scoring two goals to make it 8-3 half way through the quarter the Bulldogs answered quickly with two goals making it 10-3 only two minutes later.  Churchill's goalie Andrew Robinson tallied 11 saves for the game and was a major reason for the success the team has had all season.  The Bulldogs scored six unanswered goals in the second half and Howard scored once to make the final score 14-4.
Churchill takes its 16-0 record this season to the final game against Severna Park and is on a mission to be the first Montgomery County Lacrosse Program to win a MPSSAA State Championship.  They have all the tools, a great goalie, a superior face-off specialist who won 11 of 16 face-offs on Saturday, and variety capable scorers.  The coaches of Churchill have their guys poised for what they will face and there is no more deserving head coach in Montgomery County than Jeff Fritz who had been the face of Lacrosse in the county for 25 years.  Someone has to be the first in Montgomery County to bring back a Lacrosse state championship, it would be an incredible win and long over due.
Good Luck Jeff Fritz and the Churchill Bulldogs.
Scoring for Churchill
Ryan Leonard 3
Reed Moshyedi 3
Brady Altobello 3
Jack Taylor 2
Ryan Shure, Avery Slomnicki, Jimmy Rubino (had one goal each)
Pictures to follow by Daryl Schultz