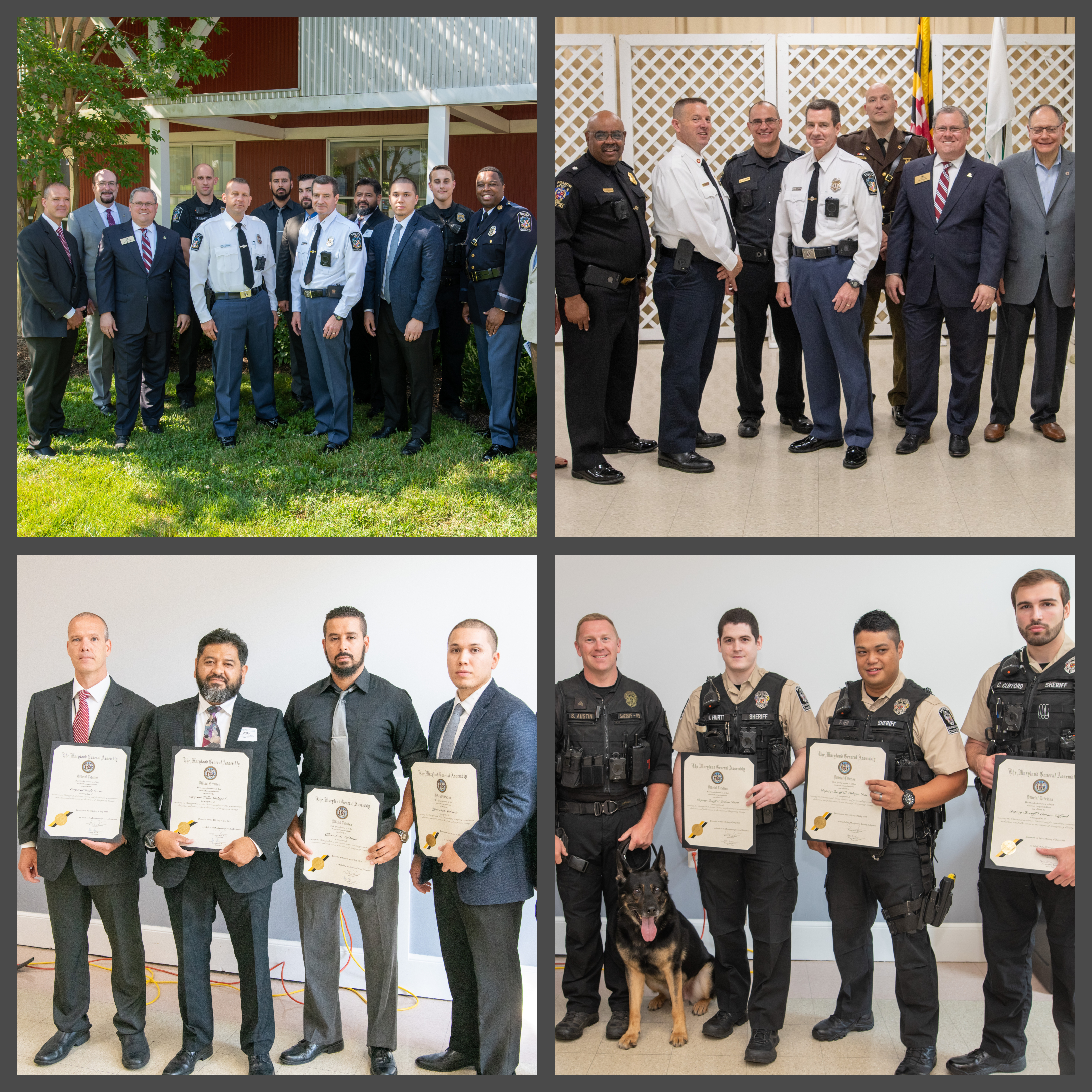 Chamber Awards Forty-Nine First Responders
The Gaithersburg-Germantown Chamber of Commerce (GGCC) honored forty-nine Upcounty Police Officers, Special Operations Teams, Firefighters, and Paramedics at its 24th Annual Public Safety Awards Breakfast
"It's so important for the community to take a moment and thank our first responders for all that they do to keep us safe," said Marilyn Balcombe, GGCC President / CEO.
First responders from the City of Gaithersburg Police Department, Montgomery County Police 5th & 6th Districts, Montgomery County Fire & Rescue Services, Germantown Volunteer Fire & Rescue Services, Maryland State Police, and Montgomery County Sheriff's office and a Montgomery County Public Schools student were awarded on Friday, July 12, 2019 in the following categories: Medal of Valor, Citation for Bravery, Distinguished Service Citation and Meritorious Service Citation.
Rep. David Trone (D-Md), State Senator Cheryl Kagan, Gaithersburg Mayor Jud Ashman, Montgomery County Council Vice President Sidney Katz, as well as councilmembers Will Jawando and Gabe Albornoz — came out to support the police officers, firefighters, paramedics, and other public safety officers who received honors for their dedication to protecting the community.
Each public safety official received a citation from Senators King & Kagan and Congressmen David Trone, tickets to a special Washington Spirit first responders' game and a token of our appreciation from our gift sponsors.
The Chamber feels it is of the utmost importance to thank those who protect our homes, businesses, schools, and families every day.
Tom Plant, managing partner at Paul Davis Restoration and Remodeling & title sponsor, encouraged everyone to thank a public safety officer & noted their importance especially on a day like a Monday (July 8, 2019) where there was flooding throughout the area.
In a time, where community–police relations are tense and there is a proposal for police reform, this ceremony is a great way to celebrate the achievements, outstanding service, and commitment to the community of those being awarded. This awards program provides the business community with an opportunity to publicly thank those who help maintain the quality of life in the Gaithersburg and Germantown areas.
"The world wants to hear the good stories too," said City of Gaithersburg Mayor Jud Ashman.
While enjoying a breakfast provided by the Montgomery County Agricultural Center, the heroic deeds of our local law enforcement and fire-rescue workers were recognized. These men and women go above and beyond the call of duty to serve our local community.
Gaithersburg Police Department
Kicking off the ceremony was Gaithersburg Police Department Special Operations Bureau Lieutenant Shawn Eastman who awarded Police Officers Kevin Story, Kyle Khuen and the Street Crimes Unit with Distinguished Service Citations and School Resource Officer Bobby Blackmon with a Meritorious Service Citation.
"The Street Crimes Unit functions as a cohesive unit and diligently work towards the goals and mission of the Gaithersburg Police Department," said Eastman. "They exhibit a relentless determination to serve the citizens of the community and make Gaithersburg a safer community. Today they are awarded the Distinguished Service Citation."
Officer Bobby Blackmon is the school resource police officer at Gaithersburg High School. He was awarded for his dedication to school safety and mentoring to facilitate learning to each and every student to be successful in life.
Officer Kevin Story and Officer Kyle Khuen received a citation due to their high DUI arrest numbers as patrol officers & proven commitment to public safety. In 2018, Officer Story made 103 DUI arrests, which led the Gaithersburg Police Department and was in the top five in the State of Maryland for most DUI arrest by an officer. Officer Khuen made 73 DUI arrests; he also led the 2018 Montgomery County Police Holiday DUI Task Force with 29 DUI arrests.
—
Montgomery County Police 5th District
The Medal of Valor was presented to Corporal Sean Santos and Police Officers Elvis Cruz & Andre Smith of the Montgomery County Police 5th District for preventing the serious injury and possible loss of life to one of more of the parties involved in a Germantown hostage incident. A man had taken a woman and her family hostage. Officers responded to the incident, confronted the suspect who was holding the victim with a knife to her throat, confiscated the weapon and freed the victim and her family.
A second Medal of Valor was awarded to 5th District Sergeant Larry Haley, Corporal Shaun Santos, Corporal Michael Power and Police Officers Michael Cowell, Gabe Stone, Shane Kirk, Kyle Berry, Sean Lynch, Gregory Pagonis, Andre Smith, and Larryce Ham for a violent crisis at a Clarksburg home on fire. The actions of the officers in this case saved the victim's life and prevented significant destruction of private property from occurring.
"During his 32 years in the department, he rendered extraordinary services beyond the ordinary call of duty," said Montgomery County Police 5th District commander Mark Plazinski about Sergeant Scott Brown.
Brown was given "special acknowledgement" for his steadfast devotion to achieve the department's visions and goals by working in partnership with the businesses and residents and enhancing safety and community relations. He will retire from the department on July 31, 2019 with 32-years of service and will continue to reside in the Fifth District area.
—
Montgomery County Police 6th District
Montgomery County Police 6th District Police Officers Geoff Rand and Christopher Mumper were honored for saving victims from a dog attack.
For deescalating a dangerous life-threatening situation at a Wendy's restaurant sixth district Police Officers Bradley Feldman and William Shortfall were presented the Citation for Bravery. A man was chasing a high school student & threatening patrons with a butcher's knife. Over a forty-second-time period, Officers Feldman and Shortall were placed into a face to face situation with an armed offender clearly exhibiting the intentions of causing serious bodily harm towards anyone he encountered without the regard for human life. Relying on their training, they defused a tense scene and protected the lives of numerous residents of Montgomery County during a frightful event.
Officer Feldman also received a second recognition, distinguished service citation, for providing critical medical care & preventing a person from dying from an opioid overdose.
Police Officer Michelle Barger, Montgomery County Police 6th District, was honored for solving a complicated theft from an auto/fraud case with multiple victims receiving closure over their significant personal property loss. Impressively, she completed the investigation while maintaining significant beat integrity as an officer assigned to the busy Paul 1 Beat within the 6th District.
—
Maryland State Police
During 2018, Trooper First Class Anthony Wallace made 150 arrests for driving under the influence of alcohol and /or drugs in Montgomery County, and the surrounding area. This was the highest number of impaired driving arrests of any Trooper in the Maryland State Police. For his dedication to enhancing the safety of all who travel on Maryland's highways he was awarded the Meritorious Service Citation
—
Montgomery County Sherriff's Office
Montgomery County Sherriff's Office Sergeant Steven Austin and Deputy Sheriff's Connor Clifford, Joshua Hurtt, Vithaya Iem, and Lindsey Swinford were awarded the Distinguished Service Citation for their efforts in locating a mentally ill subject that was missing and experiencing a psychotic episode in the Upcounty area of Montgomery County.
The Meritorious Service Citation was presented to the Montgomery County Sherriff's Office team of Deputy Sheriff's Jose Rodriguez, Antonio Grant, Casi Meiklejohn, and Donghae Thompson for the proactive law enforcement measures to locate and apprehend a subject wanted on charges of First-Degree Rape out of Oregon State.
—
Germantown Volunteer Fire Department
Germantown Volunteer Fire Department Lieutenant Fawad Gul; Paramedic's Greg Woodman, Alexander Keely, Tina Peppel, Carolann McHenry; Emergency Medical Technician's Gianni Minutoli & Sahar Wahed; and Fire Fighter's Nathan Hauser & Brian Jones were awarded for being integral parts of the department and going above and beyond the call of duty.
—
Chamber Community Award
The 2nd annual Chamber Community Award recipient was six-year-old Kaltoum Fakri, who saved her mother's life last month. Fakri's mom wasn't breathing and she tried to wake her, but nothing was working. She acted fast, called 911, & followed the dispatchers' instructions to seek help from a neighbor. She ran two doors down to Joe Chornock's house. Chornock is the Fire & Rescue Chief of the Germantown Volunteer Fire Department. He was able to revive the mother before emergency medical services arrived.
"Not many six-year-olds would have been able to have remained so calm & so brave in a situation such as this. Children are taught to call 9-1-1 & to tell the dispatcher where they are calling from, but in reality, it is not as easy as it seems," said Chornock.
For her efforts, Fakri is the second recipient of the Gaithersburg-Germantown community service award and was presented the Citation of Bravery.