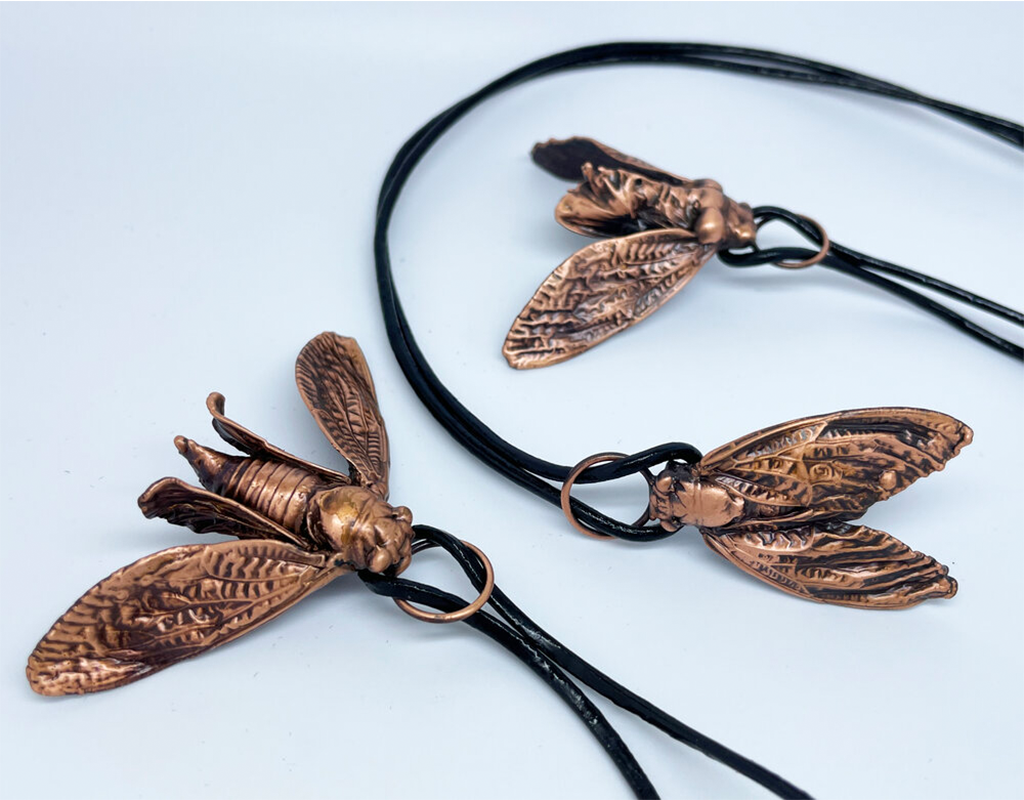 Brood X Fade Away, But Cicada Jewelry is Forever
As Brood X cicadas die, one artist in North Bethesda is transforming their corpses and shells into pieces of jewelry.
Dennis Ray, owner of Nature's Creations which operates in North Bethesda, has been making and selling botanical jewelry and natural art for more than 40 years. He discovered his craft at the recently demolished Woodward High School in the late 70s, through an art project he had in a chemistry class.
Since then, Ray has traveled the world, collecting leaves and covering them with copper. Ray also experimented with covering insects with copper, which he says is more difficult.
In 2004, Ray enlisted the help of his nieces and nephews—who were younger than 10 years old—to collect the exoskeletons of cicada, which he would transform into jewelry pieces. Ray offered the children 25 cents for each exoskeleton they collected.
Now, 17 years later, his nieces and nephews are too grown up for the cicadas, but that doesn't mean the collection process is no longer a family affair. Ray's parents, who are 87 and 92 years-old, are now in on the action – free of charge.
Nature's Creations is selling its cicada jewelry and sculpture pieces online and at local exhibitions. There are several cicada pieces people can buy, including pins for $42, necklaces for $48, and even a bronze cicada sculpture that goes for $420.
It's only a matter of time before the cicada's song fades away. In the meantime, Ray will continue collecting their remains and capturing them into copper works of art and jewelry so that people can enjoy a piece of nature until the insects emerge again in 2038.
"These bugs sat underground for 17 years waiting for their, you know, several weeks of joy and then died," Ray said. "Sometimes you have to stop and think and look at the detail of nature and appreciate it and understand that it's it's around us everywhere to be appreciated."