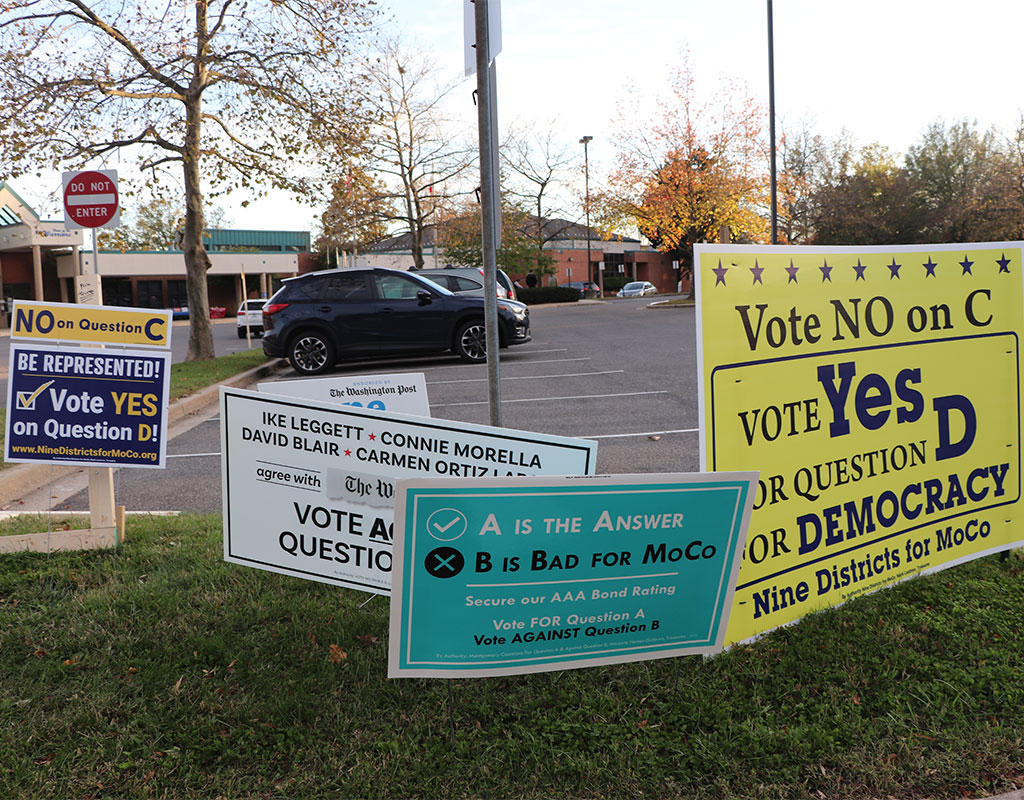 Both Ballot Questions Supported by Council Appear to Have Passed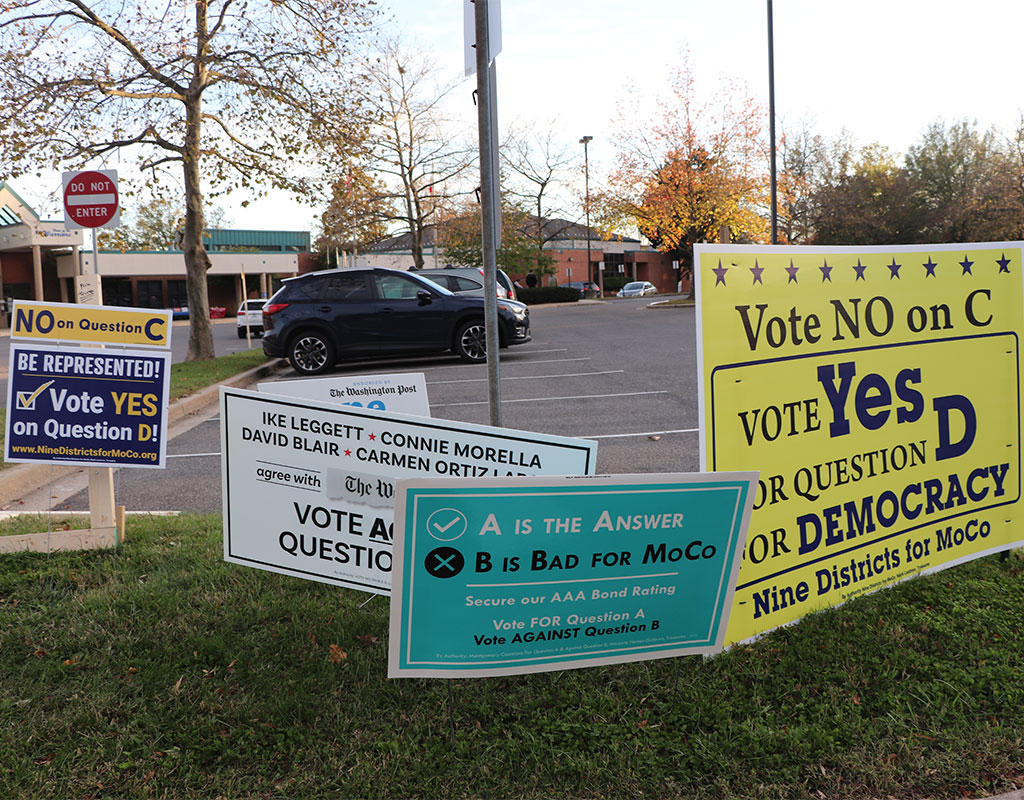 Although not all votes have been counted, it appears that Montgomery County voters opted to change the way property taxes are determined and also increase the size of the council from the current nine to 11.
Councilmember Andrew Friedson, who wrote Question A, said if the final count supports this measure, it will be "a vote for fiscal responsibility vs fiscal insanity."
As of 11:20 Wednesday morning, 62.4% of county voters cast a yes vote for Question A and 37.6% voted against it, according to the state Board of Elections. This question would prohibit the council from adopting a tax rate on real property that exceeds the tax rate on real property that was approved the prior year, unless councilmembers unanimously support it.
Question A establishes a cap on the property tax rate instead of the total tax revenue the county will receive, which Friedson said has not allowed the council to adequately fund schools, libraries and parks. "It fixes a broken system" that has been the rule for 30 years, he said.
"It's not easy to have tax policy on the ballot," he said. However, he added, Montgomery County "has the most educated, the most sophisticated voters."
The current tax system "has held back the county for decades," he said, calling it "confusing and arbitrary." If approved following the final vote count, "this will give us a consistent tax rate."
Voters came out against Question B, which was sponsored by perennial political candidate Robin Ficker, a Republican, who has long fought against tax increases in Montgomery County.
Question B would take away the county's power to enact property taxes that would exceed the rate of inflation even if all nine members of the county council agreed to the increase. As of 11:20 am Wednesday, Question B appeared headed for defeat by a tally of 58.4% to 41.6%.
"We had a nine percent increase in 2016, and we never want another one especially when we have a situation where 130,000 people from Montgomery County have filed for unemployment," said Ficker prior to the election.
Council President Sidney Katz, as well as the entire council and Executive Marc Elrich, supported Question A.
"I think the way the tax system has been set up in Montgomery County for many years, we really didn't get [the financial benefits of] the growth," Katz said. The current cap has not enabled the county to profit from the growth while still having to fund programs that resulted in the growth here.
"Government needs money to function as much as no one wants to pay taxes. The reality is, if you want services" the county needs the financial resources to fund them, he said.
Questions C and D
In the other two ballot questions, voters chose to increase the size of county council from nine to 11 while keeping the current four at-large seats. That question received the support of 61.5% of the voters. 38.5% voted against it.
Question D, which appears to have been defeated, would have kept the council's nine seats, but every seat would have represented one district. There would have been no at large seats. That was defeated in unofficial results by 58.4% to 41.6%, according to the state Board of Elections.
The voters appear to have agreed to set up seven council seats that would represent seven geographic districts and also have four at large seats, for a total of 11. Katz said that makes more sense since the population has grown to about 1,100,000 people.
"There will now be less people in each district," Katz said. "It looks like people decided that they wanted more representation, not less."
Nine Districts for MoCo, a grassroots organization that supported Question D, felt that residents in certain parts of the county, including Poolesville, Germantown and Gaithersburg, did not have an equal voice on the council.
According to its website, 30% of county residents who live in the Silver Spring, Bethesda and Takoma Park area are being represented currently by seven councilmembers, as many of the at-large members reside there, while 70% of county residents are being represented by two council members.
Kimbyln Persaud, chair of Nine Districts for Montgomery County, said Tuesday night that she expected the fight for equal representation throughout the county would continue.