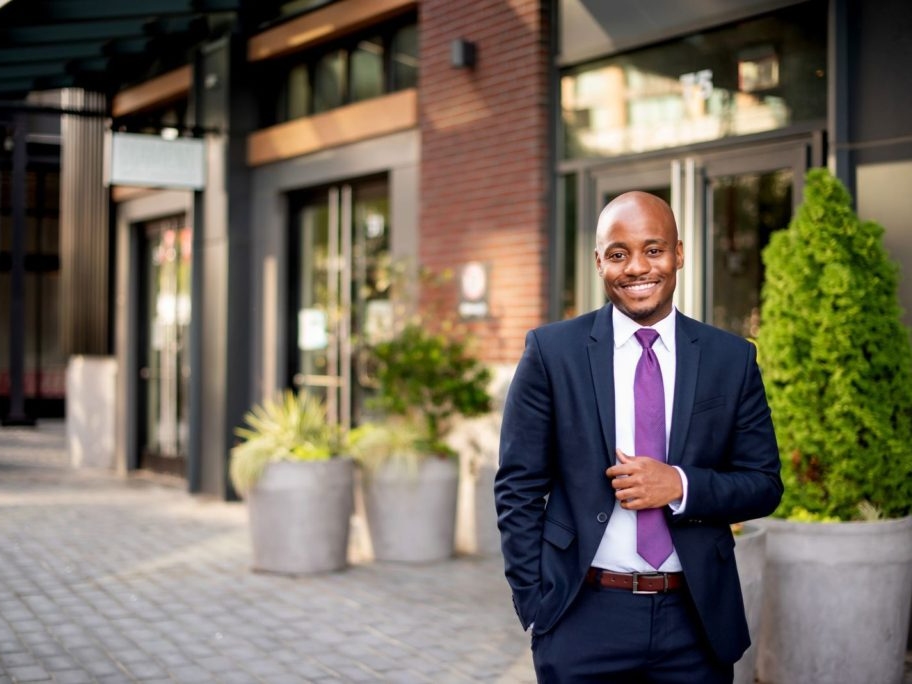 Blog: Choreographer Turned Arts Administrator C. Lorenzo Evans III Talks Dance and Pivoting as an Artist During COVID-19
C. Lorenzo "goLo" Evans III is a dancer/choreographer from the Washington DC metropolitan area. He is best known for his work with Fantasia Barrino and the iconic Godfather of Soul, go-go artist Chuck Brown. Following many years of training in Philadelphia at Temple University, Koresh Dance and Freedom Theatre, Evans began goLoworld Dance Company in 2006.  Since then, he has experienced great success in television, music, entertainment, dance and community outlets. The crowning achievement for Evans and goLoworld was the 2009 opening of goLo Dance Lab: Dance Studio in Prince George's County, Maryland.
Following years of success as an entrepreneur, Evans, with his business background rejoined the workforce in his role as the Director of Finance and Administration for The Clarice Smith Performing Arts Center at the University of Maryland. It was a homecoming of sorts as he earned his MBA from the University of Maryland.  Continuing his passion for the arts, Evans is now the Chief Operating Officer and Director of Finance for Washington Performing Arts. In addition to that role, he enjoys several teaching appointments as a financial management professor for such organizations as American University and National Arts Strategies. Ultimately, artistic programming is the coalescence of Evans' passion for both business and the arts.
In this Q & A, Evans talks about his artist journey and shares how he is honored to partner with his Washington Performing Arts colleagues and the local arts community to bring Mars Arts DC Virtual to life in 2020.
You are a rare mix of artist and business executive. Your professional career includes serving in finance roles for arts-based organizations while also being a choreographer and dancer. How did this interdisciplinary skill set and career path emerge?
Evans: Since I can remember, my life has always been on parallel tracks of the arts and business. I come from a family of very talented musicians and the arts was a constant part of our family life. I developed my business skills as my grandparents were business owners that taught me key administrative and financial aspects of business, and I sharpened my skills by working as an assistant within my grandmother's company. Throughout my early education, I would always participate in rigorous math and science programs while pursuing the arts with equal rigor in my elective courses. This pattern continued through my college years and into my career as a finance professional and dancer. It has been quite an honor to have been a finance executive at both Washington Performing Arts and The Clarice Smith Performing Arts Center as my roles have been the true coalescence of my interest in the arts and business.
What do you believe is the most important way an artist can use their social platform when it comes to bettering the world?
Evans: Social media has created a direct connection between artists and their audiences. I believe that artists can better the world by openly sharing their art with audiences via their social platforms and creating opportunities for audiences to engage with them directly.
What are the ways you are using your talents to better the world around you?
Evans: I share my talents by curating opportunities for artists to create and share their artistry in innovative ways. As an artist, I participated in some amazing productions, tours, and other artistic performances that I enjoy reviewing many years later. It gives me great joy creating similar opportunities for artists. I also enjoy sharing my business knowledge and experience as a finance professor and curriculum developer at American University and National Arts Strategies, and through the various speaking engagements in which I participate annually.
Tell us about the upcoming event at WPA and why folks should plan to participate virtually?
Evans: The upcoming Mars Arts DC: Virtual programming is a tremendous expression of artistry that has taken the challenges brought on by the COVID-19 pandemic and made beautiful art out of them. Everyone involved in the process of curating, producing, and delivering Mars Arts DC: Virtual is an artist and that is reflected in every moment of footage of both the Rhythm & Motion and Dance in DC series.
The Mars Arts DC: Virtual – Rhythm & Motion series introduces dance master classes, taught by some of the world's most dynamic instructors of Afrobeats and Latin Dance. The series also presents virtual concerts by Latin Grammy Award-winning artist Jonathan Acosta, and a thrilling rooftop performance by hip hop and spoken word artist Yusha Assad.
The Mars Arts DC: Virtual – Dance in DC series presents the intersection of the arts and business by pairing D.C.-based dancers/choreographers with D.C.-based businesses in 5-10 minute mini-documentaries that will premiere on Washington Performing Arts's website. These mini-documentaries will share the history and background of six local business owners, along with sharing the history and background of six dancers/choreographers. Each episode of the series will culminate in a stunning dance performance inside of each business location. Washington Performing Arts has partnered with Nubian Hueman, Ben's Chili Bowl, ARTECHOUSE, Chaia Tacos, and Republic Restoratives to bring this series to life.
How have you had to pivot as an artist and arts administrator since the COVID-19 pandemic emerged?
Evans: As an artist, it has been quite a shift to engage with audiences/patrons virtually. One of my favorite parts of being a touring artist was the interaction with people through teaching classes or hearing the applause of crowds in person. I taught a master class early on in the pandemic and it was very strange to be speaking to a camera and only engaging with the participants through the comments section of Facebook Live. I am looking for new ways to create and engage as an artist, and I think that curating Mars Arts DC: Virtual has given me that opportunity in the days of the COVID-19 pandemic.
As an arts administrator, it has been amazing to see how many of the organizations that I am affiliated with have pivoted to all virtual operations. While we have nimbly transitioned to the virtual space, many of my colleagues and I miss the in-person interactions and visiting with each other in the office. Additionally, teaching my courses remotely has been a shift as I greatly enjoy engaging with my students and co-faculty in person. I look forward to the times when people can safely convene in person again.
Learn more about Mars Arts DC Virtual HERE