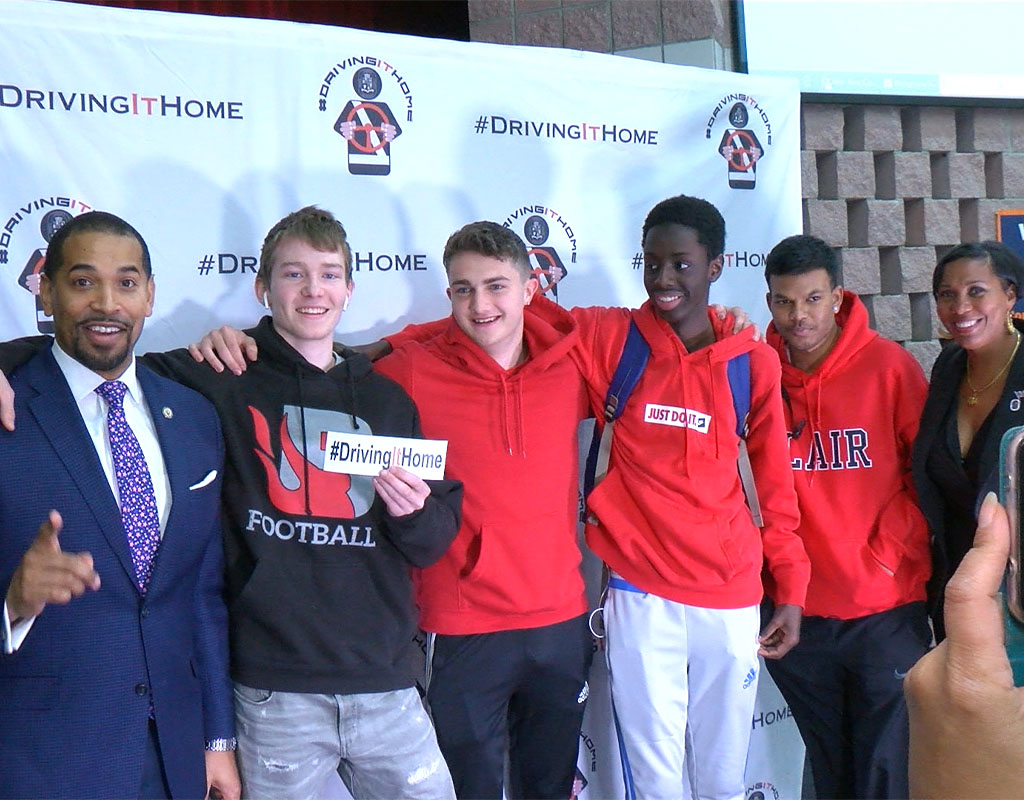 Blair High School Seniors Pledge to Drive Responsibly
On Thursday morning, Councilmember Will Jawando hosted a launch event for the safe driving initiative, #DrivingItHome, at his alma mater of Montgomery Blair High School in Silver Spring.
The initiative was started in Feb. 2019 by Prince George's Council Member Monique Anderson-Walker. Anderson-Walker launched the initiative after a series of deadly collisions on Indian Head Highway/Route 210.
Anderson-Walker says the initiative is a part of the Vision Zero, which aims to reduce fatal driving collisions by 2040. The #DrivingItHome presentation has been given at several schools in PG County and Washington, D.C. Blair is the first school in Montgomery County to receive the presentation.
At the presentation, Jawando and Anderson-Walker had students recite a pledge, promising to drive responsibly. Anderson-Walker said #DrivingItHome is intended to change the culture around driving by talking about the importance of wearing a seatbelt, as well as the dangers of driving while distracted, intoxicated, speeding, and more.
Blair students also heard from Montgomery County Fire Chief Scott Goldstein and Montgomery County Police Department Acting Captain Lt. David McBain about pedestrian safety.
Bethesda Beat reports that pedestrian crashes increased in Montgomery County in 2019 from 496 compared to 457 pedestrian crashes in 2018.
Blair High Principal Renay Johnson said she was eager to have the #DrivingItHome initiative come to Blair because the school is located at Four Corners near the busy intersection of University Boulevard and Colesville Road.
"I want to bring awareness to helping [students] paying attention when they're walking, paying attention while they're driving, and just really developing safe habits."
The presentation came a month after a child at Bradley Hills Elementary School was struck and killed getting off of a school bus. After the incident, Nate Tinbite, Montgomery County Public Schools' Student Member of the Board of Education, has started pushing to make driver's education a requirement for MCPS students. Jawando said this is an initiative he supports.
According to the National Safety Council, teen drivers, ages 16 through 19, are most likely to be in a fatal car crash. Every year there are two million teens under the age of 18 driving; the National Safety Institute says that drivers this young are involved in 900,000 crashes on average each year.
"Tens of thousands of our high school students are on the roads every day and we want to make sure they have good driving habits that they're not distracted, that they're not impaired, that they're putting their seatbelts on," Jawando said.
Jawando said to expect the #DrivingItHome initiative to make its way to other MCPS high schools, middle and elementary schools.