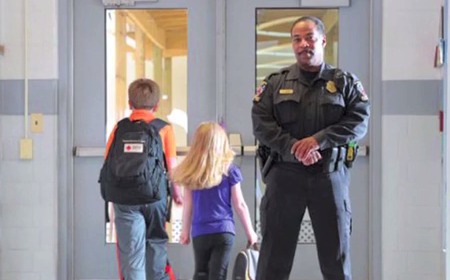 Bill Introduced to Remove Police Officers from MCPS Schools Has Sparse Support
Councilmembers Will Jawando and Hans Riemer introduced a bill Nov. 17 to eliminate the school resource officers program and instead use the money to hire school counselors and pay for after-school activities and mental health-oriented programs.
A public hearing to eliminate police officers in the school is set for Jan. 12, 2021, at 7:30 p.m.
The two councilmembers held an hour-long briefing on the bill, which they said is designed to increase racial equality and social justice. The school police officers arrest Black and Hispanic students at a much higher rate than their white counterparts, even considering that the students of color make up a smaller part of the student body, Jawando said.
Today @willjawando and @hansriemer introduced a bill that would remove SROs from MCPS and use the funding from the program for more mental health services and after school programming. pic.twitter.com/1oM8QGCDXC

— Montgomery Council (@MoCoCouncilMD) November 17, 2020
Under the proposal, the council would take the $3 million allocated for the officers and use that money to fund staff with whom the students could feel comfortable speaking. If approved, the officers would no longer patrol the schools beginning in February.
"Arresting students should be the last resort," Riemer said. Police officers "are doing what they are hired to do. They make arrests," he said, noting that to him, an arrest means "giving up on that student."
Instead, Jawando said, it would be better to deescalate a problem between students or quiet a disruptive student rather than having them arrested. This way of dealing with issues has shown to have better outcomes and "can lead to better grades," he said.
However, Jawanda and Riemer appeared to be the only councilmembers to support the bill. Other members said they would prefer to wait to hear from the school board, who are currently reviewing the program.
But Riemer stressed that the county council started the program and funds it, and has the power to end it. "Ultimately I feel this is our program and our decision to make. Our schools are safe. School is not a dangerous place."
Councilmember Nancy Navarro questioned what the hurry was to dissolve the program when students weren't even in schools right now. "For us to have this discussion before they [school board members] make their decision, I believe is totally unfortunate," said Council President Sidney Katz.
Other councilmembers said they weren't convinced that the officers weren't needed.
During the earlier press briefing, Jason Melara, a former Montgomery County Public School student, explained how student resources officers were rude and laughed at him and instead of helping him, they lowered his self-esteem.
Speaking through a translator, he said a resource officer told him "maybe you deserve it" when he tried to tell them what fellow students were doing. "The only thing they did was judge me," he said.
Stephanie Joseph, an assistant public defender, also spoke at the briefing. She recounted how she constantly represents students in court for pulling a fire alarm, having a minor fight in which no one was hurt and being disruptive in class. Sometimes, these students are traumatized and don't wish to return to school, she said.
Lisa Hack, a media specialist at Silver Spring International School, agreed, noting, "The money would be better spent on mental health services."
Also speaking was Hashima Jabar, a parent and member of Racial Justice Now, who said the school resource officers program leads to a school to prison pipeline and embeds an anti-Blackness atmosphere throughout the school district.
This summer, Jawando proposed an amendment that would have removed 12 of the 23 active officer positions and reassign them to other duties within the police department. It failed by a five to four vote.