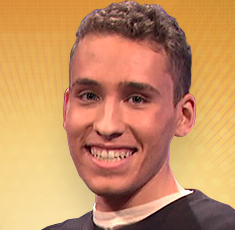 Bethesda Resident Sam Deutsch Wins Jeopardy's College Championship
Bethesda resident Sam Deutsch, a student at the University of Southern California, was the $100,000 grand prize winner of Jeopardy's 2016 College Championship this month.
His winning answer was "Biden" and that resulted in a shout out on Twitter, and a letter from the vice president of the United States.
.@Jeopardy Kind of a heavy question for a Friday evening, Alex. pic.twitter.com/TGCOPPs1XM

— Vice President Biden (@VP) February 13, 2016
couldn't have done it without you @JoeBiden #jeopardy pic.twitter.com/xASZAtliuC

— Sam Deutsch (@samdman95) February 13, 2016
You can watch some highlights from the game show, below:
RT @TrojanFamilyMag: Congrats to @Jeopardy College champ @samdman95! Read how he prepped: https://t.co/H6wIixsF1i pic.twitter.com/QgrvR5WlxF

— USC (@USC) February 16, 2016
College students are always talking about finals, but this time, there's a $100k on the line. https://www.jeopardy.com/tournaments/2016/college-championship

Posted by Jeopardy! on Friday, February 12, 2016
Read more about Deutsch's win in his high school newspaper, The Tide, and by visiting USC's website, here.