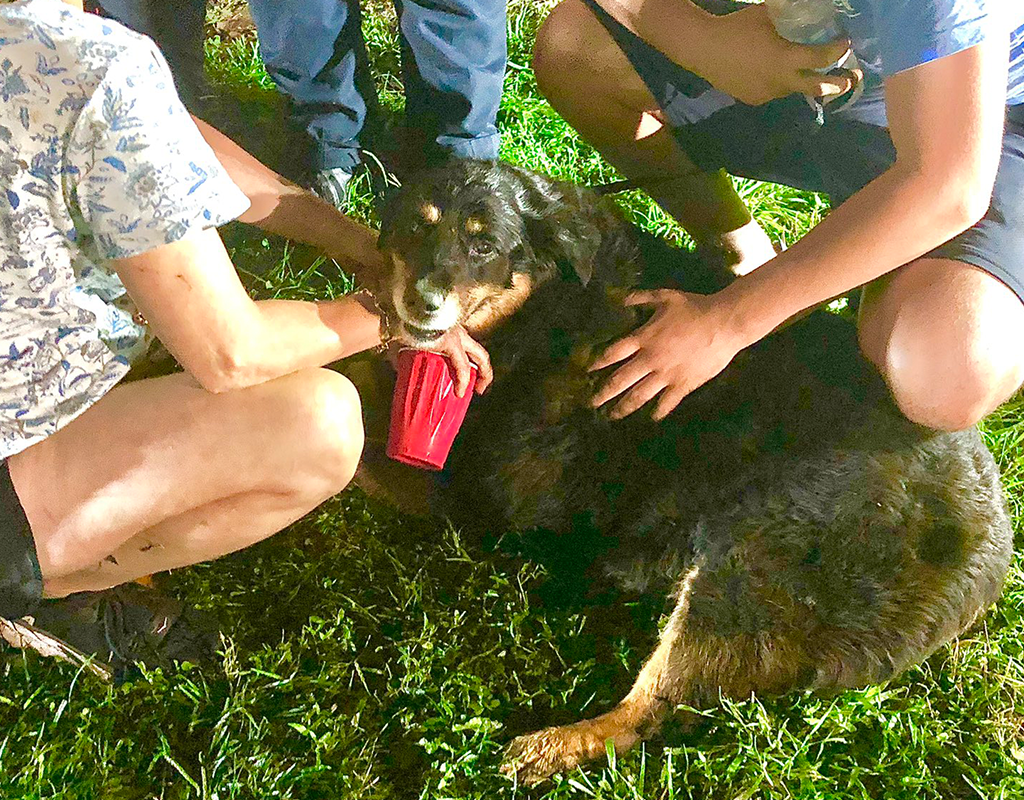 Bethesda Family Reunited with Dog Who Fell in 25-Foot-Deep Well
Montgomery County Fire and Rescue saved a dog who fell into a 25-foot-deep well in Bethesda on Saturday, July 24.
The dog, named Roxy, is a cattle dog and lab mix. Roxy's owner, Melissa Swensrud of Bethesda, told MyMCM via a text message that she was taking Roxy and her two other dogs on a walk on Saturday afternoon when suddenly they walked by a group of deer. The dogs started moving in different directions and Swensrud said she slipped in wet grass, accidentally letting go of the three leashes.
Swensrud grabbed hold of her two larger dogs, but Roxy was nowhere in sight.
"Roxy is our gentle, undemanding fearless leader of our pack of three canine family members," Swensrud wrote. "She was no where [sic] to be found which is so out of character for her. I found her collar and [leash] nearby as they had fallen off of her with the collar clasp broken."
Swensrud said she continued searching for Roxy for more than an hour, hoping to find her 11-year-old dog waiting for her. She thought she could hear the sounds of Roxy's whimpering, but could not see the pooch.
After more unsuccessful searching attempts, Swensrud called her son, Parker, who left work at Bark Social in North Bethesda to help. The two went out with a flashlight calling for Roxy. In the meantime, Swensrud said she had already spread the word about Roxy's disappearance to Montgomery County Animal Services, her neighbors, and her neighborhood list serves.
ICYMI – Saturday nite (7/24) Animal Rescue (10p) crews from @mcfrs FS710 (Cabin John Park) & others from Spec Ops TRT (Technical Rescue Team) responded to grounds of Norwood School, Potomac, it took ~1 hour to rescue the >80lb mixed-breed Lab from an abandoned underground well https://t.co/wXx6P5BQ2R pic.twitter.com/O32pyBKEET

— Pete Piringer (@mcfrsPIO) July 25, 2021
After 9 p.m., Swensrud's son, who had run "through some pretty dense brush" called out to others that he found Roxy in what appeared to be a 25-foot-deep abandoned well behind Norwood School in Bethesda. Swensrud called 911 and MCFRS was dispatched to the scene. After an initial assessment, Pete Piringer, a spokesperson MCFRS, said a technical rescue team was dispatched. Swensrud estimates that around 32 rescue units in total came to the scene.
Piringer tweeted that the technical rescue took around an hour to complete. Swensrud describes witnessing the rescue unfold as "surreal."
"Generators, lights, and the perimeter secured as there appeared to be other wells in the area. I saw them send down a flexible hose which I later learned was oxygen as Roxy was suffocating," she wrote over text. "Shovels were brought in to widen the opening, more lights, water and a board to carry her on if needed. After being briefed by the Animal rescue about what to do after they got her out, they readied their belays and down went they went."
View this post on Instagram
Eventually, a first responder climbed up the ladder, out of the well, holding Roxy, who found her footing and immediately walked over to her human family.
"As a family we are so grateful to every single person who was part of the recovery effort as well as to our neighbor, Joe Maloney, who came to collect my other dogs and then waited with us until [he] saw us all safely back at home," Swensrud said, adding the talent of the rescue teams was "unreal." She said without the persistence of her son Parker, the family may not have ever been reunited with Roxy.
Swensrud said order has been restored for their family and Roxy, though less perky as she recovers from the trauma, continues to rule the home as queen.
"[W]e're giving her lots of love and quiet rest. I'm so grateful this story had a happy ending," Swensrud wrote.